The Tick review: This superhero show on Amazon Prime Video is an ode to all sidekicks
The most refreshing aspect of The Tick is that it does not take its superhero too seriously which also allows it to give more meat to its sidekick Arthur.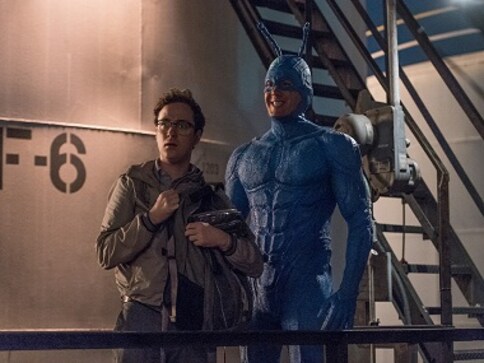 The most fascinating aspect of Amazon Prime Video's newest superhero show, The Tick, is that it does not take its superhero too seriously. Why would you want to take a giant blue guy with two antenna on his head seriously?
The Tick (played by Peter Serafinowicz), ironically, is the most positive superhero around. He speaks in a manner that has the ability to quell your complacency and motivate you to become your own superhero. But this blind optimist gradually gets on your nerves as you perceive The Tick's level of enthusiasm as unattainable.
However, his character is also self-deprecating and markedly full of irreverence. He often makes fun of his cheesy dialogues and overplays his powers in order to lend his character a comic air. It is hilarious to see an insect-like superhero flick away baddies like flies on his pie.
But there is a deeper reason why this writer believes that the superhero is not the focal point of this show. It is actually the prospective sidekick, Arthur Everest (played by Griffin Newman), who dominates the narrative. It is his underdog story that takes precedence over the superhero's shenanigans.
Arthur is a lawyer who suffers from a perennial hangover of his troubled past. His father died in an accident (a rather blah one) amidst the battle between superheroes and the villain of the show named The Terror (played by Jackie Earle Haley). A picture, featuring a stare down between The Terror and a bereaved junior Arthur makes it to the Time magazine cover and gets as crystalised as Arthur's quest to avenge his father's death.
However, unlike say a Spiderman or a Batman, he has neither the superpowers nor the wealth to seek revenge. What he does have is a flickering left eye, a supportive yet concerned sister and boundless determination. In the later years of his life, when The Terror is presumed dead, he refuses to fall prey to baseless assumptions and sets out to seek the evil.
In this endeavour, he encounters The Tick who appears as his alter ego rather than a superhero with a mind of its own. The Tick confesses that the destiny speaks to him (and says a courteous Hi! to Arthur too) and that Arthur has it in him to become his sidekick.
The ensuing episodes are sure to promise more action, more comedy and moreover, a fine blend of both by the combination of an underdog and his insect-like partner in crime (or saving the world maybe?). But the biggest takeaway from this show has got to be the fact that the superhero is willing to become the sidekick and vice-versa.
The Tick will premiere on Amazon Prime Video this Friday on 25 August.
Entertainment
If you liked Miss Marvel, here are the movies you will love watching across Colors Infinity, Amazon Prime Video, Netflix and Disney+Hotstar.
Entertainment
"Over 150 people involved in making the score," says Laal Singh Chaddha composer Tanuj Tiku.
Entertainment
Here are the three new on-screen power couples that we will get to see in upcoming films.