The Test Case Review: Nimrat Kaur's sublime showing, writers' grasp of material make for an Indian army soap opera
Nimrat Kaur-starrer The Test Case attempts to reflect the change and the feminism wave but gets trapped in daily soap-like clichés, despite her sublime act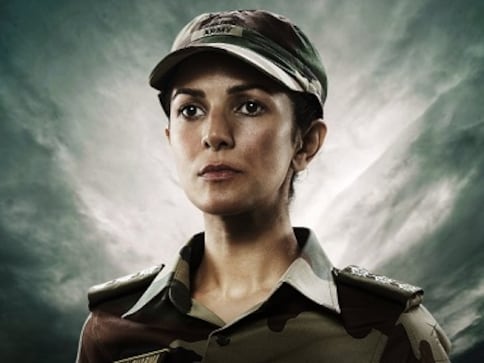 "I never saw a wild thing
sorry for itself
a small bird will drop dead from a bough
without ever feeling sorry for itself."
This poem by DH Lawrence summed up the Demi Moore starrer D. I. Jane well. The new AltBalaji web series, The Test Case, seems to be loosely inspired by the same theme in the 1997 film directed by Ridley Scott. The subject about a woman undergoing a rigorous test of strength and ability to survive as one of the men in the army, is most suitable to the current Indian scenario. The trailer justifies this by showing how last year, former president Pranab Mukherjee's announcement about the induction of women in combat roles in the Indian armed forces, gave rise to the debate whether a woman is suited for the job.
The 10-part series takes the premise forward to show the ultimate challenge between man and woman in the game of power and gender politics, especially when connected to sexual assertion. Great in its production values and concept, the series ends up as a glorified and condescending take on gender games.
The Test Case first episode which is co- written and directed by Nagesh Kukunoor, starts off with stretched, overly spelt out debates between rigid male army officers and the lone female Defence Minister (played by Juhi Chawla — wasted in a cameo). She is hell bent on sending the first woman on trial by fire — Captain Shikha Sharma (Nimrat Kaur). If that is not enough, the debate is rubbed in further with silly wordplay of "balls" and "vagina", which has Sharma staring at a man's crotch, literally.
Thankfully, the second and consecutive episodes directed by Vinay Waikul, set the pace rolling and get better, delivering the final, most gratifying climax that borders on a filmy revenge drama, ultimately rescued by Nimrat's brilliant performance. Nimrat has never looked or acted better in her previous outings like The Lunchbox and Airlift; each one being critically acclaimed. With her lean and fit body, she can set new fitness goals for women in their 30s. Her performance simply shines through and is equally matched by a wonderful cast which include Rahul Dev, Atul Kulkarni, Akshay Oberoi , Sameer Kochchar, Anup Soni, Sumit Suri and Suhail Nayyar
All credit goes to the writers Samar Khan, and the episode director, Waikul, who make the series totally binge-worthy, despite the clichéd dynamics between the Commando training team members. The subject stays centered on a woman's struggle against the male ego which doesn't accept a woman as an equal.
So Nimrat's Captain Sharma tries to make her place in the men's quarters, fighting for her bed and sharing the common shower room when not locked in a hand-to-hand combat with her most hated male opponent. She takes on every challenge, with her chin held extra high, standing or running with 30 kilos on her back or crawling through fire hurdles, her black paint-streaked face controlled and expressive at the same time.
The men are an interesting mix. There is the cute Akshay Oberoi's Capt. Bilal Siddique who has a soft corner for her. His characterization is the best, involving various shades of human emotions — admiration, affection and resentment. Then there are a couple of antagonists: Bhuvan Arora, who plays Rohan Rathore, essays his role well without becoming a caricature. Interestingly, the boyfriend (played by Samir Kochchar) comes and goes while remaining a supportive figure that's always planning a candlelit bedroom rendezvous. These scenes have Nimrat and Kochchar getting intimate with natural ease.
Rahul Dev, as the supervising Bhatti , stands out despite not having any strong scenes. The sparkle of pride in his eyes every time he shows his solidarity towards Sharma's valiant efforts, speaks more than his dialogues. An unnecessary homosexuality angle is also explores, but again the actor (Saurabh Goyal) makes it totally watchable.
The fifth episode which works like the Hindi film interval, makes for a good turning point in dramatic events. The story, while maintaining its action drama, takes an intense turn keeping you on the edge. Yet another interesting character is introduced at this point in the form of an investigation officer played by Anoop Soni. His screen presence brings a refreshing energy to the show. So does a minor role played by Sumit Suri who amps up the emotional aspect really well, unlike the flashback moments which show Sharma's backstory. The bits about her family seem contrived and are far fetched. They seem forcibly inserted, simply to represent the traditional view, "Chhori badal rahi hai magar chhore nahin".
And indeed, The Test Case attempts to reflect the change and the feminism wave but gets trapped in daily soap-like clichés.