The Secret Life of Walter Mitty: How to turn a geek cool in 2 hours
The Secret Life of Walter Mitty is an earnest, largely humourless but very pretty film.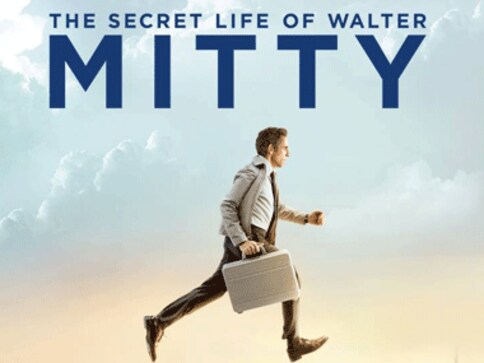 Oscar Wilde, the god of epigraphs, wrote a line (in Lady Windemere's Fan) that has been the motto of many a daydreamer: "We are all in the gutter, but some of us are looking at the stars." Ben Stiller's Walter Mitty is one of those people.
His real life is in a gloomy archive full of negatives, in the belly of the offices of Life magazine. His imagination, however, has him doing fantastic, superhero-esque things. Like saving his office crush's three-legged dog from a building that's about to turn into a fireball.
So how can Hollywood turn the unassuming Walter Mitty into a cool dude:
1. Send him to a foreign country
2. Get him to do dangerous, physically-demanding things like jumping off helicopters and climbing up deserted stretches of the Himalayas
3. Make sure he's got a nice tan
4. Get him to wear black instead of white
5. Make sure he stops daydreaming.
The mild-mannered Mitty first appeared in 1939, in a short story by James Thurber. Stiller's The Secret Life of Walter Mitty is the second film adaptation. He sets Mitty in the 21st century, in an America poised for change. Mitty has worked at (and daydreamed in) Life for 16 years. He keeps meticulous accounts, thinks and re-thinks even the tiniest moves he makes, and essentially blends with the wallpaper because no one knows the stuff that's going on in his head.
But one day, reality bites Mitty. He finds himself falling for his colleague, Cheryl Melhoff (Kristen Wiig) even though he knows it's hopeless. More devastatingly, Life is shutting down the print edition and going online. The image for the last cover is a photograph by Sean O'Connell (Sean Penn), who still shoots using the old-fashioned analogue camera and film. There's just one tiny problem: Mitty is supposed to process the negative of the cover image and he has no idea where the negative is.
The Secret Life of Walter Mitty trundles along sweetly till this point. Then Stiller decides he's going to turn rugged, smoulder and become a Hero — which means he's in exotic countries, skateboarding expertly on highways, watching volcanoes explode, playing football in the Himalayas and glimpsing snow leopards among other things.
This is where the film starts stumbling. Then, in no time, it hurtles headlong into disappointing but feelgood territory. Mitty's charm is his imagination and the fact that he is a little guy whose heroism lies in his everyday work — in the care that he takes over his negatives, the timid love he has for Cheryl and her son, the respect he earns from his colleagues. From the opening credits, which are delightfully camouflaged in shots of different parts of New York City, you get a feeling that there's going to be a secret little daydream nestled at every bend in the plot. As we spend more time with Mitty, we see that some of his daydreams are just plain ridiculous — like the one in which he and Cheryl do a version of The Curious Case of Benjamin Button — but there are others that could be real for all their craziness. His flights of fancy are what make him so endearing and you start waiting for the moments when he will daydream.
Unfortunately, this delicate brand of geeky cool isn't enough for Stiller or Steven Conrad, who wrote the screenplay. Mitty can't just imagine climbing mountains and battling sharks. He has to actually do it, and emerge out of that experience tanned, with a more colourful wardrobe and way cooler accessories. The more thrilling his real life becomes, the less he daydreams and so it is that Mitty starts fitting the more conventional mould of a desirable alpha male (complete with startling blue eyes and impressive physical stamina). As The Secret Life of Walter Mitty shifts gears to make Mitty fit a more stereotypical mould of "cool", the gorgeous cinematography and mellow, indie-rich soundtrack become the film's saving graces.
The idea of making Stiller a Life employee was a wonderful idea, considering the stories that the magazine was committed to tell. They spoke of the extraordinary in the ordinary and the endearing normalness that could be glimpsed in the famous. Unfortunately, Stiller and Conrad aren't actually interested in the beauty contained in everyday life. As they labour to make Mitty a pocket-sized hottie, The Secret Life of Walter Mitty becomes an earnest, largely humourless but very pretty film. And all we're left with is a longing to know the man Mitty was before he started seeing himself as a hero.
Entertainment
Paris Fashion Week welcomed two really, really, ridiculously good looking additions on Tuesday, as Ben Stiller and Owen Wilson reprised their Zoolander male model characters to strut the Maison Valentino runway ahead of the hit comedy's sequel.
Entertainment
Singer Justin Bieber has joined Ben Stiller's upcoming comedy film Zoolander 2.
Entertainment
Omaze uploaded a charity video of the Dodgeball cast with Ben Stiller and Vince Vaughn reprising their White Goodman and Peter La Fleur roles respectively.