The Remix trailer: Sunidhi Chauhan, Nucleya, Amit Trivedi in Amazon Prime Video's new music reality series
Sunidhi Chauhan, Amit Trivedi and Nucleya's Amazon Prime Video series The Remix will premiere on 9 March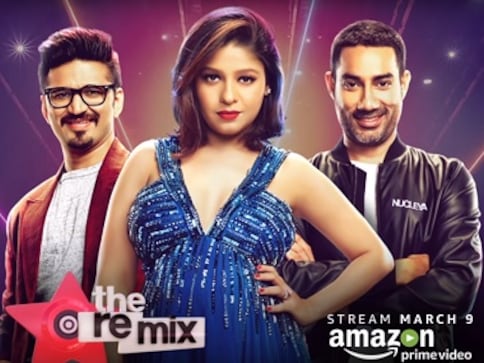 The trailer of Sunidhi Chauhan, Amit Trivedi and Nucleya's new music reality show, The Remix, is out. Presented by Amazon Prime Video, The Remix will premiere on 9 March.
The one minute 46 second trailer features all three artists along with an eclectic mix of performers and a vivid display of colourful, neon lights. Peppered with snippets of various performers on stage being cheered on by the audience — the video has a futuristic feel to it as metallic corridors, with the three musicians putting on a show, are the central focus of the trailer. An electronic dance music (EDM) score forms the musical backdrop of the video, however the whole time we were just waiting for the bass to drop. Here's to hoping that the show doesn't leave us feeling the same.
The Remix has been touted as Amazon Prime Video's first unscripted original series. Produced by Greymatter Entertainment, the format of the show will feature 10 teams. All the teams will comprise a singer and a DJ and together they will produce and subsequently perform remixes of songs from Bollywood. Judged by Chauhan, Trivedi and Nucleya — the show will be hosted by Karan Tacker.
Based on a format that was developed by Turkey's Global Agency, 15 countries across Europe, Asia and Africa have presented their come forward with their own adaptations of the show till date.
Watch the trailer of The Remix here

News & Analysis
Known internally as Project Caviar, Google is planning to push for an open and royalty-free HDR video and 3D audio alternatives to Dolby Vision and Dolby Atmos.
Entertainment
Cinema was once competing with television and then came OTT. It battled multiple debates, discussions and even disasters.
Entertainment
The name of this song, Boom Padi, when translated into English, means 'spreading love and cheer'. Well, once you listen to this song and watch the music video, you'll realize that the title is more than fitting.