The Program review: This film on Lance Armstrong is all you need to know about the sportsman
Lance Armstrong is one of the most fascinating personalities of all time. This is a guy who was on top of the world, who made billions of people aspire to be him, and ended up as a liar and a fraud. But a fraud, who in the back of his mind believed that he didn't do anything wrong because the rules of the game were flawed and his ego kept him going.
The Program, directed by Stephen Frears, is a very well made movie that chronicles what went down in the final years of Armstrong's career. Anchoring the film is Ben Foster who delivers an incredibly convincing performance as Armstrong, totally disappearing into his accent, physique and madness.
Danny Cohen's cinematography finely showcases Armstrong's cycle hurtling down insane terrains. Alex Heffes' music adds the requisite dramatic tension, providing as a nice balancing aspect to the rest of the film's craft. If you haven't the faintest clue of Armstrong's fall from grace, this film will without a doubt hold your attention from start to end.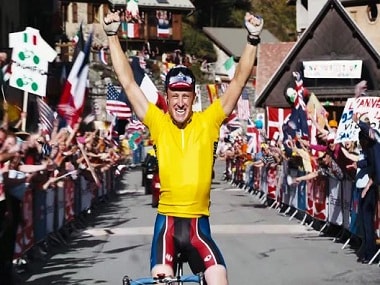 But for those who are aware of the athlete's story, there's one flaw in the film that is a major source of frustration – it never really tells you more than you already know. Alex Gibney's recent documentary The Armstrong Lie already gives you a complete portrait of the man, his ego, his rise, his ultimate shameful tumble, his denial, his admittance, the public outrage and the vengeful behavior from team members he had walked over to get to the top.
And by having the real Armstrong on screen instead of an actor playing him, that movie is a far more potent and memorable drama that you'd like to revisit a few more times.
The Program, on the other hand, gently touches upon the same beats as the documentary and moves on. The only real addition that the film brings is the camerawork and the 'filmi' tools that are designed for those who are not into watching documentaries because they find them boring. So the disappointly unchallenging script by John Hodge (Shallow Grave, Trainspotting, Trance) finds itself unraveling like a check list of events from the man's life, from his first Tour De france ride in 1995 after which he was approached by a shady physician Michele Ferrari who got him into doping, to the public acknowledgement of his misdeeds.
Compare this to the script and treatment of Steve Jobs, which brought something different to the table because the whole world already knew about the man's career through different films and Wikipedia articles.
In all fairness, The Program may be familiar plot wise but still holds your attention because what the man did is pretty disturbing (he carried stacks of his own blood during the race in plastic boxes to transfuse before the post race blood tests). Foster also does a great job of portraying a man who just wants to win, no matter what happens. It's a testament to Foster's performance that you do feel a sliver of sympathy for the character because he's going against the grain.
Through British journalist David Walsh (played by Chris O Dowd) who was one of the first to grill Armstrong on his doping accusations, you're also made aware of the fact that there were plenty of other cyclists and other athletes who actively participate in doping but still remain undetected. In some strange twist of irony, the recent reveal of Maria Sharapova being tested positive for a banned drug eerily serves as a marketing teaser for this film.
Updated Date: Mar 13, 2016 09:47:53 IST