The Oscars Drinking Game: There are no awards for sobriety
Here is a drinking game that you might like to play if you wake up early morning on to watch Oscars telecast live.
Look, the telecast of the Oscars begins at 05.30am and this year, rumour has it that George Clooney isn't attending. To get up at that hour and stay awake, you've got to have some incentive other than the sight of designer wear and a little dance by Ellen DeGeneres.
Plus, considering how boring a lot of the speeches tend to be and how often Oscars gets it wrong — like, Jennifer Lawrence winning Best Actress last year. Yes, she's talented, but Emmanuelle Riva from Amour was among the nominees! — the best way to deal with the Oscars live telecast is to have a drink. Or two. (Or more.) Since we'd like you to drink responsibly, allow us to present the Oscars Drinking Game.
Sip your drink every time
—  the hosts of the red carpet show say someone looks, "Fabulous"
— someone says they're wearing "vintage" something or the other
— the winner says they didn't expect this award
— the winner thanks their mum/dad/wife/husband/kids
— there's a shot of either Bono or Edge for no reason whatsoever
Gulp your drink if
— Cate Blanchett is wearing bright, red lipstick
— Tilda Swinton is wearing regular, formal eveningwear
— a winner starts crying
— a winner is cut off by the orchestra
— there's a joke cracked about how Chiwetel Ejiofor and/ or Lupita Nyong'o's names sound complicated
—  someone talks about limos and winks at Barkhad Abdi
— you see Benedict Cumberbatch. Because, you know, #SherlockLives
It's bottoms up if
—  Ellen DeGeneres twerks during her opening performance
— you see three or more actors not wearing a black tuxedo
— there are 10 consecutive minutes without a shot of a face that looks botoxed or surgically-enhanced
— The Grandmaster wins anything (it's the first time a Wong Kar Wai film has appeared in the Oscars radar)
— The Great Beauty wins Best Foreign Language Film
— when Idina Menzel sings "Let it Go" (singing along, off tune, is optional but encouraged)
Knock back a shot if
— someone sneaks in a four-lettered word (or its equivalent) and it isn't censored
— a reference is made to Amy Adams's cleavage
— someone jokes about Meryl Streep and her 18 nominations
— someone makes a comment about on Matthew McConaughey's weight in Dallas Buyers Club
— the presenters mention wigs or hair when talking about American Hustle
— someone trips while walking up to the microphone
— 12 Years a Slave wins the Oscar for Adapted Screenplay and Steve McQueen gets a standing ovation
— the camera pans to Oprah Winfrey when anyone mentions 12 Years A Slave
Knock back two shots if
— a joke is cracked about Leonard di Caprio or George Clooney's dating habits
— Emma Thompson comes on stage a little bit drunk
— the camera pans to Judi Dench and she's not smiling
— the camera pans to Tom Hanks and he's grinning for no reason
— the camera pans to Joaquin Phoenix while Karen O performs The Moon Song from Her
- you can read out the titles nominated for Best Live Action Short film* without slurring when that Oscar is announced
— a winner ignores the orchestra and keeps talking
— when Pink starts singing
Empty the bottle and wave it at the TV screen if
- American Hustle or The Wolf of Wall Street wins Best Picture
— Lupita Nyong'o doesn't win Best Actress in a Supporting Role
— Meryl Streep wins Best Actress in a Leading Role
— Alfonso Cuaron isn't awarded the Oscar for direction
— American Hustle wins Best Original Screenplay
Loo break
When the In Memoriam section starts
When U2 performs Ordinary Love
Water break/ Power nap
When the following awards are announced:
Achievement in Visual Effects
Achievement in Sound Editing
Achievement in Sound Mixing
Achievement in Film Editing
* Nominations for Live Action Short:
Aquel No Era Yo
Avant Que De Tout Perdre
Pitääkö Mun Kaikki Hoitaa?
The Voorman Problem
Helium
Entertainment
Leonardo DiCaprio has won the Golden Globe for best actor in a comedy or musical for "The Wolf of Wall Street."
Entertainment
It's fast becoming one of the most divisive films to be made in Hollywood. Some have loved Martin Scorsese's The Wolf of Wall Street, based on the real life experiences of motivational speaker and former stock broker Jordan Belfort.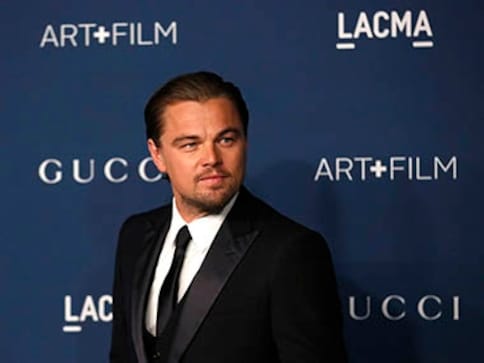 Entertainment
Leondardo DiCaprio and Martin Scorsese are planning two more films based real life-based stories, besides the Theodore Roosevelt biopic.