The Lion King, Star Wars: The Last Jedi, Mary Poppins Returns — Disney reveals details of its upcoming films at expo
The biennial Disney expo is always a good time, and Disney's news of its upcoming films had fans more excited than eve.
Other than the release of the Avengers: Infinity War trailer, there were other majoy reveals too.
Tim Burton's live-action remake of Dumbo is in production, to be released March 2019, and an adorable 3D elephant was wheeled on stage to prove it. Dwayne Johnson is working on a project called Jungle Cruise (sequel to Jumanji). It was confirmed there will be a live action Mulan, and Aladdin has finally been cast–Mena Massoud will play the man himself, while Will Smith is set to co-star as the Genie.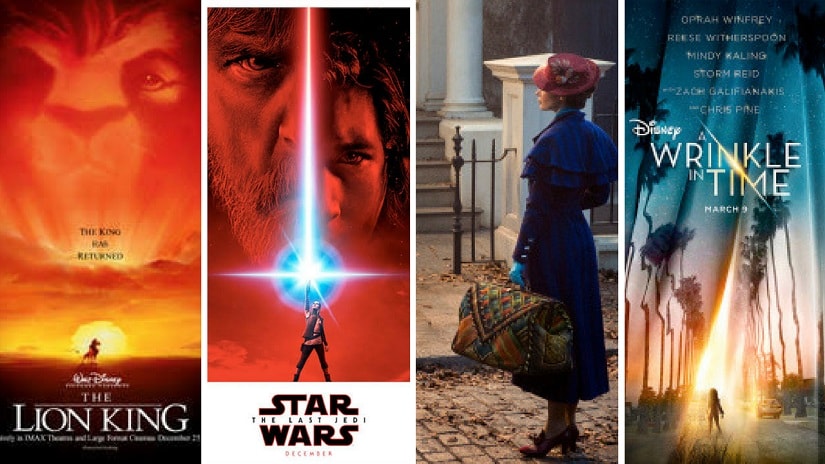 The Lion King
One of the first films that Disney premiered was The Lion King. 
Exclusively screened for attendees, the footage featured astonishing shots of African landscapes, many types of animals. It ended with the iconic moment in which Rafiki introduces an adorable young Simba on Pride Rock, as Elton John's 'Circle of Life' is played.
"We love this movie and we are working hard," said Favreau.
The starry voice cast of The Lion King remake includes Donald Glover (Simba), James Earl Jones (Mufasa), Seth Rogen (Pumbaa), Billy Eichner (Timon) and John Oliver (Zazu).
Jeff Nathanson wrote the script for the live-action adaptation, which is being produced by Favreau and Jeffrey Silver.
Star Wars
Star Wars: The Last Jedi director Rian Johnson and cast of the film -including Daisy Ridley, John Boyega and Mark Hamill ? released an exclusive behind-the-scene footage from the film at D23 Expo.
The Episode VIII is still in post-production and the reel reveals the first stages for some serious Last Jedi action including Adam Drivers Kylo Ren and Ridleys Rey using wooden sticks to train for their light saber sequences.
But the most touching moment was the final shot featuring Carrie Fisher as Princess Leia. Fisher died December 27 after filming her final role.
"Its about family, and thats what so powerful about it," Fisher said in the reel about shooting what turned out to be her final Star Wars movie. The actress then gave a salute to the camera.
In addition to the footage, Disney also unveiled a set of new character posters.
The posters of the upcoming pop culture sci-fi series include Jedi-in-training Rey, Finn, the villainous Kylo Ren, the Jedi sage Luke Skywalker, and General Leia.
The second installment of the third set of trilogies of the Lucasfilm space saga, which was written and directed by Johnson is set to open in theaters 15 December 2017.
The film also features Oscar Isaac, Lupita Nyongo, Andy Serkis, Domhnall Gleeson, Anthony Daniels, Gwendoline Christie, Kelly Marie Tran, Laura Dern and Benicio Del Toro
Mary Poppins Returns
Fans at D23 Expo were in for a surprise when actress Emily Blunt joined director Rob Marshall on stage to unveil a teaser of Mary Poppins Returns.
The film, slated to hit the screens during the Christmas next year, is a sequel to the original 1964 movie about a magical English nanny. The movie was based on P L Travers book with Julie Andrews playing Poppins.
The incidents in the film take place more than 24 years after the original film and follow the children who have now grown up and are going through a personal loss, forcing Mary Poppins and her lamplighter friend Jack (Lin-Manuel Miranda) to pay a visit to them.
Blunt said taking over the role after Andrews was 'daunting' but she had to make Poppins her own.
"I found that I watched about 15 minutes of the original and then just stopped watching it because I needed to kind of try and pay homage to what Julie did but carve out new space for myself," Blunt said.
"No one is ever going to out-Julie Andrews. She's just unbelievable. There will never be anyone else like her. So, I just had to do my version of her and I think we were very loyal to the books. I think she is a little more sort of acerbic and odd and vain and weird in the books. And so we went that direction a little more. So it's my version of her!" she said.
Marshall said he had immense respect for the original film and this is why his version has been careful about taking the legacy forward.
"We both and the entire company and the creative time feel very protective of the original film because we love it so much," Marshall said.
"That's that and will always be that. This is living in that world with a foot in the past and a foot in the future and telling that story," he said.
Marshall said they were able to get the original table with the phone on it from the 1964 film.
A Wrinkle in Time
Disney today released the first official teaser trailer for Ava DuVernay's adaptation of Madeleine L'Engle's 1963 fantasy book A Wrinkle in Time at D23 Expo.
A Wrinkle in Time follows Meg Murry, her brother and her best friend as they cross space in an attempt to find her missing father, a physicist with some extraordinary information.
The movie features young actress Storm Reid as Meg Murray, Reese Witherspoon as Mrs Whatsit, Mindy Kaling as Mrs Who, Oprah Winfrey as Mrs Which and Chris Pine as Dr Alex Murray.
Cast of the film including Witherspoon, Winfrey, Kaling, Reid and Pine were all on stage alongside DuVernay to talk about the movie.
"The thing that attracted me to the project is that I saw myself in it. I saw so many different people in it," said DuVernay, best known for her Martin Luther King Jr drama Selma.
Head of Production from Disney's live action studio Sean Bailey introduced the cast and launched the trailer.
Winfrey, who was inducted as a Disney Legend at the event yesterday, is reteaming with DuVernay after "Selma".
"I had not read the book, either. When Ava mentioned it to me and told me it was a character who is one of the wisest women in the universe and is an angelic celestial being who is going to get to wear amazing costumes and work with Reese and Mindy as a part of the Misses team, who wouldn't say yes to that?!" the 63-year-old star said.
Bailey congratulated Pine on the success of Wonder Woman.
Pine, 36, said he was interested in the role because of DuVernay.
"This happens a lot. These things are about chemistry and alchemy. Sometimes it works and sometimes it doesn't. Within five minutes of meting Ava, I knew I was going to have to do it," he said.
Indian-American Kaling, 38, whose character only speaks in riddles in the movie said her role is that of a chatterbox, but "it's wonderful because this is a character who only speaks in the wisest sayings".
"There's so much wisdom in the world and I think I quote Jay-Z in the movie, in addition to the traditional more classic scholars," she added.
Reid, 14, said working on the film was an amazing experience for her. The actress praised the 44-year-old filmmaker and all the cast members for being supportive.
"Ms Ava is so patient. Me and Mr Chris, we had some intense scenes, and just being able to see him work and see how focused he was, was amazing. Ms Reese and Mindy, you guys are amazing and you made me feel like you were my mom on set.
"Seeing Ms Oprah work was magical because you can tell that she really loves what she does. She just made me feel comfortable and she's an amazing actress," she said.
A Wrinkle In Time which hits theatres on 9 March  2018, is written by Jennifer Lee, the writer and co-director of Frozen.
The cast also features Deric McCabe, Gugu Mbatha-Raw, Levi Miller, Micheal Pena, Zach Galifinakas.
(with inputs from agencies)
Updated Date: Jul 16, 2017 14:19 PM