Rizwan Siddiquee for Kangana to Dipesh Mehta for Hrithik, meet the lawyers who defend celebrities
When Bollywood superstars like Kangana Ranaut and Hrithik Roshan are in legal trouble, who do they call? These celebrity lawyers, of course
Controversy and infamy seem to have little or no effect on stardom in Bollywood. Enjoying their demigod status on celluloid, superstars in trouble with the law rarely suffer a dent in popularity. In the wake of the legal battle between the two stars, Hrithik Roshan and Kangana Ranaut, Firstpost profiles the legal eagles who defend and come to the aid of such celebrities caught in wrangles, battling both society's preconceived notions and the constant trial by media.
'Lawyers of celebrities are constantly under public scrutiny': Rizwan Siddiquee, Kangana Ranaut's legal counsel 
Advocate Rizwan Siddiquee has handled many celebrity cases in the past. For the first time, he finds himself at the focus of the controversy as the legal battle between his client and actor Hrithik Roshan rages on. The feud between the two actors turned nasty after they slapped legal notices on each other with personal photographs, messages and emails leaked out in public. And the challenges have only been piling on Rizwan. "Lawyers of celebrities are constantly under public scrutiny because it's not a battle between the two celebs but it's also between the fans of these celebrities, who believe that their idol can do no wrong. Without understanding the truth, there are a lot of negative and unpleasant comments posted and messages exchanged, and, in the process, even the lawyers are criticised and attacked," rues Rizwan, who believes that sharpness and the ability to read between the lines make for a good criminal lawyer.
Background
A LLB degree holder from Government Law College, Rizwan pursued law "for the heck of it. I wasn't too serious about it. There are 15 law degree holders in my family, including my father, uncles and wife. But obtaining law as a second degree was not out of compulsion. Since everybody had one, I decided to go for it." He began his legal career by assisting Mehernosh Humranwala, one of Mumbai's leading solicitors, about two decades back. Soon, he decided to become independent by establishing his own firm at 26. He's currently practising at the High Court also taking up Supreme Court matters as well. "I was into commercial, corporate, film and event and then I began taking up lot of cases revolving around public interest and women's issues," says Rizwan.
Challenges
He says, "Legal matters pertaining to celebrities have to be handled with lot of care as these are media-driven. If anything goes wrong then it could adversely affect the client's reputation. They give you the case because they are confident and trust you."
'The Roshans are like my extended family, I'm handling the matter as family and not just as a legal advisor' – Dipesh Mehta, Hrithik Roshan's family lawyer
Hrithik Roshan and Kangana Ranaut are locked in a legal battle for about three months now. On 16 February, Hrithik sent a legal notice to Kangana asking her to apologise for damaging his reputation through the 'silly ex' quote and also clarify that she wasn't referring to him as her ex. He threatened to sue her for defamation if she didn't comply. Kangana responded with a 21-page legal notice saying she nowhere mentioned his name and charged Hrithik with criminal intimidation and threat.
Advocate Dipesh Mehta, who has been with the Roshan family for 15 years, took up the matter. "I have also been associated with Hrithik's grandfather J Om Prakash. The Roshans are like my extended family and I'm handling the matter not just as a legal advisor," says Dipesh, who has handled many cases of Bollywood celebrities, including that of Salman Khan, for the hit-and-run and the black buck case initially.
"I was convinced about this matter when it was brought to me. You may twist facts, create confusion and cause delay but ultimately truth comes out. Unfortunately, it has become a trial by media but it will be mature to cooperate with police and wait for their investigations. In December 2014, when we filed a complaint with the Cyber Crime Cell about an impostor, we decided to respect the dignity of the individual (the actress) and we didn't disclose her name. Whatever is written on a computer or on electronic media never gets deleted; it is there somewhere or the other. Truth will surely come out and we are anxiously waiting for the report."
Background
Born in Surat, Dipesh shifted to Mumbai to study law from Government Law College and further went to study solicitorship from England and Wales. He has his own firm in Mumbai and he has been practising for the last 31 years. His firm provides legal assistance largely catering to the Bollywood industry. "Bollywood is a small family and when you represent one, the word spreads and they start referring you to their friends. The fraternity has faith in me and hence our relationship is more personalised. My area of work includes acquiring a property, signing endorsements, personal or trademark issues," he says.
Challenges
"These celebrities do not experience the normal challenges and many times you need to understand their thought process, position, status and priorities that would be different from the general public. By talking to the media there is a fear of diverting the focus. You do not take legal matters to the media but restrict it the appropriate forum of law. There is lot of confidential information and knowledge which one has to be careful about," says Dipesh. who attributes secrecy and loyalty to his success.
'Salman Khan had a very compelling case for acquittal' – Amit Desai, Senior Counsel
In Salman Khan's alleged hit-and-run case, senior counsel Amit Desai was contacted after the actor's conviction and it was Desai and team who overturned it to acquittal. This was a major breakthrough for the actor as six months before this judgment, a lower court had convicted him of culpable homicide and sentenced him to five years in jail for driving over (and killing) a man sleeping on a pavement. "Obviously, at this stage, there is an enormous amount of effort that you need to put in. You go through the entire record, analyse the facts and make sure that you present them in the context of law before the court," says Desai, adding that, "I realised that Salman had a very compelling case for acquittal. As lawyers, when we accept the brief, we are not judging the client. Our professional duty is to do our best, and ultimately leave it for the court to decide."
Background
Desai has been in the practice for 34 years. "I got the opportunity of doing a lot of trials in the High Court because I was involved in the security scam cases (since 1992), which happened there. I represented most of the brokers involved in the security scam matter. Initially, I also represented the Harshad Mehta group, Hiten Dalal and TB Ruia group from time to time."
Desai, who puts in 13 to 15 hours of work every day, comes from a family of lawyers: he is third generation. His father, Krishnakant Desai was also a senior criminal lawyer (his contemporaries were Ram Jethmalani and PR Vakil). Desai may be handling a number of celebrity cases, but he doesn't believe in appearing in public. "I only argue in court and if media decides to write, it's fine," he says.
Challenges
"The big challenge that we face is the media trials. Many facts are not presented correctly to people, and, as a result, parties are judged before the trial. And when they succeed, media isn't there to redeem the reputations that are already tarnished. We need a kind of balance that media has to reflect."
'My purpose to represent Sooraj Pancholi was because my conscience knows that he is innocent' – Prashant Patil, Sooraj Pancholi's legal counsel
On 3 June 2013, actress Jiah Khan was found hanging at her Juhu residence. A week later, her boyfriend and senior actor Aditya Pancholi's son, Sooraj was arrested for abetting the suicide under Section 306 of the IPC. Advocate Prashant Patil decided to represent the young and upcoming actor essentially because it was a challenge for him. "My purpose to accept this matter and represent Sooraj was because my conscience knows that he is innocent. That is how I want to plead before the court. I am absolutely convinced," says Patil.
Background
After doing his Science Honours from Pune, Prashant left for Delhi to prepare for Civil Services when he realised that he wants to do something for this nation by becoming a part of the judicial system. "With several innocents languishing in jail, trials and justice getting delayed, I felt that our country requires judicial reforms," he says. Prashant has pursued over 100 trials in his career so far. Eminent lawyer and Chairman of Maharashtra and Goa Bar Council, Harshad Nimbalkar was his senior in Pune when he joined his chamber, and later, he began practicing independently since 2009.
Challenges
"When we know that the client we are representing is innocent but there are hundreds of documents, or when the investigative agencies don't play fairly, then it is stressful. Even when we give our best in our argument, there are other factors beyond our control that prevail upon the trial. The State and agencies are more powerful than an individual, so when they go all out to frame an accused, who is actually innocent, even the media start convicting the accused before the trial has begun..."
I shoved off people's perception, media influence and fought Rahul Raj Singh's case on merit – Aabad Ponda
When television actress Pratyusha Banerjee was found hanging from the ceiling fan in her suburban Mumbai apartment on 1 April, it was her live-in partner, TV producer and actor Rahul Raj Singh, who rushed the Balika Vadhu actress to hospital. Two days later, Rahul had cases under Sections 306 (abetment of suicide), 504 and 506 (criminal intimidation) and 323 (voluntarily causing hurt) of the IPC filed against him by the police. The primary trigger seems to have been a statement given by Pratyusha's parents — Soma and Shankar Banerjee.
Lawyer Aabad Ponda, who practices primarily in the High Court took up Rahul's matter with lot of confidence. "Everybody was against him but there was a possibility that he was falsely implicated. Anybody can commit suicide and there are enough judgments and education given to us by the Supreme Court that every time someone commits suicide the other person is not guilty. There must be goading and instigation to show that he intended that she commit suicide. Such matters are challenging... trying to save an innocent man from going to jail," says Ponda.
Background
With both his parents being criminal lawyers, Ponda's career was set. After living "under their shadow for the first few years," Ponda gradually started a separate practice. Wanting to practice in the Supreme Court, he moved to Delhi, but he came back to Mumbai, where he picked up his practice, independent of his father.
Challenges
"There's a lot of pressure to perform better and expectations to deliver can act counter-productive, while prejudices paint the accused guilty even before the trial has begun."
'Sanjay Dutt would often ask me, 'When will I see light outside the jail' – Satish Maneshinde
From a penniless law graduate (from Karwar) to one of the city's top lawyers (residing in one of India's tallest buildings, Imperial Heights), the journey of legal luminary Satish Maneshinde has been long and arduous. To some extent Satish owes his success to the bomb blasts trial of March 1993 and the Sanjay Dutt case. The actor was arrested on 18 April 1993 when he was at the peak of his career, for his involvement in serial blast case in Mumbai. "I have been defending Sanjay Dutt ever since he was arrested. Earlier, he was a client of Ram Jethmalani." he says, adding, "Undoubtedly, Sanjay's is one of the most challenging cases I have handled. When he came to me, in 1994, the Supreme Court had rejected his bail. He used to often ask me – 'When will I see light outside the jail'? In October 1995, he got bail with the support of Balasaheb Thackeray," says Satish. "Dutt's success in getting bail not only brought me name and fame, but also immense knowledge, while working in both the trial and in the Supreme Court,'' he says.
Background
Satish went to a military school but he  claims that he was a complete misfit. He was supposed to train to join the NDA but he didn't enjoy that, and after seven years of life in a boarding school, he joined a commerce college and studied Law. Honoured as an outstanding student in 1982 by the Karnataka University Law College in Karwar (Karnataka), Satish came to Mumbai to try his luck in 1983. For 10 years, he worked with senior counsel Ram Jethmalani on a monthly stipend of Rs 500 and practised both civil and criminal law.
"It was difficult to make ends meet but I survived the rough life. Probably looking at my work, my seniors gave me more responsibility. I started earning Rs 5,000 per case and then sky was the limit. I set up my own chamber but continued my association with Jethmalani whenever he sought my advice," he says.
Challenges
When a case comes to me, my first duty is to ignore the press, because at times what appears in the media and what the case papers say is totally different. "Media trial, campaign against stars, people attacking with pre-conceived notions can be terrible for lawyers. It's a total travesty of justice," he says.
'I realised that he (Shiney Ahuja) was innocent and it was not at all a case of rape' – Shrikant Shivade, Legal Counsel to Shiney Ahuja
Shrikant Shivade prefers to not be called a celebrity lawyer. But the fact is that he has cross-examined actors including Salman Khan, Shah Rukh Khan, Preity Zinta and Madhur Bhandarkar and has also defended Shiney Ahuja, who was accused of raping his maid servant in June 2009. "I realised that he was innocent and it was not at all a case of rape. The girl later testified under the oath that he had not even touched her and the DNA evidence was found to be botched up. The case is pending an appeal in the High Court," says Shivade, who came into the picture in Salman Khan's alleged hit-and-run case, two years ago, when the case was committed in the session court for a trial of a higher charge of culpable homicide not amounting to murder. Shivade had then said that he had to give up many cases to concentrate on defending Salman.
Background
"My father was in the Mumbai police force and we moved to Pune since we didn't have a place to stay in the city after his retirement. I did my law in Pune and also taught criminal law while practising. I had to come down to Mumbai when former police commissioner RD Tyagi was being tried for the Suleiman Bakery case. Tyagi and a few others were charged for killing nine people during the Mumbai riots," says Shivade, who believes that defence comes from heart and not the brain. "I try to find some innocence in my client. I don't like defending hardcore criminals because then the entire case can be conducted only by heart," says the lawyer.
Challenges
"Celebrities are soft targets because media becomes judgmental about their alleged guilt, which sways the public opinion against celebrities. When a common man is accused, small reliefs from court is easy to avail, whereas celebrities have to struggle. Also, the lack of legal knowledge leads to misinterpretations in media reports."
'Preity Zinta versus Ness Wadia was a challenge for me because in India people take a very casual approach when it comes to women's rights' – Hitesh Jain, Preity Zinta's lawyer
When Bollywood actress Preity Zinta filed a police complaint against her former boyfriend and businessman Ness Wadia, alleging that he molested, abused and threatened her inside the Wankhede stadium, there were a lot of debates on the issue, particularly since Preity and Ness were earlier in a relationship. "It was a challenge for me because in India people take a very casual approach when it comes to women's rights. It required a lot of convincing that you can't abuse a woman in front of several people. It was her battle for personal dignity," says Hitesh Jain.
Background
Hitesh hails from a family of lawyers in Pune. His father was a senior criminal lawyer, and at an early age Hitesh was exposed to high profile trials in the Pune court. There was a steady flow of celebrities and journalists at his residence and the environment influenced him to walk in his father's footsteps. "My father had got the accused acquitted in the Supreme Court in the Sharad-Sarda murder trial, in 1980. In this case a young, married woman from a high profile family was found dead and the case was as big as the Aarushi case. I had witnessed the protest march defending the accused, all this was fascinating to me," says Hitesh.
Challenges
"We are often in a dilemma whether to speak to the media or not. In high profile matters, clients get a lot of advice from people visiting them. in such circumstances one reaches a point of saturation. We have to convince the client to not get confused." He continues, "I don't judge a person. Society can form whatever opinion they want to. I believe that every person has a right to defend him/herself and if he/she has committed a crime, he/she has the right to repent. Everybody deserves a second chance."
Find latest and upcoming tech gadgets online on Tech2 Gadgets. Get technology news, gadgets reviews & ratings. Popular gadgets including laptop, tablet and mobile specifications, features, prices, comparison.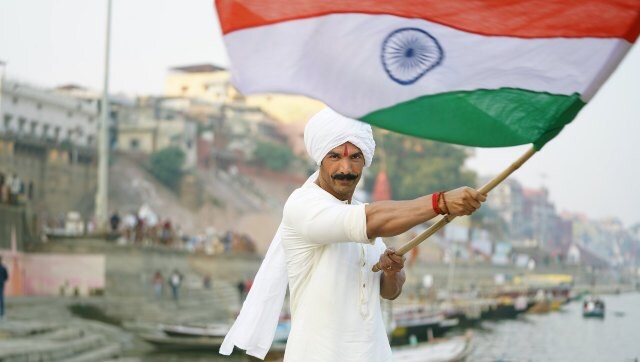 Entertainment
John Abraham, who will play a police officer in Satyameva Jayate 2, announced the film's release date with a new promotional still.
Entertainment
Pista Dhakad was returning home after Bigg Boss 14 Weekend Ka Vaar shoot with a colleague when they met with an accident.
Entertainment
"I wasn't expecting my eviction, I wanted to win the show but I am grateful to my fans who got me till this stage in the game," says Jasmin Bhasin