The Laws of Thermodynamics movie review: Mateo Gil's Netflix rom-com is needlessly pretentious
The Laws of Thermodynamics remains a dud, from the beginning to the end.
I have not watched any of director Mateo Gil's films before I watched his recent Spanish romantic comedy The Laws of Thermodynamics. What I did watch, however, are some of the films he co-wrote with Alejandro Amenabar – including Tesis and The Sea Inside. And while these films blew my mind, I wish I could say the same for Gil's own film The Laws of Thermodynamics – one that came across as a self-indulgent, vacuous, and extremely incoherent piece of cinematic gimmick.
Manel is a bumbling, insecure and nerdy assistant to a University professor. As he tries to navigate through the many labyrinths of his troubled love life, he firmly believes that everything in life – human emotions and interactions most of all – can be explained by the laws of thermodynamics and their corollaries. There is precious little else I can tell you about the plot than that, because honestly, nothing much happens in the rest of the film, other than to prove this point.
To be honest, Manel is not a likeable protagonist. He promptly breaks off with his girlfriend as a more attractive girl comes along, and when he finds himself in the same situation later in the film, he brands the treatment being meted out to him as being 'unfair'. I neither found myself rooting for the protagonist, nor did I find myself invested in the movie – which began to seem like a boring and pedantic college lecture less than fifteen minutes into the film.
Artificial situations were created to 'fit' a particular theory. In several scenes, convenient phenomena are described, whose sole purpose seem to be to justify the artistic premise of the film. Scientifically, however, do not expect to find any proper or credible explanation. In almost every scene (and often in every frame), there seems to be an explanation as to how a law of physics is behind a certain incident or action – complete with graphs and charts and the likes. But the point is, these explanations come across as contrived, and lacking universality. Was this done to make the film funny? Who knows. What this ends up doing instead is to make the film a ridiculous joke.
The performances are good though – especially that of Vito Sanz as Manel and Berta Vazquez as the beautiful but misunderstood Elena. While Sanz exudes a certain amount of joyous excitement in propagating his theories throughout the length of the film, Vazquez is more calm, reserved and amorously charming.
Chino Darin plays Pablo, Manel's friend and incorrigible flirt, whose own relationships keep falling apart and mending themselves from time to time. Darin is perhaps the best thing about the film – there is an air of smooth confidence about him, even when he is making a mistake. He is the sort of friend one hates to have, and yet finds it difficult to break away from. And in that sense, Darin scores an ace in the role he has been given.
But these performances are incapable of filling the vacuum left behind by a flimsy plot. In many ways then, the film can be compared to one of those too-smart-for-his-own-good college show-offs, who thinks he can impress girls by flamboyantly rattling off complex theories from textbooks, with merely a superficial knowledge or understanding of said theories. And in show business, if you are a show-off, you will be shred to pieces. That's exactly what happens with this self-important film. It remains a dud, from the beginning to the end.
The Laws of Thermodynamics is currently streaming on Netflix.
Entertainment
With every plot uptick, first in the form of nationwide media attention, then a CBI enquiry, comes a greater fall. When Siya refuses to be guilted into marrying one of her rapists and pursues justice, her father is tied to a tree and publicly lynched to death.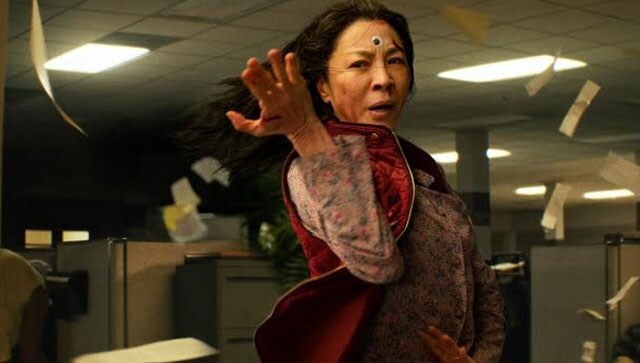 Entertainment
The Daniels take us on a freewheeling adventure where metaphysics and martial arts don't exactly make for the strangest bedfellows.
Entertainment
R Madhavan, Khushalii Kumar and Aparshakti Khurana's Dhokha Round D Corner keeps you at the edge of your seat with its solid twists and turns.