The Fabulous Lives of Bollywood Wives meant to be a 'guilty pleasure watch,' show's stars react to polarising reviews
'I expected a lot more trolling and bashing, but there was a lot of love that came our way,' Seema Khan says about the reception of The Fabulous Lives of Bollywood Wives.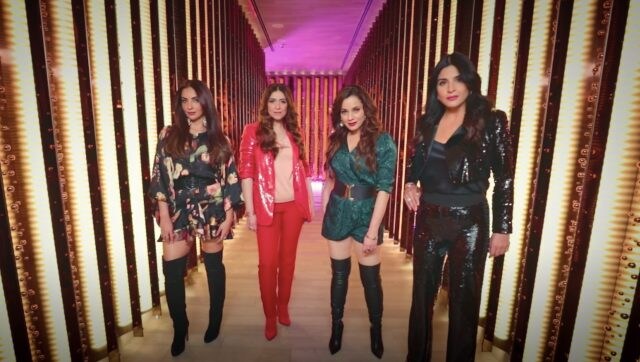 The Fabulous Lives of Bollywood Wives, streaming on Netflix, is perhaps one of the most polarising shows of 2020. The show traces the lives of four celebrity wives and their privileged existence. The eight-episode series follows Neelam Kothari (former Bollywood star and Samir Soni's wife), Maheep Kapoor (Sanjay Kapoor's wife), Seema Khan (Sohail Khan's wife) and Bhavana Pandey (Chunky Pandey's wife), who are quite well-known for their various appearances in tabloids and through celebrity social media posts. While having largely stayed in the shadows of the more famous better halves, they have, perhaps, made themselves finally available for broader recognition.
While the whole premise of the show may not have gone down too well with certain sections of the society, the stars themselves have not let the reviews dampen their spirits.
In a conversation with Gulf News, Neelam explained that when one is putting themselves out there through any medium, they have to be prepared for both good and bad. She went on to add that the show is meant to be fun and one needs to just lie back and enjoy it.
Maheep Kapoor revealed that all of them were reluctant at first to do the show, but they have managed to make viewers laugh and that has been the greatest gift. Both Bhavana and Neelam said that they are all soaking in all the love and praises.
When asked what mundane lives meant (Seema had said they lead mundane lives on the show), Seem said that there is glamour in their lives, but like other women, they multitask too. She revealed that nothing was scripted and it was actually daunting to do such a show. Neelam added that attending parties is just one part of their lives, while Bhavana added that the makers hand-picked a few scenes from their malls and made it interesting.
When asked about the polarising views the show has garnered, Bhavna said that the show was never made for critical reviews, or for performances it was just for fun and for people to have fun watching it. Maheep added that she accepted the fact that not everyone would like it and bad reviews are fine, while Seema concluded by saying that she is only with everyone not liking it. She added, "At the end of the day, 'The Fabulous Lives Of Bollywood Wives' is meant to be a guilty pleasure watch. Honestly, I expected a lot more trolling and bashing, but there was a lot of love that came our way."
Entertainment
Tracing the journey of the show from season one to season two, Neena Gupta and Masaba Gupta's show has tackled professional and personal highs, lows (and maybe blows). Here are five reasons why you should watch it.
Entertainment
Kevin Spacey was fired or removed from projects, most notably "House of Cards," the Netflix political thriller where for five seasons he played lead character Frank Underwood, a power-hungry congressman who becomes president.
Entertainment
In a statement, Patel's representative said, "We can confirm that last night, in Adelaide, Dev Patel and his friends witnessed a violent altercation that was already in progress outside of a convenience store."