The changing face of 'mardaangi' in Bollywood: Men may now be gentle, gorgeous and/or gay
The first five months of 2016 have seen a marginal change in Bollywood 's troubling traditional definition of masculinity.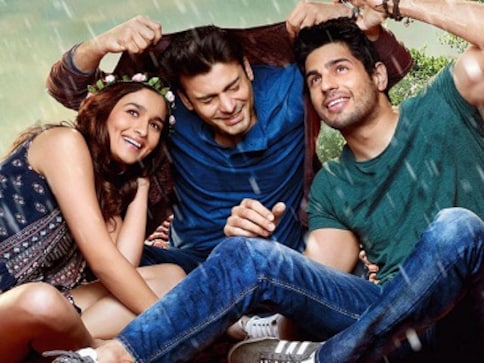 (This is the first part of a series on evolving definitions of masculinity in Hindi cinema)
Despair is a natural consequence of being a feminist who reviews Hindi cinema.
Take the coming Friday's big release. Irrespective of how the content of Housefull 3 turns out, this series exemplifies the dispensability of female stars in Hindi screen comedies and, in turn, male dominance in Bollywood. Akshay Kumar and Riteish Deshmukh play the central characters in each of the Housefull films with girlfriends/wives who have been played by a succession of actresses: Deepika Padukone, Jiah Khan and Lara Dutta in the first film, Asin and Zarine Khan in Part 2, Jacqueline Fernandez and Lisa Haydon in the latest.
If Tennyson had written of Bollywood instead of a brook, his poem might have read: "For women may come and women may go, but men go on forever."
The Hindi film industry's male-centricity should not come as a surprise to those who have lived or travelled through India's Hindi-speaking states. A language reveals much about the culture it has emerged from and it is no wonder that in this deeply patriarchal region, mard – meaning, man – in Hindi is also the word for hero, brave person, warrior and husband; and from mard comes the Hindi word for machismo, mardaangi.
Quite naturally, then, men have held centre-stage through most of Hindi cinema's existence, with women usually playing the support staff of their lives. Mainstream Hindi film heroes have, by and large, been north Indian, Hindu, upper-caste, heterosexual men marked out by their ability and desire to be the sole breadwinner, protector and head of a household, to fight wars if they are aristocrats, to single-handedly bash up dozens of goons and/or to woo women to the point of hounding them. In short, to trumpet their 'mardaangi'.
This, after all, is a film industry that has given us Akshay Kumar supposedly 'courting' Sonakshi Sinha in Holiday (2014) by stalking her and even forcefully kissing her in public; where Salman Khan laughingly lifted Fernandez's skirt with his teeth surrounded by a gaggle of male dancers in Kick (2014); where a majority of heroines are stay-at-home wives and single women holding down ill-defined jobs or working in what are traditionally deemed 'women's professions' while they wait to fulfill the primary purpose of their existence, which is to be won over by the hero.
Keeping in mind though that evolution tends to come in exasperatingly tiny, incremental steps, it is worth noting that the past couple of years and especially the first five months of 2016 have seen a marginal change in Bollywood's troubling traditional definition of masculinity.
The most noticeable challenge to the 'mardaangi' cliché this year has come in the form of films featuring homosexual men. Hansal Mehta's Aligarh starring Manoj Bajpayee and Tanuj Bhramar's Dear Dad with Arvind Swamy both revolve around the hero's homosexuality. They are not flawless, but at least they do not pigeonhole gay men as effeminate, comical or crass. Some might point out though that like Onir's beautiful My Brother Nikhil (2005) and I Am (2011), these films too occupy a less commercial space and feature niche actors.
That cannot be said of Kapoor & Sons (Since 1921), which received almost universal critical acclaim this March and has gone on to achieve box-office success. History books will remember it as arguably the first mass-targeted, mass-marketed Hindi film from a mainstream producer (Karan Johar) to feature a central character who is gay without fitting any stereotype, played by a mainstream star much lusted after by women viewers, without homosexuality being the theme.
Film writer-cum-editor Apurva Asrani underlines the significance of this trend when he says: "None of these three films presents their male protagonists apologetically or offers explanations of childhood trauma for their sexual orientation. They just happen to be gay. They have solid vocations and passions that don't overlap with their sexual behaviour. It is heartening to see these 'non conformist' characters treated with so much dignity on screen."
Asrani wrote Aligarh based on the true story of Professor Shrinivas Ramchandra Siras who was suspended by a homophobic Aligarh Muslim University. He adds: "A few years ago, to be 'a man', the male protagonist needed a wife or a girlfriend. He needed to be cut in the image of 'Ram' the dutiful family guy. If not, it was considered that "ma da laadla bigad gaya" (mother's favourite son has been spoiled). Then the deviant male could share screen space with a 'real male' protagonist, but only as the buffoon, the villain, or at best, a sidekick! Today men can cry on screen, swoon alone to Lata Mangeshkar songs like Siras, look as gorgeous as Fawad Khan and still have a long-term relationship with another man, father children yet realise one day that they must stop living a lie."
The loud posturing of macho heroes from 1970s-80s Hindi cinema survived the much-touted return of romance in the 1990s and has carried over in considerable measure into this century. Through this time, it has been hard to find heroes who unabashedly shed tears before their girlfriends and wives, who are not the benevolent bosses of the women in their lives, who are open about their vulnerability or at least do not compensate for displays of such emotion by letting their fists fly or by bullying women into falling for them.
Director Shakun Batra's Kapoor & Sons is important for this too, in addition to its sensitive, atypical handling of a gay character. For K&S' Arjun (Sidharth Malhotra) and Rahul (Imran Khan) from Batra's 2012 film Ek Main Aur Ekk Tu, it would be unthinkable to rough up a heroine who has rejected their romantic overtures and laughable to utter chest-thumping lines like "mard ka bachcha hai to saamne aa (if you are the child of a real man, face me)" that once came so naturally to so many heroes.
Ditto Naseeruddin Shah in Anu Menon's Waiting, released this week. Waiting is a reminder that more credible lead roles are being written these days for older male actors – not just for Amitabh Bachchan – who do not wish to play characters 20-30 years younger than their real age, as Bachchan did during his forgettable 1990s. This is a tougher battle than it seems. Anil Kapoor, who went gray haired to play an elderly father of two children in their 20s in Zoya Akhtar's Dil Dhadakne Do (DDD), has found himself nominated in the Best Supporting Actor category by all awards givers so far this year. He was DDD's protagonist yet Best Actor noms have gone to Ranveer Singh who played his son. Singh, you see, at this point and even in this unusual film, better fits the orthodox Hindi film definition of a hero: young – check, commercial star – check, his character is in love with a young woman played by a commercial female star (Anushka Sharma, no less) – check.
A youthful female romantic partner, however marginal she may be, has been an essential ingredient in a male protagonist's life so far, which is why the advent of gay heroes is remarkable. 'Winning' a woman's affections and 'making' a woman fall in love with you have been a crucial mark of masculinity in mainstream Hindi films for decades. Add to this some belligerence and blood-letting, and the recipe is complete.
A light shines at the end of the tunnel though in the form of a new generation of writers, directors and actors challenging formulaic diktats. It could be argued that Sidharth Malhotra, Imran, Fawad and their ilk could afford to defy prescribed standards since they are still establishing themselves, that real change will come only when films of well-entrenched male stars routinely and outrightly defy patriarchy. Well, the opportunities offered to the younger lot, their risks and experiments could end up testing as much as influencing audience tastes, in the long run making such projects less intimidating to blockbuster-delivering commercial stars.
Aamir Khan has long been lauded for spotting – and making a success of – offbeat ventures within the commercial space, but recent choices by his relatively conservative colleague Shah Rukh Khan are causing some disquiet among Hindi film viewers and makers. The songless, understated Fan in which SRK played both a superstar and an obsessive devotee this year – earning widespread critical acclaim for his performance – is being seen as too experimental for his mass base. Couple this with his role as a dwarf in director Aanand L. Rai's forthcoming film, and his well-wishers are disturbed.
A few weeks back, director-producer Ram Gopal Varma argued on Twitter that "megastar SRK becoming ordinary fan, dwarf etc" is the kind of blunder that caused Kamal Haasan "to lose his stardom to" Rajinikanth. In an interview aired this week, Varma stuck to his stand when he told me: "Big star cannot have a choice of doing anything that they want because it is related to how the film is going to be pitched, sold, distributed and released. It has to be a kind of subject matter which should cater to as many people as possible as what the film is being spent on and sold on."
This being conventional Bollywood wisdom, you can imagine why money-spinning superstars usually avoid experimentation.
Of the present reigning kings, Salman Khan and Akshay Kumar are the ones most faithfully adhering to the 'mardaangi' formula, with their heroines rarely rising above being a pretty showpiece or an aside. On the other hand, you cannot ignore the fact that these two men are among the pioneers of a phenomenon now near-universal in Hindi films: the body proud man.
Women's bodies have been objectified in films from the beginning. In the 1980s, a trickle of stars began to persistently tap the audience's latent interest in the display of male flesh. Salman and Akshay have made male shirtlessness on screen perfectly acceptable to the point that now a hero who does not work hard on his physique is a rarity, unlike the more careless – sometimes even pot-bellied – actors of the past.
Let the record show that there is still no equivalence between male and female objectification in Bollywood: all young women are objectified in Hindi films, men are objectified when they wish to be; men make their choices within a system in which they call all the shots, whereas "choice" is a loaded word for women since even the biggest female stars are not in a position to dictate terms in quite the same fashion as their male colleagues; and male objectification in Hindi films has so far not dehumanised a star/character the way female objectification often crudely does.
Still, it must be acknowledged that without undermining their dignity, Bollywood's male stars acknowledged the heterosexual female gaze and the homosexual male gaze a while back in this department. The body proud hero crossed many Lakshman rekhas this summer with the John Abraham-starrer Rocky Handsome, which was, from A-Z, an ode to Abraham's gorgeousness.
Likewise, posters of the Tiger Shroff-Shraddha Kapoor-starrer Baaghi, which is still in theatres, completely overturn gender equations in the matter of objectification. There she sits, covered from top to toe in a jacket and jeans, while a shirtless Shroff fronts the visual flaunting a bronzed, muscular torso gazing at us from within an open jacket. In another, he stands topless while a jeans-clad Kapoor flashes a relatively mild bare arm, her bra and a stretch of torso showing in silhouette through a top split down the side.
Compare this to the posters of Housefull 3 on which three fully clothed men in casual attire hang out with three women dressed to the nines in microscopic clothing.
The other side of this coin is that when male bodies are paraded through Hindi films, the intention is not merely to please the viewers' eye. They also serve to further tomtom the heroes' physical might, and must be seen in the context of an industry that remains highly patriarchal despite the progress made over the years.
In this scenario, could Hindi cinema's highest paid male stars afford to let go of their on-screen machismo, the seeming invulnerability and invincibility that appears essential to their image? While we wait for that answer, youngster Arjun Kapoor last month opened up a new conversation when he played a stay-at-home husband of a professionally successful wife (Kareena Kapoor Khan) in R. Balki's Ki & Ka, albeit through the medium of comedy perhaps to soften the blow to conservative male audiences. Despite the film's mixed messaging, it has to be lauded for placing a male character in a domestic role that even feminists have not yet widely discussed on public platforms in India.
The pace of change is no doubt infuriating and frustrating, but an eternal optimist must chronicle these as the tentative baby steps of a slow moving infant. Like loving parents who are usually the only ones at hand to watch the baby, commercial cinema demands patience from viewers.
Ah well, no one ever said being a feminist is easy.
(Tomorrow in this series: Part 2: Interview with actor Fawad Khan)
Arts & Culture
Arti Sonthalia, who has written award-winning children's books such as Big Bully and M-me (2015) and Best Friends Forever (2018) is back with a new title called Read, Write, Race. It revolves around a 10-year-old boy named Raghav who is diagnosed with dyslexia.
Entertainment
The eleventh episode of Koffee With Karan Season 7 on Disney+ Hotstar sees Varun Dhawan and Anil Kapoor share marriage wisdom.
Entertainment
Nupur Shikhare and Ira Khan announced their engagement on social media and friends and fans cannot keep calm. Here's everything you need to know about him.