Thalaivaa, Kaththi, Puli, Theri, Mersal, Sarkar: Tracing pre, post-release controversies that haunt Vijay's career
With Thalapathy Vijay's Sarkar gearing up for a massive worldwide release on 6 November, here's tracing how almost every film of his has run into controversies pre and post-release.
If there's a state in India where films and politics are intrinsically connected, it is, undoubtedly, Tamil Nadu. The three esteemed late Chief Ministers of Tamil Nadu — MG Ramachandran aka MGR, Mu. Karunanidhi, and J. Jayalalitha — who governed the state for the last four decades, forayed into politics by cashing in on their flourishing careers in the film industry.
With Thalapathy Vijay's Sarkar gearing up for a massive worldwide release on 6 November, here's tracing how almost every film of his has run into controversies pre and post-release. While on some occasions the controversies helped boost the film's publicity, other instances exposed the combative nature of the ruling party against the industry.
Since Vijay's 50th film Sura ended up as a disaster at the box-office and triggered cascading financial troubles in the distribution pipeline in 2010, his 2011 Pongal release Kaavalan earned the wrath of the Tamil Nadu Theaters Owners Association, who went to the extent of adopting a resolution to not offer any co-operation to the movie just a week before its release. As a result, two shows of Kaavalan got canceled on its opening day, and there were also rumours that significant industry stakeholders from DMK pressurised exhibitors to stall the film's release.
In 2012, Thuppakki — which marked the maiden collaboration between AR Murugadoss and Vijay and was the first film to touch Rs 100 Cr in box-office earnings for the duo — encountered a host of issues before and after release. The first look poster of the film, which had Vijay smoking a cigar, faced flak from social activists and Murugadoss had to clarify later that he had removed a brief smoking scene in the film and the poster was released only for promotional purposes.
Post-release, nearly 23 Muslim outfits from the state staged protests against the film by reasoning that certain scenes offended their sentiments and portrayed their religion wrongly. Succumbing to the pressure, Murugadoss tendered an open apology in a joint press conference with representatives from the Muslim community and promised to delete the controversial scenes.
Talking to Firstpost, industry analyst Trinath says, "When it comes to movies, whether it's positive or negative, any publicity is good publicity for the parties involved. While it's true that Vijay's films have traditionally faced a lot of pre-release and post-release controversies, there's no denying the fact that they definitely played a key role in also keeping the cash registers ringing."
Vijay's 2013 action-drama Thalaivaa allegedly drew the ire of the then sitting TN Chief Minister, J Jayalalitha because of the Time to Lead tag of the movie. The film faced a delayed release of two weeks in the state after the removal of the tag from all the publicity posters and promotional videos. The frivolous bomb threats to theaters screening the film enabled the state government to suspend the release. Vijay's effort to meet Jayalalitha in Kodanadu Tea Estate to seek protection for theaters and clarify his stance ended up in vain after her representative collected the petition since the actor was refused entry stating he had no prior appointment.
Another industry insider who wishes to be anonymous claims that it's not pragmatically possible to chart out controversies for every single film as a marketing tool.
"If it's post-release, one can give the benefit of the doubt. But, no one would love to have pre-release controversies because it would take a toll on the entire team when they work round the clock to have the drives and copies delivered and are rushing to meet deadlines. In Vijay's case, most of the issues are quite circumstantial, and some are, certainly, politically motivated," he said.
Vijay's 2014 blockbuster Kaththi ran into plagiarism charges followed by unprecedented protests across the state after pro-Tamil groups accused producer Subaskaran Allirajah of Lyca Productions of alleged business ties with the then Sri Lankan President Mahinde Rajapakse. Miscreants had hurled petrol bombs at the famous Sathyam Cinemas and vandalised it before the city police arrested them. Vijay later released a statement confirming the withdrawal of Lyca Productions' name from the film's title credits.
Popular Coimbatore distributor Tiruppur Subramaniam, in a recent video interaction, opined that Vijay should focus on his film career for another ten years without disturbing anyone since he's in great form now. "If he's planning to enter politics, let it happen after ten years. He's at the peak of his career now and the numero uno box-office star in the state," he remarked.
The 2015 release Puli left Vijay fans anxious because of the surprise IT raids conducted at the premises of his resort and residence in addition to the properties of the film's producers Shibu Thameens and PT Selvakumar. The film also had to battle a significant financial quagmire before Vijay had to intervene to settle the dues following the cancellation of early morning shows.
"That Vijay has political ambitions is anybody's guess. However, he should be also be a little wary of his speeches at audio launch events. While freedom of speech is imperative, it's also important to not put the investment of stakeholders at jeopardy. His bold statements and direct digs at ruling parties affect not only him but also the distributors, theater owners, and producers when politicians unleash revenge during release time by showing their high-handedness," Trinath stated.
2015 super-hit Theri, which marked director Atlee's first association with Vijay, had to confront an internal issue when the movie was not released in nearly 60+ screens of the lucrative Chengalpet territory due to a dispute in terms between Exhibitors Association and the film's producer Kalaipuli S Thanu. The disagreement lasted for two weeks before the decks were cleared for the film's release in Chengalpet.
Vijay's career-best blockbuster Mersal, which released last Diwali, set off a series of protests by the state's BJP leaders for certain dialogues in the film that ridiculed GST, Digital India, and Gorakhpur Tragedy to name a few. When the Congress party and others expressed support to the makers of Mersal, the issue was blown into unimaginable proportions. The entire Kollywood formed a beeline and registered their support to the film produced by Thenandal Studios.
To resolve the pre-release issues such as the delay in the issuance of censor certificate and AWBI (Animal Welfare Board of India) clearance, Vijay had met Tamil Nadu Chief Minister Edappadi K Palaniswami to request a smooth release for the film.
And now, Sarkar has already had its fair share of controversies with writer Varun Rajendran alleging that the story of the film is copied from his work Sengol. However, the issue was settled out of court a few days back and both parties have arrived at a compromise.
Now, fans are waiting with bated breath for the GO from the state, which will authorise theater owners to screen six shows of Sarkar per day during Diwali holidays. However, industry sources claim that Vijay's most daring speech at the audio launch of the film had irked the ruling party, which has passed stern orders at various district levels to curb high-ticket pricing and special early morning shows. The uncertainty over when the KDM (Key Delivery Message) will be released continues even now.
Sarkar releases worldwide on 6 November.
Find latest and upcoming tech gadgets online on Tech2 Gadgets. Get technology news, gadgets reviews & ratings. Popular gadgets including laptop, tablet and mobile specifications, features, prices, comparison.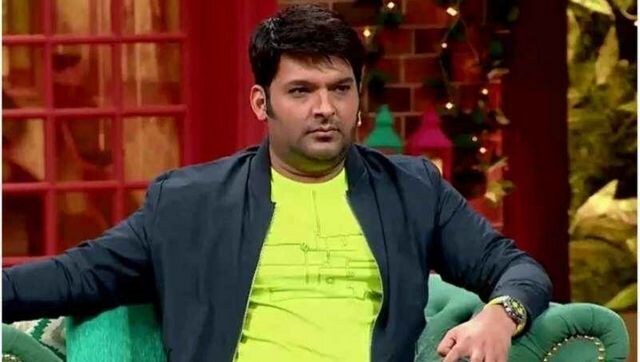 Entertainment
Though it is unclear whether Kapil Sharma's project is a comedy special, series, or film, it will premiere on Netflix in 2021.
Entertainment
Taran Kootenhayoo passed away on New Year's Eve with no cause of death disclosed
Entertainment
While fans made their way to theatres across India to celebrate Vijay and Vijay Sethupathi's Master, celebrities like Keerthy Suresh and Sundeep Kishan tweeted about the film.