Ten years of Kangana Ranaut: it's been a decade of making her own road
From diffident outsider to on screen 'Queen', Kangana Ranaut has had a compelling 10-year journey in the Indian film industry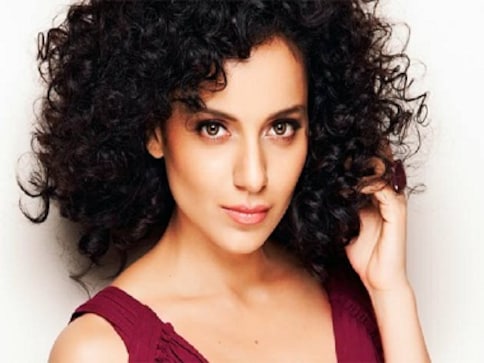 "When the going gets tough, the tough get going" may soon get its own licensed Bollywood version: when the gossip mills get going, Kangna Ranaut goes shooting.
In recent months and even today, news coverage of her has been dominated by her reported romance with Hrithik Roshan, leaked emails and allegedly Photoshopped photographs, the entire drama apparently stemming from an interview she gave in January about a "silly ex" trying to sabotage her career. In this period has also come the announcement of the third National Award of her career: a Best Actress nod for her critically acclaimed, box-office busting double role in 2015's Tanu Weds Manu Returns.
Kangna (alternatively spelt Kangana), has not given interviews about either. During this time, her office tells us, she has for the most part been buried in a demanding schedule for Vishal Bhardwaj's Rangoon in a rugged, remote location far from the madding crowd.
Work, as she knows, is the world's best spokesperson.
It is this awareness and her single-mindedness of professional purpose that have made Kangna the unusual star she is on the Bollywood firmament. As she completes 10 years in Hindi cinema today (her debut film Gangster was released on 28 April, 2006), she also completes a decade of making her own road and being her own woman in a male-dominated industry that is notoriously unwelcoming to those who lack the pedigree to make them easy fits in snooty south Mumbai circles.
Today, as it turns out, Kangna's calling card is her ability and willingness to stand out, not fit in.
When her first film was released, she was still in her teens, as many actresses are, yet she was completely different from the reigning queens of the time in terms of looks, personality and background. In a decade when poker-straight hair was the norm, she stuck to her natural tight curls. When most new entrants making a mark were established models and beauty pageant winners, she had absolutely no credentials in the glamour business. Her contemporaries were extremely well-spoken in English and Hindi, and slipped naturally into public life in Mumbai; Kangna appeared shy, could barely manage English and was inexpressive in Hindi too.
Still, her innate self-belief combined with strategic risk-taking marked her out from the pack. It is these qualities that have brought her to a stage where today she is a safe critical and commercial proposition for producers, widely lauded as a style icon and one of Bollywood's most dependable stars at the box-office. As it happens, she is also one of the most unconventional women to have ever graced this industry.
Nothing exemplifies this better than her absence from the just-concluded awards season. At function after function, Hindi cinema's biggest stars have been in attendance, either emceeing or cheering from the audience, if not there to perform on stage then to make an announcement, promote a film, give away a trophy or receive one, unless a pressing prior commitment kept them away. All except two people.
Aamir Khan's legendary aversion to these shows has now found an echo in his much younger colleague. Kangna's associates say she is put off by what she sees as politicking, negotiations and unspoken quid pro quos at most such events. Much has been made in the media of Aamir's refusal to attend awards functions, but it is yet to widely sink in that in this industry still ruled by men, a woman has had the audacity to follow suit.
In many ways then, the actress remains somewhat of an island in her professional community. The rank outsider of 2006 is a sought-after heroine today, yet she remains an outsider, an observer of Bollywood's shenanigans from the sidelines, happy to immerse herself in her work yet unwilling to give in to many of the demands the industry makes on its members.
When we met on the day she collected her National Award for Queen last year, Kangna spoke to me of Bollywood's tendency to relegate a woman to the margins just as she starts improving and maturing as an actress. Women, she said, should be aware that succumbing to social diktats comes at a price.
"If you are just encashing the looks factor, your height, your tiny waist and glossy curls, then obviously these are not things that last. And it's not just for women, it's the same for men, but men never encash that. They don't just completely depend on the glossy factor, they do all kinds of roles. That's what women should be doing. They should not give in to the expectations of society that you're just a pretty little thing and you should keep your mouth shut and stay dumb because that's how you're accepted."
There is, of course, a dichotomy between these liberal views and the notional feminism of the Tanu Weds Manu films, in which her character Tanu conforms to the currently prevailing Bollywood stereotype that liberal women would perforce be of the heavy-smoking, hard-drinking, swear-word- spouting variety. Tanu Weds Manu Returns even presented as a comedy track, the abduction of a disinterested woman by an important supporting male character who considers himself in love with her.
Besides, its precursor Tanu Weds Manu (2011) featured a disturbing scene — positioned as the epitome of romance — in which the hero kisses the heroine when he sees her lying passed out in a drunken state in her bedroom, at a point when they are absolute strangers to each other. This is at odds with Kangna's open and repeated condemnation of stalking and other forms of sexual harassment, especially since her sister Rangoli Chandel nee Ranaut suffered a grievous acid attack.
Last month, at the launch of a magazine featuring her and Rangoli on the cover, Kangna said: "The guy who has thrown acid on Rangoli or people who do things like that think it's very heroic, because their idea of heroism comes from movies. This sort of stalker and tragedy-stricken obsessive lover is hugely glorified in films. These rejected boys identify a lot with that sort of tragic character and we need to change the perception of heroes."
Since the issue of consent lies at the heart of all forms of sexual violence, it is disappointing that a woman who expresses herself so beautifully on the matter of stalking agreed to be a part of that scene romanticising the hero's intrusiveness in Tanu Weds Manu just five years back.
Like all human beings then, Kangna too is a work in progress. This critique does not, however, alter the fact that her success has played a part in opening many new doors for women entrants in this industry.
The child of a businessman and a teacher from a small town in Himachal Pradesh, Kangna has often spoken of her early struggles to convince her father to accept her chosen field while battling the industry's standoffishness. Through all this, Rangoli has been her rock. The actress' sibling is also her friend and business manager, and has cited Kangna's unflinching support as a moving force behind her own recovery from her brush with tragedy.
Kangna's early diffidence did not stop her from straining at the professional straitjacket right from the start. Apart from a few aberrations such as Rascals and Double Dhamaal in her filmography, she has worked hard to get films where her role has gone beyond merely being the hero's arm candy. Her doggedness has paid off in the past five years. It has been her good fortune too that she is a contemporary of the formidable Vidya Balan whose back-to- back hits from 2009 to 2012, especially The Dirty Picture and Kahaani, opened the industry's eyes to the box-office potential of well-marketed, mass-targeted, women-centric cinema.
Despite their continuing battles, Vidya, Kangna, Priyanka Chopra and Deepika Padukone have been at the forefront of the change they want to see for themselves in Hindi cinema. For Kangna, the turning point came with Tanu Weds Manu, which led to Queen (2014) and Tanu Weds Manu Returns (2015). All three revolved completely around the characters she played in them, all three made big money. According to the trade website boxofficeindia.com, TWM Returns grossed about Rs 240 crore worldwide, a figure once considered impossible for heroine-centric films.
Milan Luthria, who directed her in 2010's Once Upon A Time in Mumbaai, says she appeared "ditsy" to the industry in the early days. "People didn't give her much credit for what a thinking actor she was, they just saw her as this beauty from Himachal who is instinctively good but doesn't think too much of her work," he recalls. "But when I worked with her, I found her very well prepared and well researched."
Once Upon A Time… was a period gangster flick, which was lauded for hitting the bull's eye with its look, hairstyles, clothes and so on. The director remembers Kangna coming to him with a spiral bound book about everything she wanted to do in the film. "She is a very hard-working professional, very focused, her concentration levels are very high," he says.
Anurag Basu, her director on Gangster, Life In A… Metro (2007) and Kites (a 2010 film over which they famously fell out due to the curtailment of her role) says: "Even in her first film, she would understand the nuances of the screenplay in a way 10 and 15 film old actors do not."
Her professional journey has been accompanied by a drastic personal evolution. In an advertisement for a shoe brand currently running on TV channels, Kangna speaks of her response when the press mocked her for her inability to speak English well. As a woman given to introspection though, if she gives it more thought she might consider that professional critics at least were not indulging in personal attacks; while praising her acting talent and screen presence, they were justifiably lambasting her poor diction and voice modulation in films.
At some level, clearly she knows that. It is evident from her recent works that she has worked hard on both areas and improved herself dramatically.
Now 29, Kangna is the picture of poise and self-assurance off screen too, a far cry from the inarticulate debutant of 2006 who seemed fazed by the spotlight. She is, in fact, a perfect example of how more female stars might evolve — on screen and off it — if the industry and audience would only permit them the longevity routinely granted to their male counterparts.
Her present kitty of films is an indicator of where she is headed. Kangna is back in Mumbai from Arunachal Pradesh where she has been shooting for Rangoon, Vishal Bhardwaj's period romance co-starring Saif Ali Khan and Shahid Kapoor. Next month Hansal Mehta's tentatively titled Simran goes on the floors. She plays a US-based Gujarati woman in Simran which is said to be inspired by an episode in the real-life story of the Punjab-born, US-based nurse-turned- bank-robber Sandeep Kaur a.k.a. the Bombshell Bandit who was sentenced to 66 months imprisonment by an American court last April. Later this year, she will begin shooting for Ketan Mehta's Rani Lakshmibai.
In the midst of all this, she must also collect her latest National Award from the President of India in May.
Kangna's plans for herself extend beyond acting. She travelled to the US for a screenwriting course after Queen and has confirmed on the record her intent to become a director some day.
Not long after Gangster was released in 2006, director Hansal Mehta — then head of Sanjay Gupta's White Feather Films — recalls organising a narration for Kangna for a film by another director. He recounts the meeting: "We were confident she would say yes because the director was well known and it had a well-known hero. After a 20-minute narration, she did not say much but she refused to do the film. I was taken aback. I'm being honest, my ego was hurt because I was like, 'What does this girl understand?' But today when I interact with her, I realise there was always in her somebody who was extremely sharp. The sharpness may have earlier been masked by a lack of articulation, which she has grown past over the years, but she always had great clarity of thought about her choice of projects, absolute confidence and belief in her talent. This is what has helped her break the Brahminical hegemony in this industry that is very tough on outsiders, on people who are not from a certain social class and especially on women."
Ten years since that meeting, this superstar blazing new trails through the world of cinema is a lifetime away from the monosyllabic teenager who visited the studio of Headlines Today where I was entertainment editor in 2006, to promote her film Gangster. "Be gentle on her," came the advance request from veteran producer-director Mahesh Bhatt, the film's co-writer. Since she was an unknown quantity, I asked him why. She is very young and has little to say, she will answer questions with "yes" or "no", she is from a small place and all this is absolutely new for her, he had explained, rounding it off with, "When you meet her, you will understand." I did.
Kangna smiles when told of that episode. "I was a child then, I am a woman now," she says. No arguments with that.
Entertainment
PVR expressed 'disappointment' over the two-week window span for the Hindi version of Thalaivii and requested producers for a uniformity of four weeks across all language versions.
Entertainment
Thalaivi exaggerates events for dramatic effect so much so that if we made two-three more biopics like this, we would end up giving Jayalalithaa sainthood.
Entertainment
Bullets Over Bombay is quite an immersive treatise on Satya because it does not just detail the making of the movie, but also gives a sense of what the real world was like back then, in the not-so-nice '90s.