Taylor Swift shakes off lawsuit over hit song, judge rules lyrics are too 'banal' to copyright
The judge said phrases about players and haters — like in Taylor Swift's 'Shake it Off' — existed in pop culture before 2001.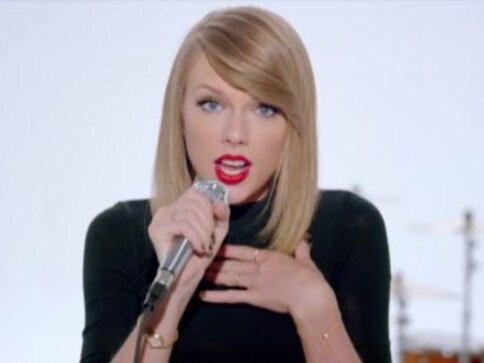 Los Angeles: A lawsuit accusing singer Taylor Swift of stealing lyrics for her song 'Shake It Off' was thrown out on Tuesday by a judge, who ruled the phrases in question were not sufficiently original to merit copyright protection.
Attorneys for Swift had asked US District Judge Michael Fitzgerald in January to dismiss the case.
"In order for such short phrases to be protected under the Copyright Act, they must be more creative than the lyrics at issue here," Fitzgerald ruled, according to court papers. "The concept of actors acting in accordance with their essential nature is not at all creative; it is banal. "The allegedly infringed lyrics are short phrases that lack the modicum of originality and creativity required for copyright protection," the judge added.
The songwriters who sued Swift - Sean Hall and Nathan Butler - did not allege Swift's song stole musical elements, the judge said, and phrases about players and haters existed in pop culture before 2001.
"In short, combining two truisms about playas and haters, both well-worn notions as of 2001, is simply not enough," the judge said in his ruling.
The judge left the door open for Hall and Butler to file a revised lawsuit.
Swift's 2014 song reached No 1 on the pop charts and marked her evolution from country to pop music.
Two songwriters said in a copyright infringement lawsuit filed in federal court in Los Angeles last year that Swift's song was based on the phrase "players, they gonna play, and haters, they gonna hate," that they coined for a 2001 song 'Playas Gon' Play' by R&B girl group 3LW.
Swift's lyrics from the chorus of 'Shake It Off' are, "the players gonna play, play, play, play, play, and the haters gonna hate, hate, hate, hate, hate."
But Gerard Fox, the attorney for the two songwriters, said he had no intention to file an amended complaint and would instead appeal Fitzgerald's ruling to the 9th US Circuit Court of Appeals.
Fitzgerald made a mistake by assessing the originality of the lyrics for himself, instead of relying on experts, Fox said.
"He cannot make himself an expert in the music industry, I'm sorry it's actually embarrassing," Fox said.
A representative for Swift did not immediately return a call or email seeking comment.
Hall is a songwriter and producer for artists such as Justin Bieber and Maroon 5, and Butler has worked with artists such as Backstreet Boys and Luther Vandross.
Swedish producer and songwriter Max Martin and Karl Johan Schuster, another Swede who is known professionally as Shellback, are credited as co-writers, along with Swift, on 'Shake It Off.'
With inputs from Reuters
Entertainment
The actor shared the pictures of the posters too, which have been used by the Congress party for their movement against corruption in Karnataka by the ruling party.
Entertainment
Raju Srivastava's character Gajodhar bhaiya became a household name. The stand-up comic was also famous for his style of dialogue delivery that left everyone in splits. 
Entertainment
Kantara is an important story that is portrayed stunningly with the help of folklore, and art that is native to the Kundapura area. Rishab Shetty has performed stunningly in an affecting film.