Taimur Ali Khan, Hrithik-Kangana, Udta Punjab: Bollywood's controversies in 2016
Bollywood controversies of all shapes and sizes rocked 2016, and got the nation and social media talking.
The unsaid rule of showbiz is any publicity is good publicity, but the same cannot be said about controversies. Controversies of all shapes and sizes rocked 2016, and got the nation and social media talking. Unarguably, 2016 can be called as one of the most eventful years of Bollywood.
Ranbir-Katrina split
Last year, Katrina Kaif joined Ranbir Kapoor at Shashi Kapoor's Christmas party — the annual ritual at Prithvi Theatre, Juhu — along with the entire Kapoor khandaan. This was followed by a kiss in the balcony on New Years' eve. But, very soon, to everyone's surprise, one of the most high profile couples of Bollywood called it quits "due to many unresolved issues". Katrina weathered the storm with stoic silence but soon after started looking vibrant and happy.
She also got friendlier with her ex Salman Khan. She'd kept her distance from social media (very much like the Kapoor scion), but joined Facebook on her 33rd birthday this year. Reports from Jagga Jasoos sets indicated that post split both were uncomfortable shooting scenes together, and one wonders how these two former lovers will come together to promote the film that releases in April next year.
Kangana Ranaut-Hrithik Roshan's legal spat
This was arguably one of the biggest controversies of the year. It is for the first time in the history of Bollywood that two actors got into a never ending battle with one claiming that they had an affair and the other denying it. Hrithik Roshan and Kangana Ranaut's legal mess was probably the dirtiest squabble ever over a love affair gone wrong in Bollywood.
The saga began with Kangana probably referring to Hrithik as her silly ex. He took such deep offence to it (and possibly wanted to clean his image post split with ex-wife Suzanne Khan) that he sent Kangana a legal notice demanding an unconditional apology. Kangana refused and gave Hrithik a feisty reply with a legal notice which the superstar didn't anticipate. This started a chain of scandals where almost every day, sources belonging to either camps would leak out information and pictures to the media about the alleged affair.
Meanwhile, Kangana won yet another National Award this year for Tanu Weds Manu Returns, while Hrithik's career took a beating with the release of the dud called Mohenjo Daro.
Amitabh Bachchan and Panama Papers
The living legend was left in shock when the media that was investigating a massive leak of 11.5 million documents from Mossack Fonseca, a Panama based law firm with offices in 35 countries, reported that Bachchan was the appointed director of four shipping companies registered in offshore tax havens and set up 23 years ago. The superstar through a statement denied all the allegations leveled against him.
Aishwarya Rai Bachchan's name also cropped up and the actress too denied all such allegations. The image of Bachchan took a beating for a while but the star bounced back with a power-packed performance in Pink and all was forgotten.
Tanmay Bhatt mocks Lata, Sachin
In a country where disrespecting an icon is considered blasphemy, AIB comedian Tanmay Bhat mocked two legendary figures – Lata Mangeshkar and Sachin Tendulkar on his Snapchat by using a face-swap feature. The video had the revered singer and the master blaster - both enacted by Tanmay — using Snapchat's face-swap feature, "arguing" about who is the better player, Sachin or Virat Kohli. It was posted with this disclaimer by Tanmay: "I make such nonsense on my Snapchat."
Predictably so, it provoked a howl of protests and faced a ban. Prodded by political parties, the Mumbai police consulted legal experts and also contacted Google and YouTube on blocking the video. Police complaints were filed against Tanmay by Maharashtra's ruling BJP and also Raj Thackeray's Maharashtra Navnirman Sena (MNS). Within three days, the video was widely shared and had triggered far more outrage.
Salman Khan slammed on being India's goodwill ambassador
Bollywood actor Salman Khan was appointed as the goodwill ambassador of the Indian team for the Rio Olympics 2016 when he was working on Sultan. Soon after, many sports icon like former sprinter, Milkha Singh and star wrestler Yogeshwar Dutt criticised the move of the Indian Olympic Association (IOA). It was felt that a sportsperson would have been more apt for the position. But star woman boxer MC Mary Kom and hockey captain Sardar Singh backed Salman's appointment, and the star's father Salim Khan too came in defense of the actor.
Arijit Singh- Salman Khan feud
The usually reserved and withdrawn Arijit Singh left his fans shocked with his public apology to Salman Khan on Facebook earlier this year. The Bollywood singer wrote a post saying Salman felt insulted by something he had said at an awards night and he has been apologising ever since. He further revealed that his rendition of Jag Ghoomeya in Sultan was dropped and replaced by Rahat Fateh Ali Khan's version.
The singer pleaded and literally begged Salman to retain his song but Salman didn't as much as utter a word on the matter.  Later, during the promotions of Sultan when Salman was asked about the matter, in his inimitable style, the superstar remarked, "Arijit... who is that?"
Salman Khan's 'Raped Woman' remark
Bollywood's 'enfant terrible' found himself in a nation-wide controversy when a freak comment from one of his promotional interviews became a huge issue. In the interview, Salman compared his condition during Sultan — wrestling training and gruelling shoots — to with a raped woman. The actor clearly made a faux pas and even retracted his statement but to no avail. Salim Khan came to his son's rescue by apologising through social media but later also wondered that why should Salman apologise or clarify.
While most maintained a diplomatic silence, few actors like Kangana Ranaut, Sonali Bendre and Renuka Shahane slammed the actor for passing a rather insensitive remark.
Udta Punjab and Censor trouble
The film on the drug menace in Punjab garnered a lot of publicity post a harsh censorship by the Central Board of Film Certification (CBFC) chief,  Pahlaj Nihalani who enforced 94 cuts on the film. Almost the entire industry, including top directors, stood in support of co-producer, Anurag Kashyap, who along with his team fought Nihalani in the court of law and finally won the battle with the Bombay High Court ordering the CBFC to clear the film with an A-certificate and just one cut.
Udta Punjab and the controversy around it became the perfect example for the industry on how the CBFC has the power to only certify and not censor films.
Naseeruddin Shah calls Rajesh Khanna a poor actor
When Naseeruddin Shah called Rajesh Khanna a poor and mediocre actor, daughter Twinkle Khanna didn't take it too kindly. The actress took to Twitter and slammed Naseeruddin for passing uncharitable remarks against her dead father. Soon after Rajesh Khanna's legion of fans took on Naseer for his adverse comments on India's original superstar.
In an apparent reference to Naseer, Salim Khan said, "Frustration and bitterness are difficult to cure but carrying the same for such a long time is unheard of."  Naseer later apologised and the Khannas let the matter rest in peace.
Ajay Devgn-Karan Johar clash; KRK laps up attention

The usually reticent Ajay Devgn shocked many when he released a taped conversation between Kamaal R Khan, a self-proclaimed critic and Ajay's business manager Kumar Mangat. In the audio, KRK is heard making claims about having received Rs 25 lakh from Karan Johar to tweet positive things about Ae Dil Hai Mushkil while putting down Ajay's Shivaay.  KRK, infamous for his offensive comments on Twitter, posted tweets thoroughly praising the posters and the teaser of Ae Dil..and how it is set to take down Shivaay completely on its release.
An enraged Ajay demanded investigation while Karan refused to comment making it clear that it was beneath his dignity to respond. Meanwhile, KRK lapped up all attention and made the most of it by holding a huge press conference in Mumbai to field questions about the issue.
Ban on Pakistani artistes/Karan Johar 'proves his patriotism''

When Karan Johar thought he had weathered the Ajay Devgn-KRK storm, he was in for a surprise with Raj Thackeray and Maharashtra Nirman Sena (MNS) having objections to casting Pakistani artistes in his movie, Ae Dil Hai Mushkil. In the wake of the Uri terror attack, the party leaders demanded a ban on Pakistani artistes. The proposal directly affected films which already had Pakistani actors on board and the first in the line of fire was Karan's Ae Dil Hai Mushkil which had Fawad Khan in a cameo. The MNS supremo made it clear to Bollywood that Pakistani actors are not welcome in India anymore. Karan's trouble increased when a few single screen owners, too, decided not to screen Ae Dil... as their mark of solidarity to the martyrs.
As things started getting worse for Karan, he posted a video to prove his patriotism and requested to allow his movie to be screened. Finally, Thackeray relented after CM Devendra Fadnavis brokered peace between the warring parties.
Raees-Kaabil clash/Shah Rukh-Hrithik 'war'
The Republic Day weekend in January 2017 will see Shah Rukh's Raees and Hrithik Roshan's Kaabil clashing with each other at the Box-office. Both films are set to release on January 25, separated barely by a few hours. Initially, the two projects were supposed to hit theatres on January 26, but to avoid eating into each other's business, Shah Rukh Khan met Rakesh Roshan (Kaabil's producer).
He refused to budge probably because he considers January to be the lucky month for Hrithik (his debut Kaho Naa Pyaar Hai and Agneepath were January releases). A few days later Roshan fired a salvo and changed Kaabil's release date to January 25 to one up SRK. Shah Rukh responded by changing Raees's release date again. In fact, he is set to release his film on January 25 morning, whereas Roshan Sr plans to open with an evening show.
Priyanka Chopra apologises for wearing insensitive T-shirt on magazine cover
Global star Priyanka Chopra unwittingly landed herself in trouble after a T-shirt that she wore for a fashion magazine's cover was labelled insensitive. The T-shirt had the words Refugee, Immigrant and Outsider stricken out leaving Traveller as the only right choice. Chopra was accused of being insensitive towards the plight of refugees. The actress quickly issued an apology by saying, "I am really, really apologetic about the fact that sentiments were hurt. The point the magazine wanted to make was actually something good."
Comedy king Kapil Sharma's bribe charge backfires
Kapil Sharma landed in trouble after he raised his voice over corruption in India. The comedian star courted controversy by tweeting about a BMC official demanding Rs 5 lakh bribe for his Andheri, Mumbai office and also tweeted asking PM Narendra Modi, "Kaha hai ache din". But soon his bribe tweets against the BMC backfired with the civic body claiming that the artist had flouted the norms by way of illegal constructions, both in his office as well as his apartment.
Saifeena's one-day-old Taimur creates a buzz
The year ended with a day old baby provoking and pissing off hosts of Twitterati who went on an online rampage for the choice of name given by the star parents – Saif Ali Khan and Kareena Kapoor Khan, to their little bundle of joy. Taimur's celebrity parents unwittingly created a bit of a buzz on naming him after Turco-Mongol conqueror Timur. The name may be rather unconventional, but Twitterati started bashing the parents for naming it after an Islamic plunderer and even went on to dub Saif as a 'jihadist.'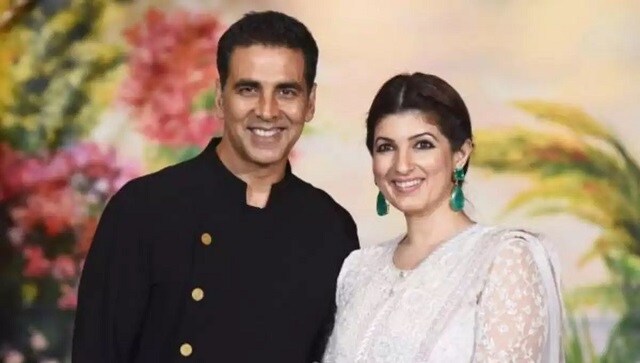 Entertainment
Twinkle Khanna shared a caricature of Akshay and herself on Instagram and wrote, "Safe and sound and good to have him back around."
Entertainment
Gobar's story of an animal-loving veterinary doctor who gets entangled in the corruption circle of a local hospital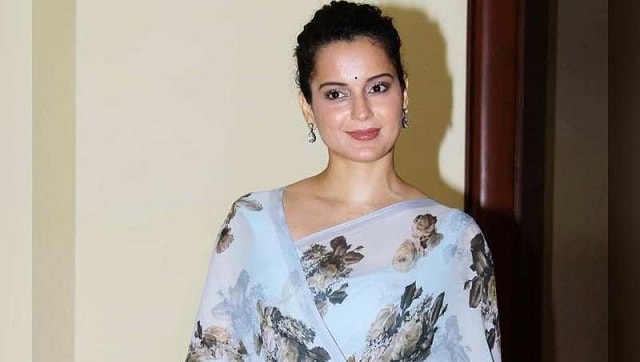 Entertainment
Kangana Ranaut said that Taapsee Pannu's win at the Filmfare Award 2021 was 'well deserved' and added that no one deserves it more than her