Tahira Kashyap on battle with breast cancer: Grateful to those who still bet on this bruised but not broken horse
Tahira Kashyap had earlier revealed that she had DCIS (ductal carcinoma in situ) in her right breast with high grade malignant cells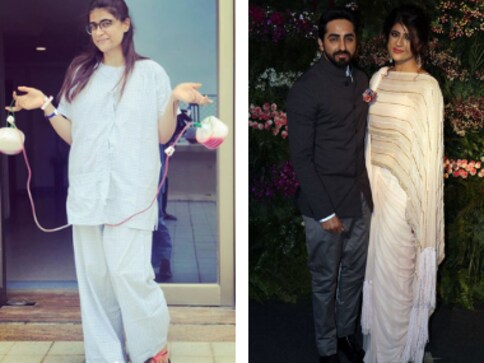 Writer-director Tahira Kashyap recently shared her breast cancer diagnosis on social media. Kashyap, wife of actor Ayushmann Khurrana, revealed that she had been prescribed 12 sessions of chemotherapy and she had already completed six. The post was a tribute of sorts to her half-mark journey of battling the disease.
She thanked her friends, husband Khurrana and parents for their constant support throughout the time. Tahira sported a T-Shirt that read "F*#K CANCER." Reaching out to other people afflicted with the disease, Kashyap requested them to be resilient and strong during the difficult phases. Tahira added that her 'cap look' was owing to the regular chemo sessions (which results in hair loss). Her "upgraded version" was seen doing boxing stunts and side kicks as a sign of a will to fight cancer. In another clip, she showed the 'six' sign to depict the number of chemo session she's undergone.
Kashyap had earlier revealed that she had been diagnosed with pre-invasive breast cancer. She shared a social media post stating that she had DCIS (ductal carcinoma in situ) in her right breast with high grade malignant cells.
Entertainment
Also starring Chitrangda Singh, the film is all set to premiere on Disney Hotstar on March 31. It's a thriller about a girl who's searching for her father who has gone missing under mysterious circumstances.
Entertainment
The actor in a recent interview spoke about the conversation he had with his wife Shabana Raza had about his career, how he was still surviving, and much more.
Entertainment
The nightclub that Darcelle opened more than 50 years ago in downtown Portland, Darcelle XV Showplace, posted a statement on Facebook expressing grief and asking for privacy and patience.