Surjo Prithibir Chardike Ghore movie review: Effective performances, sound direction complement a unique story
Surjo Prithibir Chardike Ghore is a delectable mishmash of intertwining beliefs, principles and life choices – each with its own unique identity.
Arijit Biswas' debut feature film Surjo Prithibir Chardike Ghore (Sun Goes Around the Earth) tells the tragic tale of Tapan Chandra Pal, a self-proclaimed scientist living off the footpath in Kolkata, who firmly believes that humankind has been duped into believing that our blue planet goes around the sun, and that it is, in fact, just the other way around. Not only does TC Pal strongly believe this, he seems to have taken up the responsibility of propagating this fact to one and all, naturally facing great hurdles, ridicule and wrath along the way. That the story is a real-life one, and that there actually exists such a man (named KC Pal) in Kolkata makes the story even more tragic.
Biswas takes the central story of TC Pal and spins a marvellous yarn around it – one that comprises of two fictional characters with whom his leading man crosses paths, both of whom are struggling with troubles of their own. What is finally placed before us for our consideration is a delectable mishmash of intertwining beliefs, principles and life choices – each with its own unique identity, and yet, each gelling with the others to make for a wholesome and satisfactory fare.
There are three central characters in the film. There is TC Pal – a dogged former paratrooper who has gotten it into his head during his lonely nights on duty that it is the sun that goes around the
earth. Pal teaches himself physics, mathematics and cosmology, which only strengthens his belief. He makes up his mind to educate everyone about this massive scam that mankind has been subjected to over several centuries. Easier said than done, though. Much to the chagrin of his family – a tormented wife and a grown-up son – he spends the better part of his life – an astonishing 40 years – to propagate his theory. He is forced to leave home and live off the footpath, even as he continues writing to NASA about his theory.
Pal crosses path with a jaded and unhappy superstar named Chirantan Chatterjee, who is past his prime, and who is increasingly haunted by his own conscious abandoning of leftist principles to
embrace a world of money and fame. Fed up with the fake glitz and glamour of the world he now inhabits, Chatterjee is amazed by TC Pal's story – one of resilience and tenacity against all odds.
Somewhere, he sees a bit of his own youthful self in him and he tries to seek his redemption by taking Pal's story to the whole world by doing what he does best – making a film on his life.
Chatterjee gives the task of making this film to an old friend of his – Sanjib – whose estranged wife and her boy-toy lover live in the same house with him. Sanjib does not seem to care and describes himself as a 'radical and forward-thinking man.' Heart of hearts though, he is utterly lonely and although in a significantly better position in life as compared to someone like Pal, has led a practically meaningless existence – much like the subject of his film. He begins studying the man with skepticism at first, but soon falls in love with his sheer and undeniable tenacity.
In many ways, then, the three central characters of the film are not unlike each other – despite coming from different walks of life. Veteran theatre director and actor Meghnad Bhattacharya plays TC Pal with admirable conviction, and the casting is pitch perfect. Bhattacharya portrays Pal's astonishing lack of frustration with such flair that he is able to draw out the tragic essence of the man's life without himself seeming hopeless in even a single frame. There is a scene in which his wife, who is perpetually disappointed with him, comes to witness him speak at his first public event. Watch him as his face lights up as he sees his wife walk into the greenroom, and as she dusts off – with great affection – the lapel of the borrowed coat that her husband is wearing. It is a big moment for them, perhaps even bigger than the hope that his theory will be proved, and Bhattacharya enacts the scene with perfection. Kudos also to the script – the scene could have easily turned melodramatic, but care has been taken to see that it is not overdone.
Yesteryear superstar Chiranjeet Chakraborty plays an unhappy version of himself in Chirantan Chatterjee, and my word – what a performance he puts in! His angst just simmering under his calm
exterior, he knows that he has only himself to blame for his moment of disillusionment all those years ago. In a placid but high-on-content scene towards the end of the film, Chakraborty tells his
friend why he chose the path of power and money at the crossroads of life. It is a simple explanation, and yet a powerful one. Once again, the writing is spot on, although the placement of the scene is a bit problematic – as I shall explain later in this review.
But the star of the film is clearly Anjan Dutta, playing Sanjib – in what is, by far, one of the best performances of his that I have seen in recent years. Unhappiness drips from Dutta's worn out face.
A director's delight, and clearly proving me wrong from the time I had criticised him for his one-note performances in some of his recent films, Dutta takes his role and literally dives into it headlong and with unrestrained abandon. He is at the top of his game in this film, a man possessed by an idea – the very spirit of the character he is playing. He is Sanjib, Sanjib is him – that is what he has done to the character. There are moments when I have actually wanted to see more of him and less of everyone else in the film. And when a so-called 'supporting actor' does that to you, you know he is special.
Richly garnished with a slew of several other interesting characters – Sreela Majumder as TC Pal's wife, Paran Bandopadhyay as the self-serving party leader, Pallabi Chatterjee as Sanjib's wife, Kabir Suman as a former Naxal-killing top cop, and Srikanta Manna as an ardent supporter of Pal – all add flavour to the film to varying degrees.
I have a couple of quibbles with the script though. While the first half of the film is brilliant, the second half does seem to slide off the track once in a while, and the climax of the film could have
focused a lot more on the man whose story the makers are trying to tell. The script seemed to be a bit too skewed away from TC Pal in favour of the other two characters, and that leaves a somewhat less-than-satisfactory taste in the mouth – like having an ordinary dessert after a delightful meal. I also felt that the insertion of at least one sub-plot – that of a missing nephew – was unnecessary, as it adds very little lift, if any, to the overall arch of the film. But make no mistake, this is a film that you will love – for the performances, the direction and the uniqueness of the story it so successfully tells.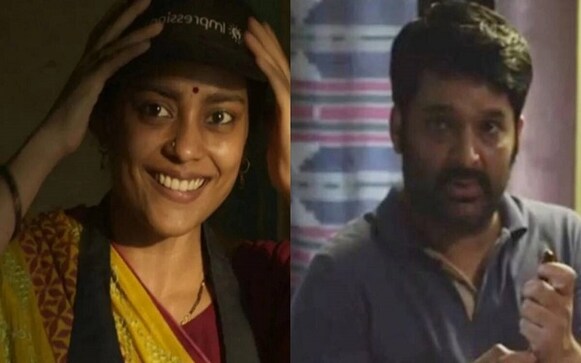 Entertainment
Nandita Das directorial Zwigato strikes a conversation on gig economy and unemployment situation of our country.
Entertainment
After making waves with his multiple award winning Aavasavyuham, director Krishand returns with the equally gloriously kookie and clever Purusha Pretham.
Entertainment
Keanu Reeves' John Wick: Chapter 4 is an action-packed adrenaline rush filled with breathtaking cinematic moments.