Suriya talks Si3 release, playing Durai Singam, and when he'll work with Jyothika
In an exclusive chat with Firstpost, Suriya talks about Si3, why the Singam franchise has been so successful, and when he'll return to the screen with jyothika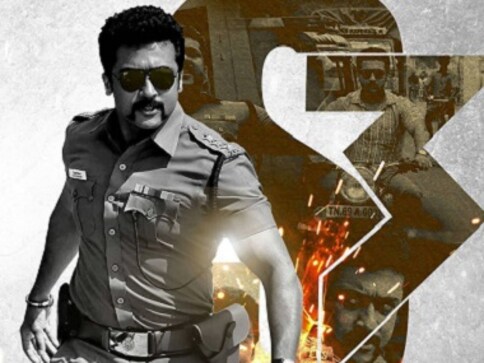 Si3 is set to release on 9 February, and its lead actor Suriya is on a whirlwind tour to three major cities in Tamil Nadu — "not as a promotional measure, but as a gesture of thanksgiving and to confirm that the film is indeed releasing tomorrow," he tells Firspost.
Part 3 of the successful Singam franchise directed by Hari, Si3 releases this week after a two-month wait, thanks to the myriad events unfolding in the state — the jallikattu protests, demonetisation and the political upheavals. "We didn't want to celebrate a big release at the wrong time, hence we let the Pongal holidays also go by," Suriya says.
There is still one obstacle in the form of a piracy threat looming over Si-3: A site called Tamil Rockers has threatened to live stream the film at 11 am on the same day it releases in theatres. (Read the report here.)
"The main preoccupation of our film industry right now is to kill piracy," the Singam star tells us. "I will be happy if the youth of my state/country come together and say 'NO' to watching films online for free. Because every time you watch a new film online, that site gets paid from advertisements and thus they rake in all the moolah and the poor producer is left wondering where his share from the film went. As a producer (Suriya owns 2D Entertainment Pvt Ltd), I pay service tax, commercial tax and interest on private loans and still I wait for nearly 10 months to see collection percentages if the film does well. So it is my sincere appeal to those wanting to watch Si3 FDFS or in the first week itself, please come to the theatres, there's ample reason in this film as to why you should."
Unlike his reticent self from the initial days of his acting career, the Suriya of today is an articulate man whose opinions are taken seriously across platforms. Excerpts from our conversation:
Does playing the same character over three films become stale after a point? How do you reinvent your approach to the role?
Durai Singam grows with each film! The first Singam was a fine balance of family sentiments and the hero's arrival into the big city of Chennai, where he chooses the police uniform as his one and only identity in life. In Singam 2, his mission got bigger. He had to nab criminals from across the border. He became an assistant commissioner and his experience got wider...
I met a Civil Supplies ADGP officer recently who had joined the force in Andhra Pradesh when he was just 22 years old and had worked with Interpol and went to Bangkok to nab a criminal. He told me how the plot in Singam-2 was as real as it can get. Sometimes police officers don't even have the right to slap or raise their voice against an accused person. "But there are ways to catch them and how you go about doing that as Durai Singam is pretty accurate," this officer said. So this series isn't about suspension of belief... We don't have larger-than-life punch lines just to please egos, it has to suit the character and the situations Durai Singam finds himself in. It all comes together as an interesting package... The biggest compliment I've received for playing a police officer is when I was told that my photo as Durai Singam is there in various police training camps, as it serves as an inspiration for youngsters to join the force in large numbers.
How do you prepare when you play the cop in a film like Kaakha Kaakha and then in different milieu like Singam?
You have the answer in your question! The 'place' where each of these characters come from, both emotionally and physically, is totally different. Anbuchelvan (in Kaakha Kaakha) comes from Gautham Menon's sensibilities — he is a cop who can convey much without having to say it all. He comes from a city and he handles investigations which relate to a certain procedure and process whereas Durai Singam is all Hari, who comes from the other end of the spectrum. I've met cops who are like both of these characters. For example, in Nellai, the police have a very sensitive manner of communicating with the fisher-folk as they're not used to the buzz of the city. Communication skills are different once you cross city limits and the characters I play reflect that aspect. Sometimes, emotions are similar but the manner of expressing it differs between Anbuchelvan and Durai Singam. As an actor I like travelling both ends.
You've asked your fans to reject films, even your own, if they're not good enough. What constitutes a good film for you? And how do you openly give control of the box-office to the audience?
But that control is with them only! [laughs] I said this at the audio launch of one of the most expensive films we have made in the south — my bilingual, 24. We are not god; we are not astrologers to predict what will work at the box-office. We try our best to give differentiating content, but a film is not its script alone. Between what we read on paper and what gets canned on the floor to what gets dubbed and edited, a lot can happen. Either it results in something totally magical or it just fails to connect. To me what classifies as good content is anything which we can take home after the film is over — it can be a simple dialogue or a deep emotion or the whole concept as such. We all hope to create magical moments which will make you laugh or cry from within! We also constantly look for role models — be it in sports or film or any public field — we look for positivity and inspiration and our society is in dire need for such icons from time to time.
You're lauded as the Anna (elder brother) for your fans and they expect a Suriya film to be different. What is it about you that you think attracts the larger audience?
The fact that such a shy guy like me with no special talent has made it! [laughs] Seriously, this is my belief. If someone as hesitant and self-restrictive as me can make it in life, with hard work and some honing of talent of course, then so can you. That aspect makes the audience identify with me. I wasn't a 'sakalakalaavallavan' (master of all arts) when I entered! Even now, I know my areas of complacency and I constantly work hard at overcoming them and try to give refreshing films.
Speaking of which, you're currently acting in Vignesh Sivan's film Thaana Serntha Koottam. What next? 
Well, I'm speaking to director Selvaraghavan — we should come up with something exciting real soon. Even if I'm not acting in three films a year, I am actively generating content that I believe in. The teaser of Jyothika's soon-to-be released film Magalir Mattum has garnered good feedback and yes, before you ask me when the two of us will act together, I can only say — we are both very greedy! We want to better our existing track-record... so yes, I'm open to scripts for myself and for doing a film with her, which I hope will totally blow our minds and yours too.
also read
Entertainment
The clutter-breaking success of Suriya's Soorarai Pottru on Amazon Prime Video India led to a four-film deal between his production house 2D Entertainment and the streaming platform in what could be a common distribution model in the future.
Entertainment
Director Bramma is upbeat about his sophomore Tamil feature film Magalir Mattum (Women Only), which stars Jyothika in the lead role
Entertainment
Suriya on Jai Bhim: "You can pit what I've done my entire life versus what Justice Chandru has done for just one person, and he'll still be the bigger person"