Suriya, Karthi, Vishal ease burden on producers following Kollywood strike; agree to pay assistants from their salaries
In order to ease the burden on the producers, actors Suriya, Vishal and Karthi have agreed to pay their assistants from their own remuneration.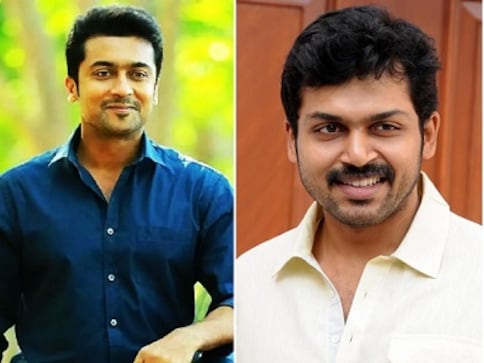 In an endeavour to revamp the Tamil film industry, Vishal, president of Tamil Film Producers Council (TFPC) and secretary of South Indian Artistes Association (SIAA), has been holding meetings with various federations of the fraternity such as directors union, editors union, FEFSI and others. Sunday marks the 24th day of TFPC's indefinite strike against DSPs (digital service providers) seeking a permanent abolition of VPF (Virtual Projection Fee) charged on the exhibition of films. The state has not witnessed a new release since 1 March according to the no-new release rule implemented by TFPC until the stalemate comes to a conclusion.
On Saturday, Nassar, president of SIAA, and other office bearers of Nadigar Sangam participated in the meeting with the TFPC where important decisions have been taken. In order to ease the burden on the producers, actors Suriya, Vishal and Karthi have agreed to pay their assistants from their own remuneration.
Speaking to reporters after the meeting, Nassar said, "This is a very encouraging decision. Suriya was the first one to come forward to pay his assistants from his own pocket. As soon as his decision was conveyed, Karthi and Vishal have also agreed to follow suit. It will save producers to a tune of Rs 12 lakhs to 15 lakhs, which they can use for other purposes. I welcome all the other actors to show solidarity in this regard. I'm happy that TFPC is looking at finding solutions to all the problems to revamp the industry instead of just restricting their fight against DSPs. We will see whether this can be legally implemented or not after discussing with other federations."
Vishal said the TFPC is reaching out to all the stakeholders of the industry to ensure there's participation from all ends. "We are not ready to change our stance on VPF. In the interim, we have been discussing with various organizations to resolve other issues that the industry face today. Hereafter, the remuneration paid to the assistants of actors will be on par with the FEFSI employees. Suriya has come forward to take care of his assistants from his own pocket instead of passing the buck to producers."
Asked if actors would also reduce their remuneration to save a major chunk of the budget for the producers, Vishal said, "We are ready to consider all that only after 100% computerization of tickets across all theaters in TN. If theater owners are ready to show us the box office collections above the table and be transparent, we will definitely talk about remuneration. The answer to everything lies in their hands."
Now, the serious bone of contention between the TFPC and theater owners is the definition of VPF. While theater owners maintain that VPF is Virtual Print Fee and producers should bear the print charges, producers are hellbent on not paying VPF anymore. They're arguing that it's Virtual Projection Fee and charges should be absorbed by theater owners.
Entertainment
Modern Love feels muffled for much of its runtime, content in endorsing empty takeaways about love and second chances
Entertainment
Sarkaru Vaari Paata reeks of simplistic snobbery associated with any film naive enough to pretend that it can solve a systemic issue in less than thirty minutes as its hero is strong and handsome.
Entertainment
The music album of Modern Love Mumbai is composed by Nikhil Dsouza, Ram Sampath, Vishal Bhardwaj, Jeet Ganguly, Neel Adhikari, Shankar-Ehsaan-Loy and Gaurav Raina and Kamakshi Khanna.