Super Singh review round up: Diljit Dosanjh manages to tickle funny bone with superhero act
Diljit Dosanjh starrer Super Singh is out in theatres right now. Critics say: 'Diljit is the only reason you wouldn't mind Super Singh'.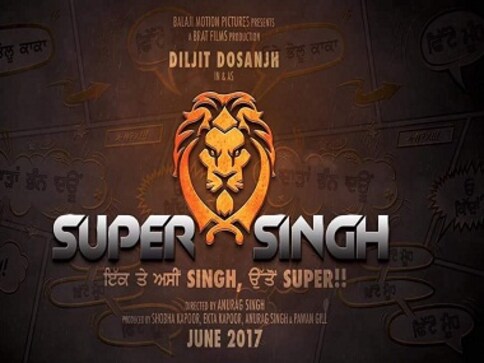 Punjabi actor-singer Diljit Dosanjh's latest venture Super Singh opened at the cinema screens this week on 16 June. It is touted to be the first Punjabi superhero flick.
Produced by Ekta Kapoor, with whom Dosanjh had previously worked in Abhishek Chaubey's Udta Punjab, Super Singh has been directed by National Award winning director Anurag Singh. Dosanjh's collaboration with Singh [Anurag] goes a long way, that too a a super successful one.
Starting from Jatt & Juliet (2012), Jatt & Juliet 2 (2013), Disco Singh (2014), Punjab 1984 (2014) and now Super Singh, the director has been able to show Dosanjh's acting prowess as well as his impeccable comic timing that made Dosanjh a sought-after actor in the Hindi film industry as well.
Super Singh is essentially a romcom Punjabi movie based on Lovely Singh (Diljit Dosanjh) who is a simple happy-go-lucky guy. (Like every Punjabi cliched "Canneda" dream) Lovely shifts from his village in Punjab to Montreal, Canada and starts leading a simple life all over again until one day he finds him in a situation that suddenly makes him aware of his special superpowers. He then starts off with the journey of self realisation, valour, love, and hardships.
The reviews of the film also seem to be fairly positive. Some of them are:
Divya Pal from News18, through her review tweets, says:
"Ek taan mai angrej utton glamour: Diljit Dosanjh's one-liners are too cool. Don't be surprised if it is printed on t-shirts...Super Singh has its heart at the right place....Anurag Singh has explored Dijit Dosanjh the actor in multiple ways. The collaboration never fails...The film isn't flawless. It has a few, which should have been taken care of....gets predictable in some parts. That's a bit sad."
Jyoti Sharma Bawa from The Indian Express, says:
"Diljit's hero sure knows how to tell a joke and he will keep you laughing through this film. Now that is quite a strategy, keep your CGI and special effects Hollywood, we will laugh you out of the competition...Diljit's charm also keeps your attention away from the film's wafer-thin plot and a villain — we won't tell you who it is — who hams so much, he is his own meme. Every time you realise just how huge the craters are in the screenplay, Diljit tells a joke and all's right with the film. That is till Diljit and his Super Singh realise that with great power comes great responsibility...The director, Anurag Singh, sure knows his target audience. Whether it is Punjab or NRI audience, they are going to love the first Punjabi superhero, comes as he does with Diljit Dosanjh's innate charm and man-boy persona."
Stutee Ghosh from The Quint, says:
"A superhero with a golden heart sounds great, but without a worthy opponent in the frame, it never really feels like a story worth telling...Diljit does what he does best — win hearts with his charm. He is the only reason you wouldn't mind Super Singh too much."
Entertainment
Harbhajan Singh and Geeta Basra had announced the arrival of their second child on 10 July.
Entertainment
Other updates include Audible announcing the release date of Neil Gaiman's The Sandman: Act II as 22 September
Entertainment
Noted voiceover artiste Harish Bhimani also contributed Rs 5 lakh to help the artistes in need, Sanskar Bharati said.