Super 30: Makers of Anand Kumar biopic search of young actors to cast opposite Hrithik Roshan
Super 30 is a biopic based on the life of the famous mathematics teacher and IIT-JEE coach Anand Kumar. Hrithik Roshan will essay Kumar's role in the film.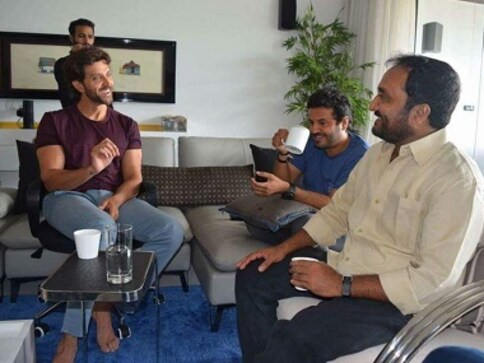 The Hrithik Roshan starrer, Super 30 directed by Vikas Bahl has been in news recently as the director and the casting team was on the lookout for a fresh face for the role opposite Roshan. The team is now in search for thirty odd young actors as the 30 students of the Super 30 team.
In the film, Roshan will essay the role of the famous mathematics teacher and IIT-JEE coach Anand Kumar. The biopic will showcase the process through which thirty students would undergo a pivotal change in their careers. Mumbai Mirror recently reported that after auditioning 15,000 young actors, the casting director of the film, Mukesh Chhabra has finalised 78 actors. He is going to conduct workshops with them, after which thirty will be selected out of these 78, to act in the film.
"We want to cast kids in the age group of 15-17 and have auditioned over 15,000. The hunt started a few months ago after zeroing in on potential actors from Bihar, Varanasi, Bhopal, Mumbai and Delhi. After a series of selections, we brought the number down to 400, then, 200, 150 and now, 78 kids with whom we are conducting workshops for the final 30 that we hope to finalise in a month's time," says Chhabra, as per the Mirror report.
"We want kids who look as real as those from the institute. For that, we went to the interiors, slums and several NGOs. You can't teach kids how to act, all we could do is give them the basic confidence to perform," adds Chhabra.
While speaking on the pool of talent available in smaller towns across the country, Bahl, the director of the film, said, "The realisation encouraged us to do an even more extensive search in order to include those from varied backgrounds and towns. The pool of actors from which we are short-listing is the most appropriate for us, as Anandji's students also come from diverse backgrounds."
The selected thirty will also be sent for a workshop with Roshan before the shooting of the film starts.
Entertainment
Sale proceeds from the actor's online shop, The Deepika Padukone Closet, will go to NGO Sangath's Covid-19 well-being centre.
Entertainment
Amazon Prime India also revealed that Narappa, Sarpatta Parambarai and Malik were watched by its subscribers in over 3,200 towns and cities in India as well as in over 150 countries and territories globally.
Entertainment
Aadhaar was gearing up for a release earlier this year when it was abruptly 'pulled out' a week before its opening, said director Suman Ghosh.