Sultan review: Salman Khan is not just Salman Khan in this unusual film
Despite these flaws and several clichés, Sultan has an emotional core that is hard to resist.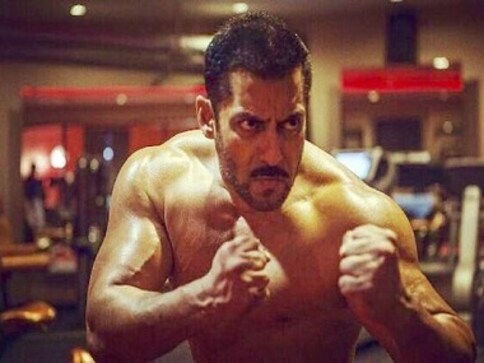 Khoon mein tere mitti
Mitti mein tera khoon
Khoon mein tere mitti
Mitti mein tera khoon
Upar Allah
Neeche dharti
Beech mein tera junoon
Re Sultan
(Tune: Vishal-Shekhar, Words: Irshad Kamil, Voices: Sukhwinder Singh, Shadab Faridi
)
These lyrics from Sultan's title track exemplify what makes this film tick: the director's ability and unabashed willingness to tug at the heart strings – tap into every available emotion in the viewer, our patriotic pride, our soft spot for the underdog – yet not overplay its hand.
Despite its bow to a number of formulae, in many other ways this is an unusual Bollywood offering.
It is, for instance, that uncommon Hindi film in which the hero offers an unqualified apology to the heroine. Rub your eyes in disbelief all you wish, but it is true: from an industry that usually derides women who do not unblinkingly forgive every manner of male transgression because after all it is "ek hi bhool" (just one mistake; read: not a big deal), this too has now happened.
From an industry that avoids giving us protagonists from minority communities without making their religion and socio-cultural milieu a focal point of the plot, where followers of Islam are usually present with the specific – no doubt, often noble – purpose of depicting political tensions or spreading a message of communal amity (sometimes to good effect, as with Bajrangi Bhaijaan, and sometimes in an exasperatingly trite fashion), where minorities almost never just happen to be because they happen to be, this here is a film where both central characters are Muslims, they have many Hindu associates and friends, yet after a point one barely notices.
Not a single shot of a temple is seen nor a single call of the muezzin heard nor a single speech delivered to drive home a point, thus reminding us gently without drumbeats and trumpet sounds that minority communities need not be mere narrative devices, that majority-minority associations happen routinely without blaring announcements and that a lesson on secularism need not be stated in black and white to be heard.
These are important asides in Ali Abbas Zafar's Sultan, the story of a wrestler who quits the sport after a personal tragedy, but returns to it for the very reason he left. Sultan Ali Khan (Salman Khan) is a popular but aimless young man in a Haryana village who helps his father run his cable TV business. One day when he sees local girl Aarfa Hussein (Anushka Sharma), who is the state wrestling champion, it is, as is often the case in Hindi films, love at first sight for him. Sultan takes up wrestling to impress her and ends up excelling. Aarfa too succumbs to his charms, but they split up not long after and Sultan retires from the arena. His return and his motivation to do so are what this film is about.
Sultan has a fair share of follies. The male lead's immaturity is believable, but it is disappointing to see the lack of inventiveness employed in writing the early stages of the Sultan-Aarfa romance: 'boy' sees girl, 'boy' falls for girl, 'boy' chases girl, girl shows irritation but then they become friends and she falls in love.
What makes the courtship truly seem silly is that the 'boy' – a mere 30 in the first half of the film – is played by a 50-year-old star. Khan stopped looking 30 about 21 years back. The casting of a 28-year-old actress as his lover merely emphasises this point. Why, dear Bollywood, cannot 50-year-old men play 50-year-old men?
The couple's earliest encounters are the least imaginative, most troublesome part of this film. Remember the unlettered Kalidas who, according to folklore, was driven to educate himself by the insults of his bride, and went on to become the legendary author we know? That story has been retold repeatedly down the decades in Hindi cinema, and carried over into a conviction that women do not reject the advances of men politely but always with taunts; and that there is no greater force than a woman's contempt to drive a man to great heights.
Despite these flaws and several clichés, Sultan has an emotional core that is hard to resist. Writer-director Zafar is clever in the way he uses his actors, the innate poignancy of his story and Vishal-Shekhar's songs to create a moving whole. Even when Jag ghoomeya is abruptly and awkwardly inserted into the narrative, the tune and words do not lose their appeal. And the very well choreographed MMA (mixed martial arts) scenes in the second half are spot on.
Since Zafar seems socially well intentioned, perhaps he might consider that at least a passing mention of the A-word (read: abortion) in the story would have given it more credibility at a particular crucial turning point. Elsewhere, Aarfa tells Sultan: Your society does not realise "beti maaroge toh bahu kaha se laaoge?" (If you kill your daughters, where will you find brides?) This is a line taken even by some women's rights activists in discussions on female foeticide. Could everyone please note that baby girls have a right to be born because they have a right to be born, and not because they will serve a purpose in the lives of men as wives and mothers. That being said, quite unexpectedly for a Salman Khan film, Sultan has some interesting feminist elements that do not come across as being contrived to impress.
Hats off to Zafar for that and more. Hats off to Khan too for many reasons. Whatever be his acting weaknesses, he is clearly not insecure. This is a star who has the confidence to share screen space with far superior performers – Nawazuddin Siddiqui in Kick, Siddiqui in Bajrangi Bhaijaan, Anushka Sharma and the wonderful supporting cast here in Sultan.
No scene in the film better illustrates the contrast than the one in which Aarfa informs Sultan about a calamity that has struck both their lives. To watch this scene is to witness Khan struggle to summon up expressions on his face while Sharma, wonderful Sharma, is clearly living the moment. Still, this is that rare film in which Khan does not play to the gallery by talking directly to his fans throughout. Equally to the point, despite his acting limitations and the manner in which he swallows many of the dialogues here, it is to his credit that he appears to have submitted to his director in this film, that there is more to his performance than the remarkable work he has put into building his body to suit the role of a wrestler, and Zafar has managed to get the best that any director has got out of him so far.
None of this would have worked though if it were not for the manner in which the narrative is stirring when you are least expecting it. That song quoted at the start of this review translates thus into English:
The soil (of the akhara and the motherland) is in your blood
Your blood is in the soil
The Lord above
The Earth below
And between them your spirit
O Sultan.
It is not quite as rousing as Chak De! India (which was also in Sukhwinder's voice), but it is still enough to reduce an iceberg to a pool of warm water. Happy Eid, everyone.
Postscript: 'Tis the silly season as you know at India's Central Board of Film Certification. The Censors got the producers of Sultan to cut out the words "pant mein" (in your pants) and replace them with "paas mein" (with you) in the sentence "Apni mardani ko apni pant mein daba kar rakho" (keep your manhood in your pants).
Entertainment
Taking to her Instagram story, Anushka shared her warm wishes for the former Indian pacer.
Entertainment
In the selfie, clicked by Virat, all three of them can be seen flashing their million-dollar smile at the camera.
Entertainment
Breathe: Into the Shadows Season 2 is a psychological thriller that features Abhishek A Bachchan, Amit Sadh, Nithya Menen, Naveen Kasturia, Saiyami Kher, and Ivana Kaur in pivotal roles.