Steve Irwin's son Robert recreates late conservationist's iconic photograph with crocodile
Robert Irwin is soon to have his own Animal Planet show titled Crikey!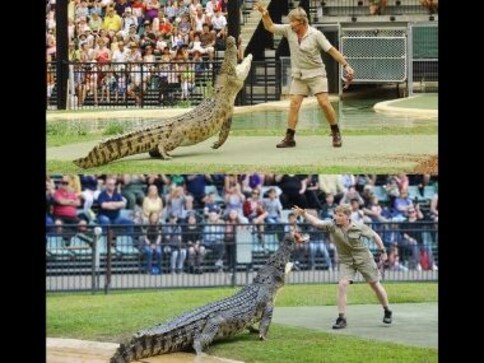 Robert Irwin, son of Steve Irwin, 'The Crocodile Hunter', recreated an image of his father in which he was photographed feeding Australia Zoo's most dangerous crocodile, Murray.
Robert, in similar brown overalls as Steve, shared the image which promptly broke the internet, captioning it as "Dad and me feeding Murray... same place, same croc - two photos 15 years apart."
Robert, who is soon to have his Animal Planet show titled Crikey!, spoke to Daily Mail about his passion for wildlife, stating that he would love to continue in this profession for the rest of his life. "I think for me, the wildlife work that I get to do, it's what I live for. It's what I love, it's my passion, it's what dad was passionate about, it's what my family is passionate about. It's something that I definitely want to continue for the rest of my life, it's what I've dedicated my life to," Robert added.
Check out Robert Irwin's post
Apart from Robert, Terri and Steve also have a 20-year-old daughter, Bindi Irwin.
Bearing an uncanny resemblance to Steve, Robert has followed his father's path to become an active wildlife conservationist who has already appeared multiple times in celebrity talk show The Tonight Show with Jimmy Fallon.
Entertainment
RRR's Naatu Naatu, which became a global sensation soon after its release, won the Oscar for Best Original Song on 12 March.
Entertainment
Also starring Chitrangda Singh, the film is all set to premiere on Disney Hotstar on March 31. It's a thriller about a girl who's searching for her father who has gone missing under mysterious circumstances.
Entertainment
In a trial that Judge Kent Holmberg and attorneys for both parties have agreed will last eight days, with each side getting four to call witnesses, Friday marks the final day that Sanderson's attorneys can compel Paltrow to testify.