Stephen Hawking in The Big Bang Theory, Simpsons, Star Trek: A brief history of his pop culture appearances
A close look at the various appearances, caricatures and portrayals of Stephen Hawking over the years.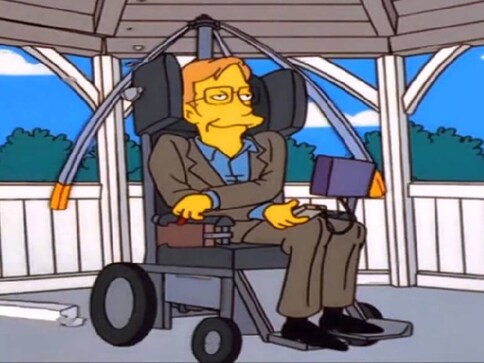 Stephen Hawking, whose scientific curiosity ranged across time and space despite the ravages of a neuro-degenerative disease, passed away at 76. Although he was under the shadow of a likely premature death since the age of 21, the famed British theoretical physicist continued to seek explanations to some of life's most complicated questions. He wrote lucidly about the mysteries of the universe making remarkable contributions to the fields of cosmology, general relativity and quantum gravity.
But Hawking not only had great understanding of time but also comic timing. His inimitable sense of humour turned him into a pop culture icon. While his contributions outside the academic world might not rival his work on black holes or relativity, he became a much loved figure over the years with his cameo appearances and cartoon caricatures where he often referenced his own work.
A self-confessed Trekkie, Hawking was the only guest to ever appear in Star Trek playing himself. In the season six finale of Next Generation, he famously took on the likes of Albert Einstein, Sir Isaac Newton and Lt. Commander Data in an engaging game of poker. Einstein taunts him during the game in an attempt to unsettle his opponent, saying "The uncertainty principle will not help you now, Stephen. All the quantum fluctuations in the universe will not change the cards in your hand. I call. You are bluffing." Hawking shows his winning cards and hilariously retorts, "Wrong again, Albert!" The physicist was also a big fan of BBC's cult sci-fi sitcom Red Dwarf appearing as himself in the show's anniversary special.
Hawking proved his comedy chops across the Atlantic with Chuck Lorre's self-styled geek sitcom, The Big Bang Theory, where he appeared in several memorable episodes. After examining Jim Parsons' socially awkward Sheldon Cooper's paper on the Higgs boson, Hawking — through his trademark voice synthesiser — remarks: "You made an arithmetic mistake on page two. It was quite the boner." In the show's 200th episode, he joins the others over Skype to sing 'Happy Birthday' to Sheldon.
On the popular animated sitcom The Simpsons,he makes a surprise visit in the episode "They Saved Lisa's Brain" to give the utopian Springfield — run by the local MENSA group — a reality check. He saves Lisa from a collapsing building with his Inspector Gadget-style wheelchair, which magically sprouts helicopter wings. Later in the episode, he funnily admits he is intrigued by Homer's "theory of a doughnut shaped universe." In "Don't Fear the Roofer," he moves to Springfield and owns the Little Caesar pizza place down the street from Moe's Tavern. His appearances were so popular that he was often mistaken for a character from The Simpsons.
Other than his frequent visits to Springfield, Hawking (or his head in a jar) also dropped by Matt Groening's 30th Century Fox world of Futurama. In Season 2's "Anthology of Interest I," he joins Nichelle Nichols, Gary Gygax, Deep Blue and the Vice Presidential Action Rangers, led by Al Gore, who aim to protect the space-time continuum. He even claims to have invented gravity and steals Fry's discovery, renaming the "Fry-hole" as "Hawking-hole."
Hawking also partnered with Monty Python, the legendary comedy group, for a new rendition of their signature "Galaxy Song" from the 1983 film The Meaning of Life. When Brian Cox enumerates the song's inaccuracies, an irritated Hawking zooms in with his wheelchair and knocks over his fellow British physicist. Hawking tells Cox, "I think you're being pedantic," and continues singing the song.
Before John Oliver became a household name, he interviewed Hawking on his HBO news satire, Last Week Tonight in 2014. And Hawking not only matched Oliver's signature brand of British wit, he even roasted him. When Oliver remarked, "You once stated that there could be an infinite number of parallel universes, so theoretically there could be a universe where I'm smarter than you," Hawking countered with an impressive comeback, saying "Yes. And also a universe where you're funny."
He was referenced in numerous other geek-friendly TV shows like Doctor Who, Dexter's Laboratory, Pinky and the Brain and The IT Crowd to name a few. Hawking, though, joked he won't feel like "a true pop culture icon" until he appeared on Keeping Up with the Kardashians.
But his influence is not restricted to just TV. Pink Floyd's David Gilmour interweaved Hawking's words on the instrumental track 'Talkin' Hawkin' in their 2014 album, The Endless River. 
Hawking's ground-breaking work made him the subject of numerous films. His life was immortalised in the 2014 Oscar-nominated film The Theory of Everything, starring Eddie Redmayne and Felicity Jones. The film documents the renowned physicist's relationship with his first wife Jane, from his golden years at Cambridge to his diagnosis with ALS to his eventual rise to fame. It also takes an unsentimental, unflinching look at Jane's courage and determination to support Hawking despite his deteriorating condition.
A decade earlier, another British actor — back then a relatively unknown — Benedict Cumberbatch portrayed him in a BBC TV drama — Hawking. The 2004 film provides us a glimpse into his early years as a PhD student at Cambridge University as he discovers his niche in physics before being diagnosed with ALS. Both these films are particularly impressive because they tell his story in a sensitive, non-melodramatic way. Hawking was also the subject of several well-known documentaries, from Errol Morris' A Brief History of Time (1991) to Stephen Finnigan's Stephen Hawking: A Brief History of Mine (2013).
It was not just Hawking's lucrative obsession with time and black holes that earned him recognition and reverence; it was also his ability to maintain a sense of humour despite his physical obstacles. Dr Tom Shakespeare, a lecturer and campaigner for disability rights, spoke of how Hawking's mainstream visibility helped champion the disabled community. "I think that his appearance in pop culture is very helpful. He's a globally famous disabled person...and he's shown that having a disability is no obstacle to achieving great things." Hawking's colleague at Cambridge University and fellow cosmologist Lord Martin Rees similarly credited his cult figure status to the fact that he was a brilliant mind stuck in a black hole of a body, held captive in a wheelchair. "The concept of an imprisoned mind roaming the cosmos plainly grabbed people's imagination. If he had achieved equal distinction in, say, genetics his triumph of intellect against adversity probably wouldn't have achieved the same resonance with a worldwide public," he said.
There's no doubt Hawking used the power of pop culture to promote scientific study and exploration. But his various cameos and appearances have also helped reduce the cultural stigmas associated with stereotypically geeky entertainment.
He was the closest we ever got to the "one single unified equation" that explained everything in our doughnut shaped universe — a universe that has sadly lost its brightest star.
also read
Entertainment
From classy to massy, the Cannes Film Festival or Festival de Cannes is no longer a place for directors, actors and film critics, but influencers take it all.
Entertainment
Talking numbers with the founder of Purple Style Labs, India's biggest fashion conglomerate
Entertainment
According to reports Prince Harry and Meghan Markle's 'very strange' decision to not celebrate five-year wedding anniversary.