Star Wars: The Force Awakens trailer secrets you need to know
Surprise all you Star Wars fans! The new trailer of the latest installment of the Star Wars Saga is out, and it's even better than expected.
We've analysed the trailer for you and picked out the most noteworthy moments.
0:30 The first glimpse of Jabbu! We're hit by a huge wave of nostalgia as the first scene of the trailer takes us to a new planet. And no it is not Tatooine, the home of Anakin and Luke Skywalker. A few haunting notes of composer John Williams' score definitely takes us back in time. Tatooine has appeared in every Star Wars film except The Empire Strikes Back. We also see glimpses of the crashed Star Destroyer from the earlier films.
0:40 "The Force is strong in my family. My father has it. I have it. My sister has it. You have that power too." Mark Hammill's powerful phrase cuts straight into a visual of Darth Vader's melted mask from his funeral pyre. The dialogue is also out of the iconic scene in Return of the Jedi, when Hamill reveals that Leia is in fact, his sister. These phrases are a reordering of Luke's words to Leia in the Ewok Village during Return of the Jedi.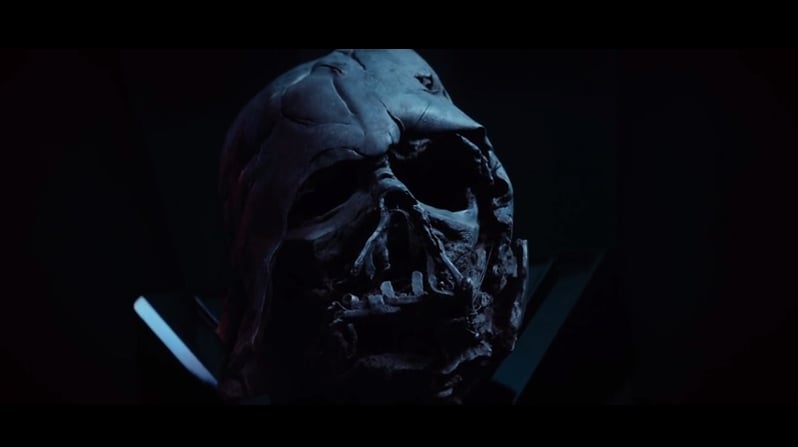 0:48 The first R2D2 sighting. And though we can't see who's reaching out to touch our favourite robot, and judging by that mechanical hand we can assume it's Luke Skywalker. Or is it?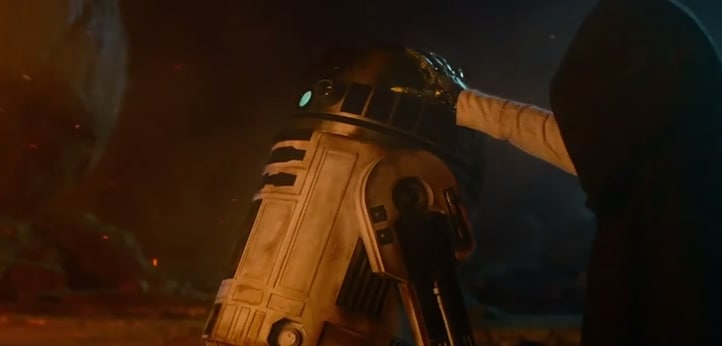 0:56 "My sister has it, you have it too." Who is this mysterious person being addressed in the trailer? The Star Wars director is leaving us with a lot of unanswered questions. The epic Lightsaber being passed on to someone moment is one of the best scenes in the trailer.
1:05 Poe Dameron played by Oscar Isaac is seen in his X-Wing for the first time.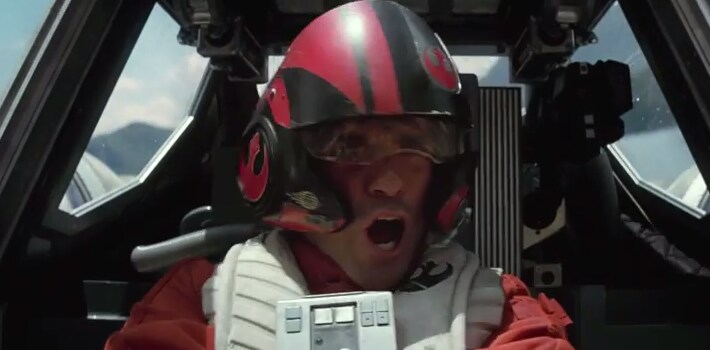 1:09 Rey, Finn and BB8 are running away from an explosion of epic proportions.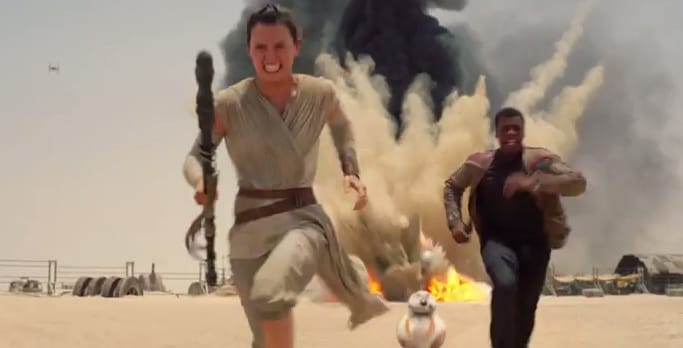 1:11 The cross guard lightsaber-wielding Sith named Kylo Ren is probably going to be pretty badass. Will he use the dark force or wont he? That's the question all the fans are asking after watching the trailer.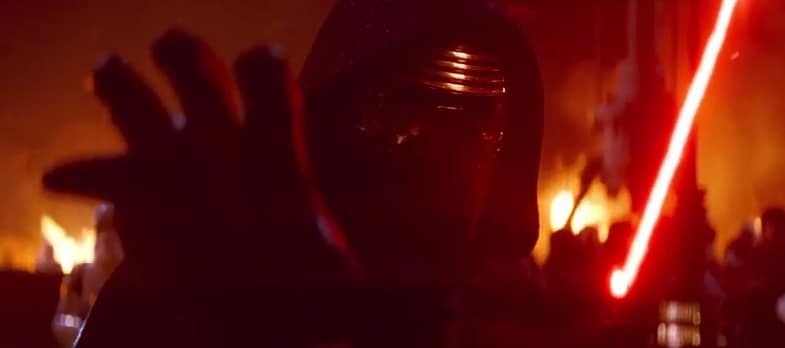 1:13 The Storm Troopers standing at attention in all their glory is another one of those memorable scenes that send heebie jeebies up your spine.
1: 16 From a lovely shot of Rey's face to imperial shuttles it then shifts to a scene displayed inside a Starship Destroyer. And a huge explosion with Storm Troopers flying everywhere. What trouble have they gotten into now?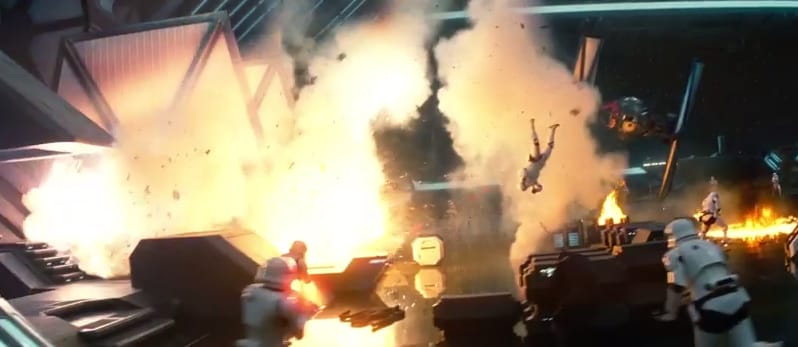 1: 21 BB8 give R2D2 stiff competition but he is absolutely adorable. The scene of him cautiously peeking out aboard the new ship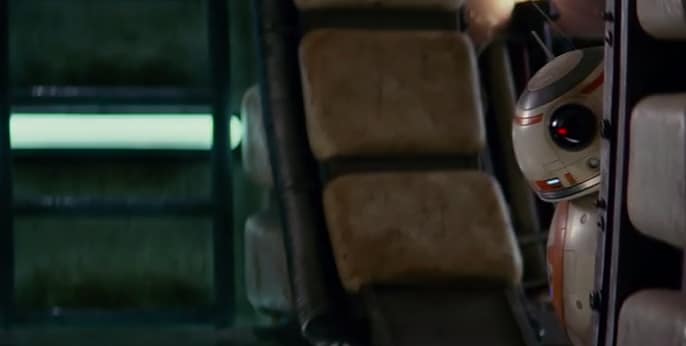 1: 23 Rey and Finn join forces. But were they on opposite sides before? Where is the story going?
1: 28 The new Sith lord makes his deadly appearance. Cue some super avoiding manoeuvres and some missiles being blasted here and there.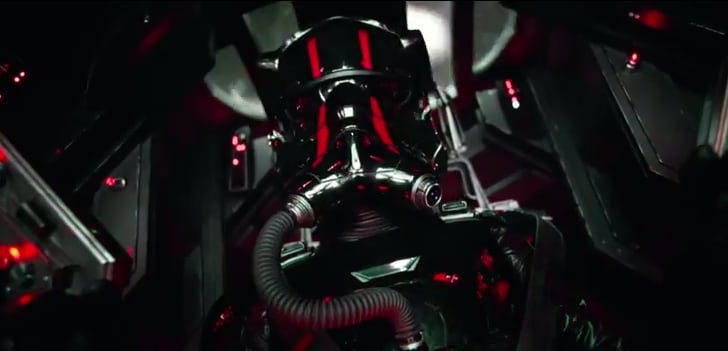 1:35 But they have saved the best for last. The parting shot the directors leave us with are the dashing Han Solo and his faithful companion Chewbacca.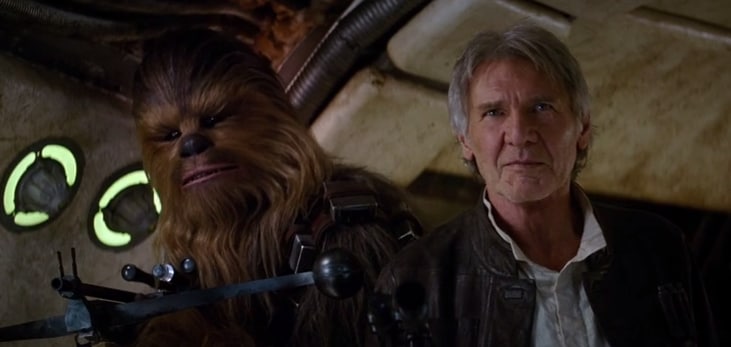 Are you excited yet? We sure as hell are.
Updated Date: Apr 18, 2015 08:45:19 IST