Stan Lee dies at 95: Marvel hero's legacy lives on through his work — and his many delightful cameos
Stan Lee, who died on Monday aged 95, displayed a sense of humour and irreverence that went beyond his creations — by making often interesting and always hilarious appearances in several movies and television shows over the past three decades.
Mourning the death of comic book legend Stan Lee means looking at his incredible life, the characters he created, the sensitive issues he tackled through his work, and the many ways in which he inspired so many of us. On a lighter note though, for the past three decades, Lee displayed a sense of humour and irreverence that went beyond his creations — by making often interesting and always hilarious appearances in several movies and television shows.
By now, a Stan Lee appearance had become a staple of any Marvel offering — whether he was being mistaken for Hugh Hefner and Larry King by Tony Stark or voicing animated characters, his cameos would draw chuckles in crowded theatres and were something that fans and casual viewers alike, looked forward to. Here's a look at Lee's best Marvel (and some non-Marvel) cameos through the years.
It all began in 1989, with a cameo as a jury member in the television movie The Trial of the Incredible Hulk.
Through the '80s, Lee had regularly lent his voice to animation based on Marvel properties; he'd narrated the Incredible Hulk animated series, always ending with "This is Stan Lee saying, Excelsior!" In 1989, Lee also narrated the original X-Men animated series pilot and appeared as himself in the animated series Jim Henson's Muppet Babies (he shows up in a live-action sequence in the episode 'Comic Capers').
2000's X-Men was Lee's first live-action film cameo. You might remember him as the befuddled hot dog stand vendor on the beach when Senator Kelly emerges naked from the sea.
In 2002's Spider-Man (remember the Tobey Maguire trilogy?), Lee appears as a bystander caught amidst the debris created by the Green Goblin. And he saves (or at least shields) a scared little girl. Awww.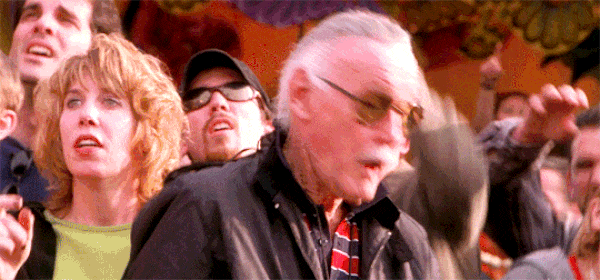 Between 2002 and 2013, Stan Lee made numerous appearances on The Simpsons. In the episode 'I Am Furious (Yellow)', an episode from 2002, Lee voices an animated version of himself who enters a comic book store, sees Bart Simpson's derivative and not-quite-good comic, but nonetheless encourages him to keep trying to "find his voice."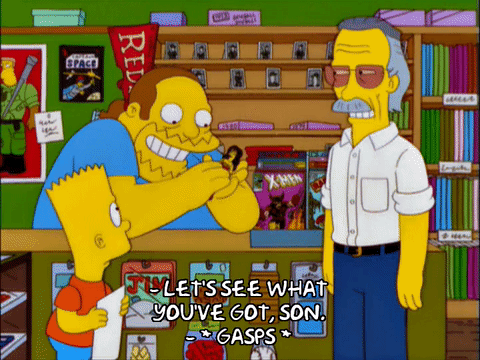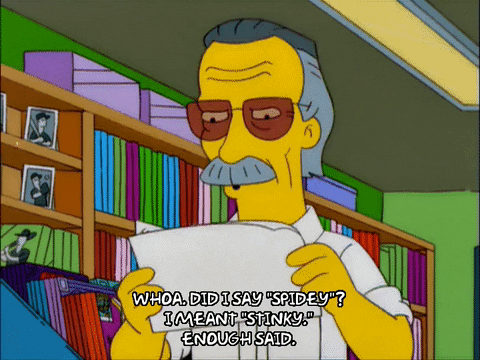 Lee played a distracted old man reading the newspaper at a traffic crossing, in 2003's horrifyingly underwhelming Daredevil — he's saved by a young Matt Murdock from walking into the oncoming traffic and getting hit by a bus.
Also in 2003, Lee made a cameo as a security guard in Hulk. Interestingly, this was his first speaking role in a film based on one of his characters. He says something about how as far as he's concerned "security ought to be beefed up in a place like this" while exiting Bruce Banner's lab.
Fun fact: the security guard he walks alongside was played by Lou Ferrigno, who played the Hulk on TV through the '70s and '80s.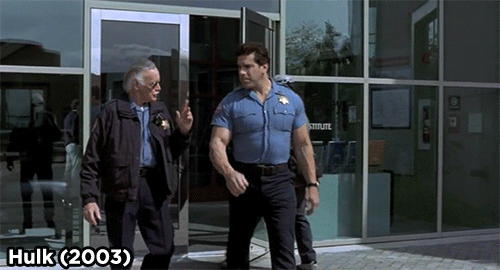 Lee continued his good Samaritan deeds in Spider-Man 2 where he saved a random woman from some falling debris, during Doctor Octopus' onslaught.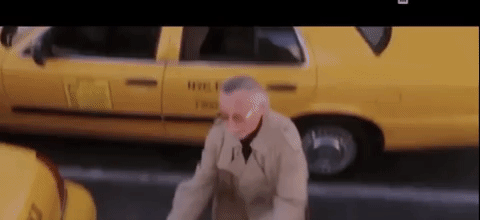 In 2005's Fantastic Four, Lee appeared as a mailman Willie Lumpkin, a supporting character created by Lee himself, in the Fantastic Four comic in 1960.
Lee played a man watering his lawn with a hose, in 2006's X-Men: The Last Stand. In the scene, Jean Grey, Lee's character's neighbour, telekinetically redirects the water from the hose up into the air, thereby flummoxing him.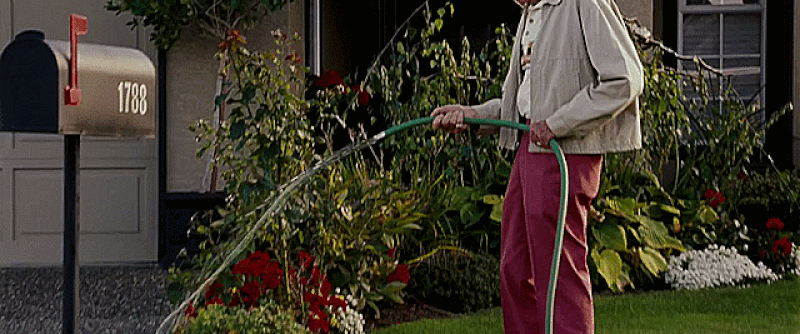 In 2007's Fantastic Four: Rise of the Silver Surfer, Lee appears as himself at the first wedding of Reed Richards and Susan Storm. He's turned away by a security guard for not being on the guest list.
Fun fact: when the couple got married in the comic Fantastic Four Annual #3 in 1965, creators Lee and Jack Kirby were also turned away!
Bringing the Tobey Maguire Spider-Man trilogy to an end in 2007 was Spider-Man 3. Lee played a random man standing next to Peter Parker in Times Square, as both of them read the news ticker about Spider-Man. Lee's character comments to Parker, "You know, I guess one person can make a difference…'Nuff said."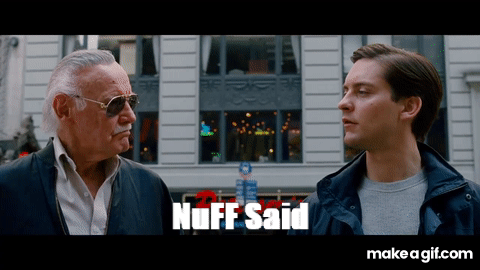 2008's Iron Man marked the beginning of the Marvel Cinematic Universe (MCU) as we know it. Lee's cameo in the movie (Tony Stark mistakes him for Hugh Hefner in a hilarious bit!) would also kickstart audience expectations for a Stan Lee cameo in every Marvel offering thereafter.
That same year, Lee appeared in the Edward Norton starrer The Incredible Hulk, as an unfortunate citizen who accidentally drinks a soft drink that is infused with Bruce Banner's blood. Yikes!
In 2010's Iron Man 2, Tony Stark continues his streak of mistaking Stan Lee for other people; this time, he thinks the suspenders-clad Lee is Larry King!
In 2011's Thor, Lee played a worker on the site where Thor's hammer Mjolnir has landed. Lee's character, credited as 'Stan the Man' unsuccessfully tries to uproot the hammer with his pickup truck, resulting in a fair bit of laughter from onlookers.
That same year, in Captain America: The First Avenger, Lee played a World War II general who mistakes another man for Captain America/Steve Rogers, comically commenting, "I thought he'd be taller."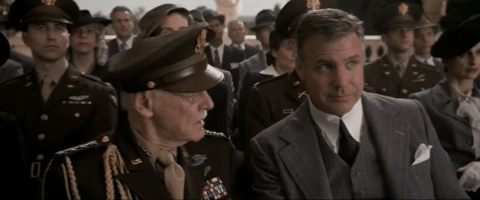 The following year, in the first Avengers movie, Lee played a random old man playing chess in the park. When asked about the Avengers saving Manhattan, Lee's character responds, "Superheroes in New York? Give me a break", before returning to his game.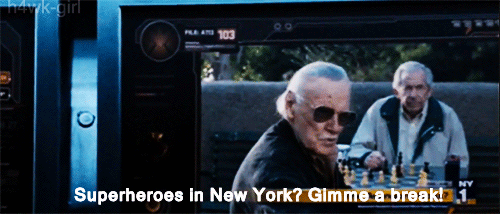 Fun fact: Lee also appeared in a deleted scene in the movie; when a waitress flirts with Rogers, Lee's character says to him, "Ask for her number, you moron." Classic! Also in 2012, in the first of two Andrew Garfield starring Spider-Man movies — The Amazing Spider-Man — Lee appeared as a librarian, listening to classical music with headphones, who's completely oblivious to a fight breaking out between Spider-Man and Lizard, right behind him.
In 2013's Iron Man 3, Lee played a beauty pageant judge who gives a contestant a 10/10.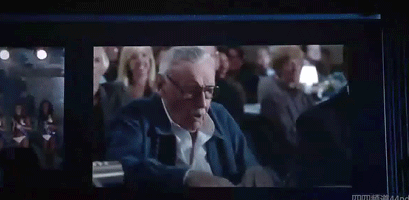 The same year, Lee appeared as a patient in a mental institution in Thor: The Dark World.
Lee appeared as a security guard once again, this time at the Smithsonian Institute in 2014's Captain America: Winter Soldier. In the scene, Lee's character discovers that Captain America stole his own World War II uniform from an exhibit, and aptly says, "Oh man, I am so fired."
In 2014's The Amazing Spider-Man 2, Lee's character attends Peter Parker's graduation as....good question! He does recognise Peter though.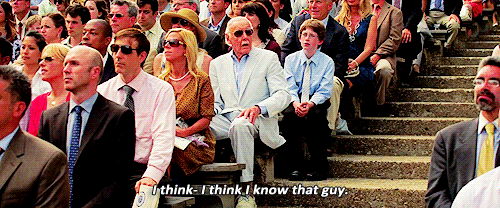 Lee's MCU cameos continued with 2014's Guardians of the Galaxy, where he flirted with a random, and significantly younger woman.
2014 also saw Lee making his first animated cinematic cameo, in the super-fun Big Hero 6. He played Fred's father, who first appears in a portrait, and then in a post-credits scene. This year, Lee also appeared as Fred's father in an expanded storyline on the animated TV show Big Hero 6: The Series. He was Frederick Frederickson III or Boss Awesome, a former superhero in the '70s.
From 2014 until his death, Lee appeared in numerous Marvel television shows, such as Agents of S.H.I.E.L.D., Agent Carter, Daredevil, Jessica Jones, Luke Cage, Iron Fist, The Defenders, The Punisher, The Gifted etc. He sometimes appeared as a cab driver or a train passenger, and sometimes as an inconspicuous police officer with his portrait on the wall at the NYPD.
In 2015's Avengers: Age of Ultron, Lee appeared as an inebriated military vet drunk on Asgardian liquor that is "not meant for mortal men!"
That same year, Lee made a cameo in Ant-Man, as a friendly bartender who's part of a fun story sequence that Luis tells Paul Rudd's Scott Lang.
In 2016, Lee appeared in the hilariously-adult Deadpool; he's an MC at a strip club (!?!) who introduces an offscreen character by saying, "Give it up for Chastity!"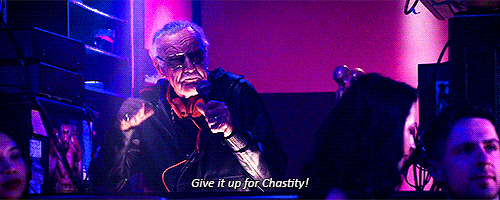 Later that year, Lee appeared in Captain America: Civil War, as a Fedex delivery man, who has a package for Tony Stark.
Also that year, Lee made an appearance with his wife Joan, in X-Men Apocalypse. They're both shown viewing the rising nuclear weapons launched by Apocalypse.
In another cameo in the same year, Lee appeared in Doctor Strange as a commuter on a bus, reading Aldous Huxley's The Doors of Perception. Once again, Lee's character is oblivious to a fight between Doctor Strange, Mordo, and Kaecilius that erupts outside the bus.
In 2017, Lee appeared as an astronaut in Guardians of the Galaxy Vol 2. He tells a story to The Watchers, also recounting his stint as a delivery man in Civil War.
The same year, Lee played a disgruntled man named Gary, who yells "Don't make me come down there, you punk!" out of a window at Tom Holland's Spider-Man, in Spider-Man: Homecoming.
Later in the year, in Thor: Ragnarok, Lee appeared as a servant to Jeff Goldblum's character, the Grandmaster on Sakaar. Lee's character brandishes a ghastly shear/propeller type device as he approaches Thor to cut his hair. Amusingly, he asks Thor to be still as his "hands aren't as good as they used to be."
Earlier this year, Stan Lee appeared as a gambler in Black Panther. Lee's character was called 'the thirsty gambler.'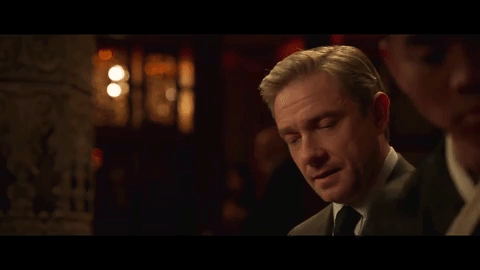 Lee also appeared in Avengers: Infinity War this year, as the driver of Peter Parker's school bus. When the kids get excited seeing Ebony Maw's spaceship, Lee's character says, "What's the matter with you kids? You've never seen a spaceship before?"
In Deadpool 2, Lee appeared as a graffiti mural on the side of a building as Domino parachutes down.
In Ant-Man and the Wasp, Lee appeared as a driver whose car is shrunk by the Wasp.
Stan Lee's many video game appearances came to a head in this year's super-successful game Marvel's Spider-Man. Lee's digitised version shows up in a lovely cameo as a short-order cook; in an emotionally tender sequence, Lee's character tells Mary Jane that he's glad she and Peter Parker are back together, saying, "Love seeing you two together again. You always were my favorites."
When you think about it, the above cameos are not even half of Stan Lee's many film/TV/video game appearances. He'd also already recorded voice-over for a cameo in Ralph Breaks the Internet, which will release later this year. Stan Lee may have gone, but his legacy lives on.
Subscribe to Moneycontrol Pro at ₹499 for the first year. Use code PRO499. Limited period offer. *T&C apply
Entertainment
Here we go again," the Wonder Woman star wrote on social media, announcing the news of her third pregnancy, along with a picture of her, Varsano and their two daughters.
Entertainment
WandaVision excels as both bittersweet romance and horror, playing off our dual relationship with family sitcoms: we return to them as a place of familiarity and comfort, even though they're uncanny and false.
Entertainment
Mandy Moore, who's named her newborn son August Harrison Goldsmith, revealed he was born 'right on his due date.'