Stalking and threat: What the legal notices of Kangana Ranaut, Hrithik Roshan allege, by the numbers
The spat between Bollywood stars Kangana Ranaut and Hrithik Roshan took a very public turn on Tuesday, with both actors sending legal notices to each other, as reported by several publications, including Mumbai Mirror.
Rumours that the duo was romantically involved have been long doing the rounds in Bollywood, especially after Hrithik's marriage with childhood sweetheart Sussanne Khan ended. But neither Kangana nor Hrithik had ever addressed those reports — in separate incidents, the actors had even walked out of press conferences because they wished to avoid questions about the affair.
What changed?
The trigger seems to have been a project for which both Hrithik and Kanaga were being considered — Aashiqui 3. The speculation around the film flew fast and thick — that Sonam Kapoor was the original choice, and when she couldn't take up the project, Kangana seemed like the ideal candidate. That Hrithik "threw a fit" when he heard that Kanagana might be signed on for the project, and that his antagonism led to her being "dropped". It's important to note that neither actor has ever confirmed that they would be part of the project.
The trigger for the legal notices, however, seems to have been an interview Kangana gave Pinkvilla about the Aashiqui 3 rumours: "Yes, many lame rumours are doing the rounds, even a dumb ass can tell where these rumours are coming from. I don't know why exes do silly things to get your attention. For me that chapter is over and I don't dig graves," she is quoted as having said.
The report was published on January 28. In a tweet dated the same day, Hrithik sent out what may be construed as a rejoinder: "Ther r more chances of me having had an affair with d Pope dan any of d (Im sure wonderful)women d media hs ben naming. Thanks but no thanks." (sic)
Ther r more chances of me having had an affair with d Pope dan any of d (Im sure wonderful)women d media hs ben naming.Thanks but no thanks.

— Hrithik Roshan (@iHrithik) January 28, 2016
It seemed that that is where the matter would rest — until now.
So just what have the two actors claimed in their legal notices against one another? We're breaking it down for you, by the numbers. It isn't clear how this saga will play out, but one thing is for certain — it's far more interesting than any Bollywood potboiler playing in the theatres right now: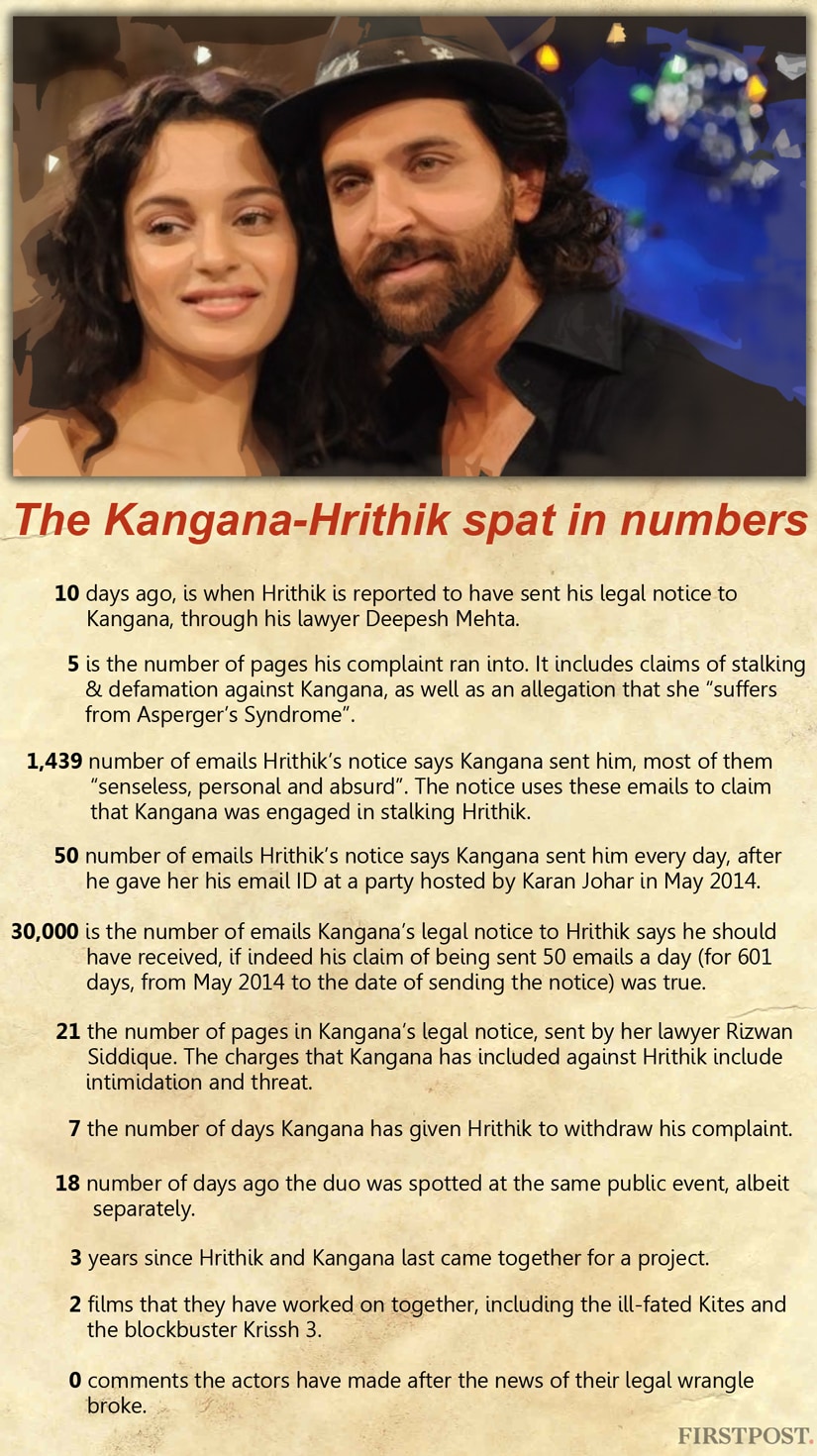 Updated Date: Mar 18, 2016 16:30:08 IST
Your guide to the latest election news, analysis, commentary, live updates and schedule for Lok Sabha Elections 2019 on firstpost.com/elections. Follow us on Twitter and Instagram or like our Facebook page for updates from all 543 constituencies for the upcoming general elections.