Sridevi: To millions of fans, she was an incomparable star; to one child, she was a true heroine
We often underestimate the power of art in our lives. The fact is that we all have fractured lives in a sense, and art can fill in those cracks. What Sridevi wrought on screen was art. She was Art, and for one lost and terribly hurt boy, Sri was everything, writes Harish Iyer
Born into a film-obsessed family, it seems like there never was a time when I didn't know of — and love — Sridevi. 'My Heart Is Beating', from the film Julie, was my mother's favourite song. As a consequence, I also heard it too many times to count. While Sridevi had a blink-and-miss role in the film, as a family, we'd sit and watch the entire movie, just for those glimpses of her it afforded. To say that she was my favourite actor would be an understatement… when life is tough, we tend to hold on tighter to that which we love. I was raped at seven, and the abuse continued for the next 11 years; my flights of fancy involving Sridevi, and my pet Jimmy, were what kept me afloat during that time.
When I'd come home after being abused, I would put the soundtrack from one of her films on the tape recorder and dance. I'd watch her films, and be transported into their world. I'd no longer be living my life — I'd be in whatever era, time, storyline Sri was. She was real to me in a way few other things were.
I somehow found all her characters relatable — even if that character happened to be an ichaadhaari naagin. I'd also find an underlying message in every one of her films. So when in Gumrah, Sri's character escapes prison, it gave me hope… hope that no matter how difficult a situation may be, there might be a way out. Then there were her comic roles… remember the dialogue from Lamhe where Anil Kapoor's girlfriend Anita sniffily informs Sri: 'Main use saat saal se jaanti hoon' to which Sri promptly quips: 'Main unhe tab se jaanti hoom jab main saat saal ki thi'. Sridevi in Lamhe made me believe that age doesn't matter, what matters is love. (Maybe that's why I don't give a damn that my partner is a decade younger than me.)
This is what cinema can do for us. I was a boy with a bleak future, and the canvas of my dreams was filled with Sri's colours. I could dream of another life, another reality because of her. In that world of Sri's making, and which I inhabited, I felt no shame about the way I looked, I was in full control of my life and was in the driver's seat, navigating my life's story to the destination I wished to get too. I was 'woke' in that life. Inspired by Sri's onscreen roles, in real life I became stronger, more eloquent, empathetic. Even today, the voice in my head is hers. When I experience an internal debate or self-doubt, I can hear her voice.
To say that news of her death devastated me would be an understatement. I have wept in the wake of the reports, while a part of me holds on to the irrational hope that this isn't real.
We often underestimate the power of art in our lives. The fact is that we all have fractured lives in a sense, and art can fill in those cracks. What Sridevi wrought on screen was art. She was Art, and for one lost and terribly hurt boy, Sri was everything.
Entertainment
Kangana revealed that can't comprehend how the late actress portrayed such seduction while still appearing innocent and funny.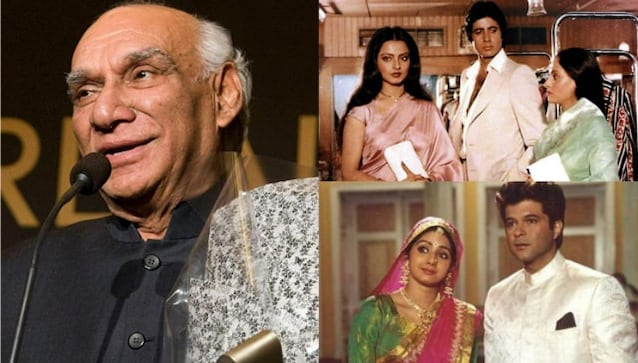 Entertainment
Yash Chopra never directed any film that he didn't believe in. Whether it's arranged marriages, man's battle with the machine age, corruption in the public sector…they're all there in Yash Chopra's cinema.