Sridevi passes away: K Raghavendra Rao, Ram Gopal Verma discuss near-fatal incident in 1967 film Naa Thammudu
In a 2014 episode of the ETV Telugu show Soundarya Lahiri, RGV and Rao discuss an incident which could have resulted in Sridevi's death at the age of 8.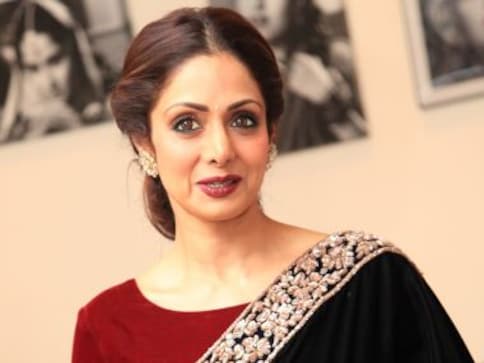 Sridevi was and will always be the most versatile actress the Indian film industry ever saw. In an episode from the show, Soundarya Lahiri, that aired on ETV Telugu, there's a clipping of the actress discussing — with her directors — an incident that could have costed her her life. Watching the video is proof alone, or rather a warm memory, of why there has never been and will never be anyone like her.
It was quite heart breaking to come across this video today as we mourn the loss of the veteran actress. While the irony is sad, there's no better time to watch it either.
Ace director Raghavendra Rao, also known for playing a major role in Sridevi's cult movies from both down south and in Bollywood, is a man of few words. The Soundarya Lahiri show happened to be that rare small screen moment, where he not only opened up to his audience but also brought together several actors and industry veterans on board. The director was known for being a pioneer of fantasy film-making and depicting female leads in refreshing, new ways. He directed Sridevi in 24 films like Jagadeka Veerudu Athiloka Sundari, Himmatwala, Kondaveeti Simham, Padaharella Vayasu and many more, spanning generations of actors, from NTR to Shoban Babu and Chiranjeevi. Her fondest role for many fans, still remains Mayil from 16 Vayadhinile.
So it was only obvious that the anticipation had reached fever pitch for Sridevi to make an appearance on the show. When she finally did appear on the Telugu show, we were floored as much as Ram Gopal Verma, who was seated right next to her. While both Rao and RGV got chatting about each other's trademark films and admiration, their mutual love for Sridevi and then came an important confession.
Sridevi, as we know it, has faced the camera since the age of four. Yes, it's no surprise that she ruled Indian cinema from Black and White to Eastman Colour to our social media enriched worlds. Naa Thammudu, was a 1967 Telugu film in which Sridevi and Shobhan Babu played key roles and one of those movies where she shined as a child actor, only this time Rao was the assistant director in this film his father Kovelamudi Surya Prakash Rao was directing.
And that's all that we thought the film was, until Rao goes to a make a confession about one such incident — one that could have cost the life of India's first female superstar at the age of 8. And Ram Gopal Verma's reaction at that moment probably resonates with all of us today — every single one of us who grew up watching the actress' movies and who admired her anyway.
Rao narrates about this one sequence where Sridevi is rushing towards school and almost gets hit by a car. He reveals about the scene being real and not being staged, leaving all of us and RGV in shock. Sridevi actually laughs about that shot and explains how it played out. "I remember director sir saying that he will wave a handkerchief and the minute he does that, I'll have to run straight towards him. And like some horse, I did not look left or right, I just ran straight towards him and that's it. I was knocked out." This incident, in itself, speaks volumes of her dedication towards cinema.
The director talks about how he, for a second, forgot about the tender age at which Sridevi was acting and how he he thought he could impress his director with this sequence. Rao then says, "I had nightmares imagining her mother screaming and my arrest for being involved in the mishap. I literally carried her in my hands and ran towards first-aid. If she was even one second late, then that's all." (And that hurt). This show was aired in November 2014 and at that moment all of them on that set, including anchor Suma laughed it off. But RGV did not. The director was still in shock for many minutes after the scene replayed. He was appalled on learning about the incident and the fact that Sridevi hurt her foot in the same. "I would have killed you." he said Rao, looking worried like never before and recovering from the risk Rao actually took to make the shot happen.
RGV's admiration for the actress is well known and he did not leave a chance to express it in this show as well. "People who think there can be another actress who emotes as well as Sridevi, are fools" he tells anchor Suma.
Why won't he? The director had just finished discussing his love for Sridevi. And how their hit thriller film Kshana Kshanam with Venkatesh can never be remade, because there can never be another Sridevi. He goes on to talk about how she can carry an entire song on her own with just her expressions. And RGV couldn't have said it any better.
He went on to add, "I felt a jerk watching that scene, despite knowing she's okay now, so I could only imagine what happened on sets that day." Years later, almost 40 plus years later, we find RGV in all that probable grief. The director has been tweeting since early today like the rest of the industry, expressing his state of shock and how unfair it is, that the beautiful actor is gone so soon, leaving him behind. And this video of the three bursting into laughter at such an incident, only rekindles more memories of the legendary actress.
"No director and actress have worked together for more than 10 films in the Indian film industry, but me and Raghavendra Rao garu have worked together in 15 Telugu films and 9 Hindi films, making it 24 films in all. If we work on one more film, we'll make it to our silver jubilee," Sridevi is heard saying on an old clipping, played on the same show. And she goes on to curiously ask Rao about when it'll happen. That dream now just remains as one.
Sridevi sure is the charmer the country saw with movies like Mr. India and Chandni, but her magic is never completely witnessed until you watch her rule the South cinema screen. And that happens to be one of the best clipping post this confession of sorts from the Soundarya Lahiri episode. Around 10 clippings of Sridevi from various South Indian movies are played in a jiffy, leaving us awestruck. I bet you would finish watching those and think to yourself, "Woah, what a woman!' And that's probably why today, on her demise, we share the confessions and versatility of the actress through this evergreen episode.
RIP Sridevi, 300 films and gazillion roles old, you've ruled the hearts of generations.
Watch the video below:
Entertainment
The superstar has his charm of welcoming foreign contestants that never lose to leave everyone impressed
Entertainment
Dahaad, an eight part crime drama, is directed by Reema Kagti and Ruchika Oberoi. It features Sonakshi Sinha, Vijay Varma, Gulshan Devaiah, and Sohum Shah in the lead