Sridevi passes away at 54: From Chaalbaaz to Mr India, veteran actor's comic genius was exceptional
Sridevi didn't need words because she had so many other ways to communicate with the audience — and laughter was one of them.
Author Stephen King famously said, "Any fool with steady hands and a working set of lungs can build up a house of cards and then blow it down, but it takes a genius to make people laugh." This quote could well have been referring to actress Sridevi.
Sridevi, who passed away on 24 February 2018 at the age of 54, started her career as a child artist. Her early roles as a leading lady in Tamil cinema were in films helmed by serious auteurs like K Balachandar. So it's not surprising that her exemplary comic timing was a late discovery.
Follow all the latest updates here
By the time she started her career in Hindi cinema, having already established a hefty body of work in the south, Sridevi was, unfortunately, typecast in the norm of the day. Southern film directors copy-pasted the Telugu cinema formula in Hindi, casting Sridevi and Jaya Prada, another established southern actress, with Jeetendra.
The series of films — Tohfa, Himmatwala, among others — had her doing little except gyrate around earthen pots in garish costumes with hundreds of extras populating the background.
It took a while for Sridevi to get promoted from garnishing to a performer who demonstrated control over action, dance, drama, romance, and, of course, comedy.
Her early films earned her a career, no doubt, catapulting her to the top of an industry in which it was difficult to gain a toehold if you did not speak the language well. But this did not deter producers who lined up to capitalise on her box-office success. What she lacked in language and diction, she compensated for with her vulnerability and versatility, in particular her comic timing.
Until then Hindi films, to a large extent, had a separate set of comic actors who complemented the leading man and lady. The lead pair seldom kneeled down to comedy, which was best left to supporting actors. But then there was Sridevi, a lead actress who confidently showcased her ability to turn a scene into something humorous and entertaining.
As a teenager who suffers memory loss in Sadma (1983), she wowed audiences, standing tall and firm alongside Kamal Haasan. But within that heart-breaking story there were moments of absolute joy.
Recall the scene in which Haasan's Somu pretends to trap his head in a metal pot to cheer up Reshmi. Sridevi uses only sounds and expressions to convey her moods which range from anger to amusement to curiosity and fear.
A scene that promises to remain legendary is the ultimate Bollywood homage to Charlie Chaplin in Shekhar Kapur's Mr India (1987). Disguised in a toothbrush moustache and ill-fitting black suit, she swung around a cane and mimicked the great English actor in a casino setting with complete abandon and confidence.
In a film with a powerful script and story, that had a rising star in Anil Kapoor in the lead, a bunch of attention-grabbing young children and a villain of epic proportions in Mogambo, it would require a special performance to grab attention. Sridevi pulled off a perfect foil to Kapoor's Mr India, a man who discovers a gadget that would make him invisible and has to use it to fight off the evil Mogambo (a terrifying Amrish Puri).
She flits effortlessly between a reporter chasing and falling for the invisible man (a-la Lois Lane), to a crime fighting volunteer and a kind-hearted "mother" figure.
Her exchanges with her boss (the hilarious Annu Kapoor as an editor troubled by wrong-number calls) perfectly soften the gravity of the story that also deals with corruption and abuse of power.
An actor's talent and confidence are best exemplified by what they are able to do beyond the brief of the director. In one of Mr India's famous sequences, Seema (Sridevi) has infiltrated the villain's den but, in her quest for disguise, finds herself as the lead performer in the evening's entertainment. Seema now has to try and match up to the backup dancers, make up a song, appear to know what she is doing while keeping a close watch on Mogambo's henchmen.
She wrinkles her nose in an almost-sneeze while using a feather, converts a misstep into a dance move and completely takes control over a scene that's still remembered for her uninhibited performance in the song 'Hawa hawai'.
In Chaalbaaz (1989), Pankaj Parashar's modern take on Seeta Aur Geeta, Sridevi plays the double role of Anju and Manju, twins separated at birth, brought up in contrasting situations and thus developing opposite personalities.
While the Ramesh Sippy original is equally entertaining, a comparison of the two roles (Hema Malini in the original) gives a clear indication of how Sridevi's ability to have fun translates into the character's joie de vivre.
Anju is a frightened, meek soul, traumatised by her family while Manju is a tipple-loving tomboy, ready to take on the world. When they accidentally switch places, it's the latter's dealing with the abusive family and her romance with a now-stunned suitor (Sunny Deol) that provide the film with it's winning moments.
Sridevi's performance is filled with infectious joy, of beating up evil family members (like Shakti Kapoor), hitting back when attacked, and toying with Deol as she dominates the film in a double role.
She tosses aside an umbrella and dances in a transparent raincoat to 'Na jaane kahan se aayi hai'. She's got the moves, and she's having fun. The eye roll and raised eyebrow, a little stumble, a curling up of the corner of her mouth, playing with her hair and a tilt of the head. It's the antithesis to her sensual 'Kaate nahin kat te' wet sari song from Mr India that still makes her male fans weak in the knees. Her dance moves, like her comic timing, were fluid.
It's well documented that her unfaltering commitment to her profession was such that just weeks after her father's passing, she shot a comic scene, caked in a face pack, for Yash Chopra's Lamhe (1991).
In Roop Ki Rani Choron Ka Raja (1993), she played a 'dukhyaari madrasan' switching between Tamil and Hindi, employing all the histrionics available to her to entrap a hapless Anil Kapoor. In the same year, she played the double role of Sunita/ Priya in Vinod Mehra's Gurudev, carrying off a swagger and oozing attitude as she tries to skirt the hospital watchman (Viju Khote).
In 1994's Chaand Ka Tukda she revels in the farce of a funeral as the conniving Radha celebrating her husband Shyam's (Salman Khan) death — and declaring her affection for crows!
Sridevi's expressions papered over her undulating voice and occasionally unintelligible diction that made her dialogues hard to follow. But the message and the feelings were delivered loud and clear. Sridevi didn't need the words because she had so many other ways to communicate with the audience, and laughter was one of them.
Entertainment
Actors Karan Singh Grover and Bipasha Basu are ready to embrace parenthood as they will be welcoming their first child.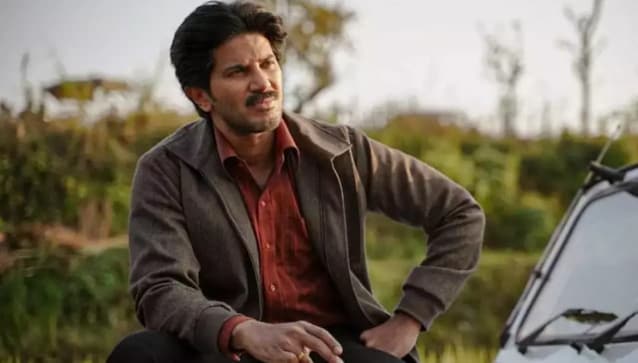 Entertainment
Notably directed by Raj Nidimoru and Krishna DK, Guns & Gulaabs features Rajkummar Rao with Dulquer Salman, Gulshan Devaiah, and Adarsh Gourav in lead roles.
Entertainment
Bollywood director Mahesh Bhatt celebrated his 74th birthday on 20th September, Tuesday, and his daughter Alia had something to share with fans