SPI Cinemas CEO Kiran Reddy on why they chose to sell their business to PVR over other multiplex operators
With SPI Cinemas' acquisition, PVR becomes market leader in three key metros in south India - Bengaluru, Hyderabad and now Chennai.
The largest multiplex chain in India, PVR Cinemas's acquisition of south India's biggest SPI Cinemas in a cash plus stock deal valued at Rs 850 Crores, has created waves in the entertainment industry. The Chennai based SPI Cinemas with their flagship Sathyam theatre redefined the cinematic experience. PVR by acquiring SPI's 76 screens spread across 17 properties in 10 cities has now 706 screens across 152 properties in 60 cities in India. But the key to the deal is that PVR becomes market leader in three key metros in south India - Bengaluru, Hyderabad and now Chennai, which has the highest footfalls among moviegoers in the country.
Here are excerpts from an exclusive interview with Kiran Reddy, SPI Cinemas CEO and the man who redefined the theatre experience.
Q. What made you take this decision to sell your business to PVR at a time when you were the market leader and expanding at a fast pace?
Our growth was phenomenal and we were growing so rapidly that we need to generate more money. I do not the like the idea of borrowing more money than our cash flows can generate. The more cinema business turned profitable, we ended up spending even more, as it is a capital intensive and puts pressure on our cash flow. When people asked me to cash in our brand value and go public, I refused as I'm not comfortable with that idea. At the same time I had to raise capital and PVR came into the picture and our style of business was similar which helped to make the deal come through.
Q. But you were talking to PVR for the last three years ever since political pressure put on you by the late chief minister's close associates to sell your dream property Luxe in Chennai?
Yes, the then administration cracked down on us and we were forced to sell out. Actually, our talk with PVR started a few months earlier to it, as the deal at that time envisaged Luxe as part of SPI. Anyway, the deal didn't go through as I didn't have much of a choice. Given what happened in 2015, the experience made me refocus and we got the sympathy and love from our patrons and a lot of people understood that we were treated in an unfair manner.
Q. In short, it made you stronger and helped you to get through that difficult phase?
Yes. And instead of brooding about it, I looked at the positive side and refocused and moved on. Later, people became sympathetic and helpful and we got support from all around.
Q. I'm sure you must have got offers from other multiplex players. Why did you choose PVR over others?
I always thought PVR was the best in the business which made them the market leaders. They know how to run the business effectively. I believe their expertise in running the show and the kind of cinema experience we provide to the patrons makes the perfect match.
Q. Tell me one thing they do better than you and most people think that PVR is a brand while you have more emotional connects with the audiences who patronise your theatre?
I think they are doing a terrific job in marketing and advertising, which is one of the biggest revenue streams for a multiplex operator.
Q. There was so much uproar in the social media over your decision to sell out to PVR, especially from fans of your multiplexes that grew up on the flavour of your popcorns and cold coffee. Please comment.
Let me make it clear again that we would be still be part of the show and provide strategic guidance in integrating the business with PVR and create value for all stakeholders. As far we are concerned, status quo will be maintained.
Q. Will there be a name change or re-branding?
SPI is a brand very close to the hearts of the people who love us and no one can take that away. PVR also understands that and I'm sure we will function together for the betterment of all concerned. Let me make it clear once again that that my involvement in the business will continue and our popular popcorn and cold coffee will still be there.
Entertainment
Calling Pose 'a personal show' to him, Ryan Murphy, who has co-created the show debuting its third and final season, recounts how networks wouldn't allow him to have a single gay character on his shows when he started out.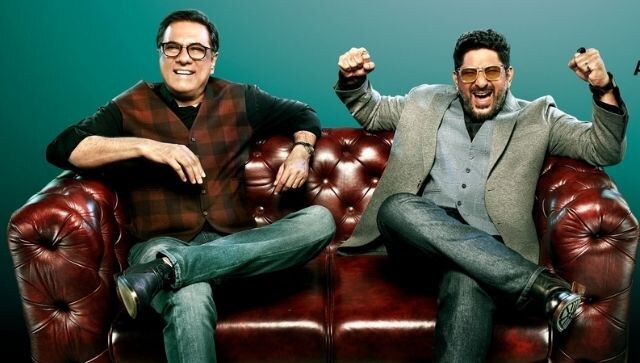 Entertainment
Hosts Arshad Warsi, Boman Irani, and comedians Sunil Grover, Aditi Mittal, Cyrus Broacha and Suresh Menon weigh in on being a part of LOL - Hasse toh Phasse and competing with old friends and co-workers.
Entertainment
Without Remorse star Michael B Jordan opens up about fostering inclusivity in Hollywood, and striking comfortable balance between entertainment and activism.