Special justice for Bollywood? While Sanjay Dutt is free, 73-year-old Zaibunnisa is still in jail
By Puja Changoiwala
Now seventy three-year-old Zaibunnisa Anwar Kazi was arrested for the same offence as actor Sanjay Dutt – hoarding ammunition to be used for the 1993 Mumbai blasts. She was given the same quantum of punishment as Dutt – five years. And yet, even as the actor managed an acquittal under the Terrorism and Disruptive Activities (Prevention) Act (TADA), Zaibunnisa was branded as a terrorist. Even as Dutt could easily avail a healthy number of parole and furlough leaves during his sentence, Zaibunnisa's family had to knock doors for at least seven months each time they got her the relief. And even as Dutt made his celebrated walk of freedom earlier this week, Zaibunnisa, even today, languishes in a state prison. Their crime was the same, and yet, their justice different, simply because Zaibunnisa is not Sanjay Dutt; worse, she is one of us.
"She is not a terrorist," says Kamini Jaiswal, an eminent Supreme Court lawyer, "Zaibunnisa is a victim of circumstances. Even Sanjay Dutt was not a terrorist. He was just a stupid macho man, and then he owned it up. But you had the chief minister talking in his favour. On the other hand, this lady was only a common person. But just because she doesn't have a fancy and elite backing, she does not deserve to be treated this way, and that too on basis of such frugal evidence. Zaibunnisa has more than suffered."
It was 17 April, 1993. Zaibunnisa, then a 50-year-old housewife, was at her Bandra home with her daughters. A team of policemen came knocking on her door. They asked her if she knew Abu Salem, the gangster who was accused of supplying weapons for the blasts. Zaibunnisa responded saying that she didn't know him well, just vaguely. "He is a real estate agent. He has come to my house before," she told them. The policemen assured her that they would take her to the police station, and would let her go after she recorded her statement with them. The woman agreed, but within two days, she was booked and arrested under TADA.
According to the police, Zaibunnisa was privy to the conspiracy behind the terrorist act which claimed 257 lives. It was alleged that a consignment of AK-56 rifles, hand grenades and other arms was delivered to Zaibunnisa's home, and that when she accepted the bag, she was aware that it contained ammunition to be used for the blasts. The cops had brought on record a confessional statement of co-accused Manzoor Ahmed, who claimed to have delivered the weapons to Zaibunnisa.
Manzoor's confession read, "We went to the apartment and handed over the bag to a lady and told that the bag contains arms for causing riots and they were sent by Anis bhai (main conspirator Dawood Ibrahim's brother) and that they would take the bag after some days. After saying so, he gave the bag to the middle-aged lady. The lady opened the bag and after seeing its contents, closed the same and took it inside the room."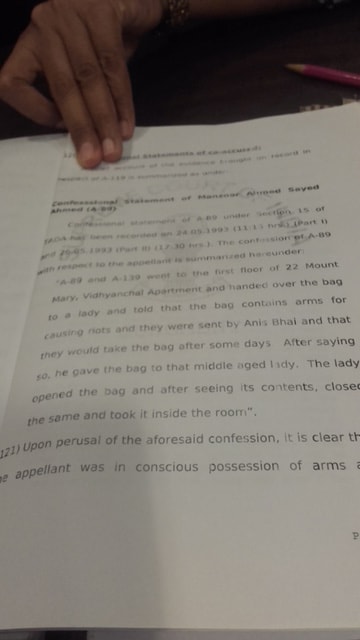 (Co-accused Manzoor Ahmed's retracted confession where he claimed to have dropped a consignment of AK-56 rifles, hand grenades and other arms at Zaibunnisa's Bandra home.)
The police said that the consignment, which was dropped at Zaibunnisa's home, was picked up from the residence of Sanjay Dutt, who had ordered them for "self-protection". The actor was booked and arrested for the same offence as Zaibunnisa. But he managed to secure bail while Zaibunnisa remained in judicial custody. It was four months before she could return home. While granting her bail on 17 August, 1993, Justice JN Patel noted that since the Honourable High Court had granted bail to Dutt, he had "no hesitation" to order Zaibunnisa's release on bail. He stated that with the evidence present then, it could not be said that Zaibunnisa had abetted a terrorist act or was a participant in the conspiracy which led to the bomb blasts. "At the most the applicant Zaibunnisa can be prosecuted for offences under the (less stringent) Arms Act or IPC," the order read.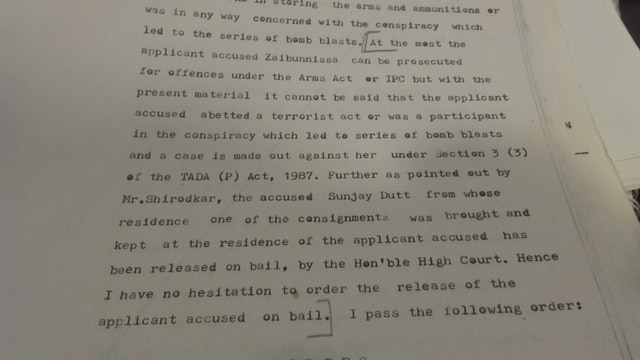 (The order passed by Justice JN Patel while granting bail to Zaibunnisa in August, 1993, four months after her arrest.)
The order brought relief to the Kazi family. Justice Patel had deduced that Zaibunnisa, even if an accused, was not a terrorist. Further, Manzoor's confession made no mention of her name. He even retracted the statement later, alleging torture preceding his confession. The Kazi family was certain that Zaibunnisa would be acquitted, but she wasn't. When the trial in the High Court ended in 2006, Zaibunnisa was convicted under TADA and sentenced to five years of rigorous imprisonment. When the matter escalated to the apex court, her sentence was confirmed in 2013, two decades after the blasts.
"When the judgements arrived, we were stumped. Sanjay Dutt, who had confessed to calling for the weapons, who confessed to knowing these men who had delivered the consignment, was acquitted under TADA. But Zaibunnisa, who was tried for the same offence, was convicted. There was no evidence against her, except for Manzoor's retracted confession. Manzoor was tortured into giving that statement. There is a roznama on record where he speaks about how he was stripped, beaten, his nails extracted, and how he was bleeding from head to toe. But even if you consider the confession, Manzoor could not identify Zaibunnisa before the court as the woman who the bag was handed to. In fact, even he was not convicted under section 6 of the TADA (for enhanced penalties), but Zaibunnisa was. Further, unlike Dutt, Zaibunnisa did not confess to anything herself. She wouldn't; she had committed no crime. Even the weapons were not retrieved from her possession, while an AK-56 was recovered from Dutt. And yet, unlike the film star, she was convicted," said a source close to the Kazi family, who did not wish to be named.
Farhana Shah, Zaibunnisa's former counsel, said that the woman was awarded the sentence since the minimum punishment under TADA is five years. But Jaiswal says that she cannot comprehend why the woman was convicted for a terrorist act in the first place while Dutt was acquitted for the same offence. Dutt was the man who had called for the arms, while Zaibunnisa was accused of only storing them.
"The court has looked at Dutt's case with blinkers," says Jaiswal, "And Zaibunnisa was denied a fair trial. She has not done anything for which she should be called a terrorist. Also, the magnitude of the proceedings in the case was such that a holistic view could be easily lost. All the bomb blasts were tried together, chargesheets ran into thousands and thousands of pages, so many accused were tried at the same time, and finally, the four thousand-page order. With such huge proceedings, it all becomes a big mess."
But Zaibunnisa's ordeal did not end at the judgement. Soon after she surrendered in the TADA court in May, 2013, she was lodged in the Yerwada prison at Pune. Her daughter, Shagufta filed a leniency appeal stating that Zaibunnisa, then 71 years, was riddled with several health complications. The septuagenarian had cholesterol, blood pressure and thyroid issues and was also treated for a malignant tumour on her kidney. Shagufta pointed out that her mother needed to have biannual medical tests, and that because of her age, it would be difficult to survive jail. But her pleas fell on deaf ears even as another accused in the case, Sameer Hingora was granted relief of three and a half years in his sentence by the Supreme Court owing to his heart ailment. Sanjay Dutt, meanwhile, had also received a reprieve of one year in his six-year sentence pronounced by the high court.
Shagufta, 45, who had to deal with her mother's case as soon as she got out of college and hasn't married yet, says, "Imagine a person as old as her living in your house, say, your grandmother. They're so restless at home; now imagine them living in a jail. Because she has been convicted under TADA, my mother cannot speak to us over the phone while other prisoners are allowed two calls a week. I was allowed to visit her for fifteen minutes once every month. Last year, they started allowing me two visits. Every time I go to see her, she asks me, 'Sarkar ne kuch kari kya?' (Has the government done anything?) I don't know how to answer her anymore. So I tell her, 'Who are you, mamma? Who is going to listen to you?' But she doesn't understand. She gets restless. It's very difficult, that life, especially for an old and ailing woman like her. The last time she came out on parole, she had lost a drastic amount of weight. She was so weak that two lady constables had to hold her and hand her over to me."
Shagufta says that even getting a parole sanctioned for her mother was not an easy task even as the leniency towards Dutt in terms of provisional leaves was constantly questioned in the press. Six months after Shagufta made a parole application in 2014, the Pune divisional commissioner replied saying that the plea had been rejected as there was a possibility that Zaibunnisa could abscond. Shagufta then approached the Mantralaya, and after several days of follow ups, her mother was finally granted leave. The same run repeated when Shagufta made another application last year. The provisional releases, says Shagufta, were vital since these are the only times when she can have her mother's medical tests conducted. Further, even as Dutt was allowed home-cooked food and mattresses, Zaibunnisa still sleeps on the stone floor and has to eat prison food, although her swollen legs require salt-less cooking.
"It is not the five-year sentence," says Shagufta, speaking to Firstpost at a coffee shop close to her home, "It's the twenty three years of constant torture, the tag of being a terrorist. In these two decades, we have lost our honour, all our respect. We have sold our properties to foot the legal bills. My father died waiting to see my mother free. Even if mumma returns home, who is going to erase those memories? The torture of judicial custody, the torture of 1993 – nobody can wipe these out. And why my mother? When she sits, she cannot get up. When she stands, she cannot sit down. And what can I do about it? Nothing. In the past twenty three years, I've knocked on every door; I've written to every minister, every relevant person, but there has been no response. They need to pick up her file and see. What has she done? She is a housewife, a mother. I wish that she had served more sentence when she was arrested. At least at this age, when she cannot even go to the washroom on her own, she would have been free."
Former Chief Justice Markandey Katju, in March 2013, had sent an appeal to the Indian president, prime minister and home minister requesting pardon for Zaibunnisa. He wrote, "In paragraph 125 of the Supreme Court judgment in her case it is clearly stated that she is innocent of the main charge of conspiracy in the 1993 bomb blasts. With due respect to the Hon'ble Supreme Court I have some reservations about the finding of Supreme Court on this point. Be that as it may, in my respectful opinion Zaibunnisa Kazi fully deserves pardon and therefore I am appealing to you to grant her pardon under Article 72 of the Constitution." But the Union government did not respond to the appeal.
(The Supreme Court's judgement on Zaibunnisa pronounced in March, 2013.)
"It's absurd how our legal system works. Justice JN Patel had granted bail to Zaibunnisa after deriving that she was not guilty under TADA. But another judge sitting in the same court convicted her under the Act. Similarly, former Chief Justice Katju doesn't find her guilty, but the Bench of Justice P Sathasivam, who affirmed her conviction, did. The evidence before all four judges was the same, and yet, the outcomes were different. Is it that judgements are given out on basis of the judge's personal or individual perspective rather than the case's merit? Is this really how they deliver justice in our country? We've been looking for these answers for several years now. But even as Zaibunnisa fights every day to survive those barracks, no one is willing to answer," says a source close to the family.
Shagufta says that she had also appealed for remission and early release for her mother. But unlike Dutt, who was granted a relief of 144 days for good behaviour, Zaibunnisa's appeal has not seen a response. "I just want her to come back alive and healthy. People talk, but they also forget. I hope my mother is forgotten by the time she is out. If she has to live in peace, she has to be forgotten," says Shagufta.
Senior advocate Kamini Jaiswal, meanwhile, said, "Sanjay Dutt's status had an over-awing effect on the people. He got a very sympathetic treatment. But it is very strange that the government, which has to treat all its citizens equally, has not looked at her condition in jail. If Dutt has behaved well in prison, she couldn't have had a bad record. What could she have done that would tell that she has a bad behaviour? If you're relieving one person on basis of good conduct, I don't see why Zaibunnisa is not eligible for the benefit. And what is remission? It is a grant the government gives. This old woman is not capable of coming out and committing an offence. Let her be able to live her life peacefully with her daughter. It is really unfortunate that celebrity status has got people backing for Dutt, and Zaibunnisa is just forgotten."
But despite all the prayers, when Zaibunnisa walks out of prison, she will not be greeted with a media frenzy or thousands of fans dancing to the dhol outside her home. She will not arrive as a resurrected superstar. Unlike her former co-accused, this 73-year-old, who has faced injustice in her arrest, trial, conviction, sentence and imprisonment, will return as a stamped terrorist.
Updated Date: Feb 28, 2016 16:27:31 IST