Sonam Kapoor posts definition of 'nepotism'; Twitterati can't help mocking the irony
Once you get over the open letters, Sonam Kapoor recently took to Twitter to define nepotism. Needless to say, people pointed out the obvious to her.
The nepotism debate has been going on and on for months now with new celebrities are chiming in everyday. There have been jokes, apologies, open letters and more open letters.
People are picking sides, some are lauding Ranaut for standing up to nepotistic Bollywood stars, some are deeming "eugenics" as the reason for the practice and some are just going about their day, as usual.
Between all of this, there is Sonam Kapoor, who took to Twitter to define nepotism. And needless to say, people are not pleased.
Here's her tweet for your reference:
#fya NEPOTISM: the practice among those with power or influence of favouring RELATIVES or FRIENDS, especially by giving them jobs.

— Sonam Kapoor (@sonamakapoor) July 19, 2017
Twitterati was quick to notice the capitalised letters and lost its s**t. Now, we do not really know which side Kapoor stands on in the debate. Back when Ranaut had made the nepotism remark on Koffee With Karan, Kapoor was asked for her thoughts on the subject. She brushed it aside by saying she hadn't followed the episode, therefore was unaware of Ranaut's comments.
Therefore, she has never explicitly stated what she thinks of the practice. Twitter, however, was quick to point out to Kapoor that needn't Google meanings and post them on Twitter as she, herself is a product of the same practice, too. Here are some of tweets from the platform:  
And we thought nepotism is giving power to some set of actors who can make fun of some ACTORS at International platform — SHASHANK BARANWAL (@followshashank1) July 19, 2017
Girl knows how to Google.

— Inglorious Batman (@i_amlanp) July 19, 2017
Kangana has hit the right nerve! The Talentless ones from the industry are left baffled. #Nepotism — Deepanjali Deka (@Deep_Anjalii) July 19, 2017
— Prateeka (@PrateekaKamath) July 19, 2017
especially by giving them jobs EVEN WHEN THEY DON'T HAVE TALENT — PRASHANT HYALIJ (@Prash4Hyalij) July 19, 2017
Well ! You have summarized your career in 140 characters

— Shayani Barman (@ShayaniB) July 19, 2017
Needless to say, Twitter is having a fine Saturday morning.
Entertainment
Aamir Khan's words in 2015 about the safety of his children now reverberate across the entertainment industry, thanks to the Aryan Khan case.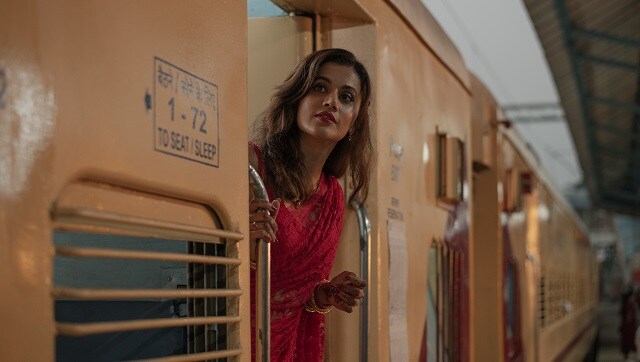 Entertainment
Taapsee Pannu's recent revelation that other actresses rejected Haseen Dillruba because they were not sure of 'the hero' only exposes the gross dependence of leading ladies on how 'saleable' their male counterparts are.
Entertainment
Directed by Shakun Batra, Amazon Original Movie Gehraiyaan stars Deepika Padukone, Siddhant Chaturvedi, Ananya Panday, Dhairya Karwa as leads along with Nasseruddin Shah and Rajat Kapur in pivotal roles