Sonam Kapoor on 'Neerja', sexism and success: 'Dilli bahut door hai'
For Sonam Kapoor, it has been a long road from star daughter with promise to glamour icon to serious actress with box-office clout. She spoke to Firstpost's contributing editor Anna MM Vetticad about her journey so far.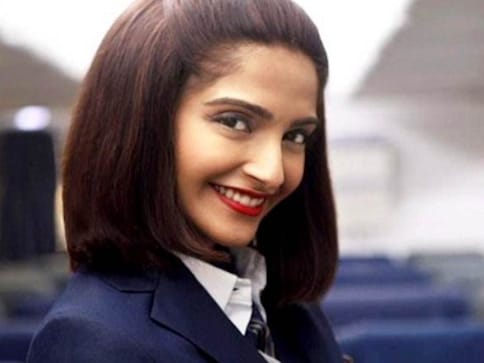 As 2016 crosses its halfway mark, among the crowd of hero-centric films dominating the list of Top 5 Hindi film hits of the year so far, there quietly stands Neerja. This critically acclaimed Sonam Kapoor-starrer has achieved what might once have been deemed impossible for a heroine-centric Bollywood project so shorn of elements conventionally considered commercial: it has grossed over Rs 134 crore worldwide (nearly seven times its budget), according to industry sources.
For Kapoor, it has been a long road from star daughter with promise to glamour icon to serious actress with box-office clout. She spoke to Firstpost's contributing editor Anna MM Vetticad about her journey so far. Excerpts from the interview:
Several women-centric Hindi films have been big hits in recent years. Has that translated into life becoming easier for women in the industry?
Honestly, I'm the wrong person to ask this to because what applies to me might not apply to everyone. I have the luxury of choice. Obviously there are few roles for everybody. What is missing is content, and there is obviously a discrepancy between men and women but that's not only in the film industry or in India right now. Hollywood has the same arguments about equal pay for equal roles. Discrimination against women is a worldwide problem across industries.
Many people think discrimination is a thing of the past because films like Tanu Weds Manu Returns and Neerja have been hits.
Well, life has gotten a little better for sure, but it's a slow and steady process. We're getting better projects. Right now the girls are doing very well, whether it's a Kangana [she spells it as Kangna, without an "a" after "g"], Deepika, Anushka or me.. We're getting into production, making our own films, getting money for these films from studios. At the end of the day it's a business. Now, our films will definitely not make the numbers that a Salman Khan film will make. I would be deluded to think that Neerja would open to a Rs 40 crore on a Friday. It's just the way it is.
Are you saying this can never happen, or that in the present circumstances it cannot?
In the present circumstances. Because it doesn't make business sense. Just now, nobody here is gonna give a Rs 150 crore to make a female-centric film. Unlike Hollywood, we can't yet make a Hunger Games. [Note: This Jennifer Lawrence-starrer from 2012 cost $78 million (Rs 522 crore) and earned $694 million (Rs 4,648 crore) worldwide, according to boxofficemojo.com]
But you do see it happening in India in future?
I do. I hope I can be part of a film like that. It's a matter of trying to figure out how and when. It's a slow and steady process and hopefully 20 years down the line they'll see all these films that my generation made and they'll see it as the beginning of a beautiful journey.
So it is still tough for women in the Hindi film industry?
Of course it is tough. For my sister (producer Rhea Kapoor) it was very tough. People don't take women seriously in general. But things are improving. So it's not as bad as you might think, but it is not great either. We struggled to make Aisha (produced by Rhea, released in 2010) but we didn't struggle as much to make Khoobsurat (2014). And we're not struggling as much to make my next film, Veere Di Wedding.
We struggled to get the money for Aisha, and the reaction we got for it came from what I believe was a very judgmental place. Women reviewed it very favourably but men didn't. Aisha did well but nobody wanted to acknowledge it, because they were like, who are these girls making a film?
Everybody thinks a woman-centric film has to be really hard-core, arty and all that. When Rhea and I made Aisha, people wondered why a girl would make a commercial film about a pretty girl who's doing nice things.
They want a dukhi (sad) film if it's women centric, right?
Haan, that's the way people were thinking. So Rhea and I were like, why can't we make female-led commercial films? That's what's doing well abroad right now. All the hit romantic comedies are female led, the so-called commercial chick flicks. Aisha was a first of its kind in India. After its success, it was easier for us to make Khoobsurat, which did phenomenally well and received positive reviews too. People then eventually saw it for what it was, that we're not commenting on society or anything. So my sister is, like, I don't want to be apologetic about making a fun, female-centric film. Not taking away anything from Neerja, but why can't we make glossy, pretty girl films? Girls want to come and see that stuff, you know.
Did your sister face cynicism from the industry or from the audience?
You should talk to Ekta (producer Ekta Kapoor) and my sister about what they face every day. I live in a glass house. I have the luxury of saying no if someone does not give me my price. I can't judge actresses who don't make that choice because everybody has to live. But at least those who are doing as well as me right now can make that choice but they, I don't know, I don't want to give myself credit for making certain choices in the past 5-6 years which has made, like, many people say, 'Oh my god, that's so brave of you.'
For instance?
When I signed Raanjhanaa people were like, 'What are you doing?'
Because Dhanush, who played the hero, is not known in northern India?
At all. And because I played a very grey character. She was not the typical girl. So people were like, 'Why are you doing this film?' And I was like, I want to do it because I like the character, I like the role, I like the story and this is what India is. Films are a reflection of society, and this is how boys behave with girls in small-town India. You might not see it in the metros. And by the second half she's like, 'You can't behave like this with me, dude. Who are you?'
But doesn't Raanjhanaa romanticise and legitimise stalking? Can't you portray a reality without legitimising it?
I don't agree with you. Zoya (Raanjhanaa's heroine) did not end up with any of the boys (Kundan played by Dhanush, and Abhay Deol's character). And it was a very dark film. It was not romanticising. They just put it in an entertaining way.
For instance, he bugs her and bugs her and she keeps slapping him, then she finally agrees to meet him saying, "Consistency ki vajah se (because you were consistent)."
Anna, you're a city girl so you feel like this. Even in cities, when girls get that attention after a while they say yes. I'm sorry but it's the reality. In the film she was 14 when she said that to him but in the end she does not end up with any of the boys. In fact she looks down on Kundan. The first thing she says to him when she comes back to town as an adult is, 'We were kids, and you're behaving like an idiot.' And she uses him.
Raanjhanaa was a love story between three people who were all grey, they had good and bad in them. That's how the world is. Yes there was song, dance, romance and all that, but in the end nobody gets anybody. I read your article on it and I completely disagreed with you.
You say women finally do say yes when guys get after them in real life. Isn't that perpetuating a notion that when a woman says no she really means maybe or yes?
Guys do think that way and it's up to us to be like, no. Sometimes women also play hard to get, no? You can't only blame men. I'm a feminist, but I also hate it when women try to portray men as evil and enemies. Sometimes women also play games as do men. It could be the influence of pop culture, the way romance has been portrayed in movies. Whatever the reason, sometimes women also say no when they actually mean yes, and sometimes women actually mean no. So at the end of the day, everybody just has to be straightforward about what they want. [laughs]
Isn't that also coming from what people are brought up to believe, that if a girl shows her interest in a guy he will think she's cheap and so on?
Ya. It's very complex. That's a different debate altogether. I can write a thesis on it.
Society expects you to conform. Even educated women, so many friends of mine who come from the same background are like, don't do this, don't do that. Women are afraid of their sexuality, afraid to show what they want because they feel guys will think they're easy. They've been brought up in a certain way. It's very confusing, very blurred. It's a very long discussion you know.
So when you do that PhD thesis, we will continue this conversation.

[She laughs] Okay.
Did people say Neerja too was a risky project?
Yes of course, because Ram (director Ram Madhvani) had only made one film, an indie film, and he's done ads. And they said, 'Who is this girl Neerja Bhanot?' I mean she was the youngest Ashok Chakra recipient, but people didn't know who she was. Can you believe it? So anyway, who is this girl, it's not got a happy ending, it's not a Queen. Everybody has pre-conceived notions. Why are you making Khoobsurat? Who is this Pakistani actor that you're taking?(Fawad Khan made his Hindi film debut with Khoobsurat.) And I mean, come on, there's not one mainstream male actor who wanted to act in these films. In Aisha I worked with Abhay, in Khoobsurat I had to get Fawad. We tried to meet actors and nobody wanted to do the film.
In Hollywood you will see a Bradley Cooper do a small but significant supporting role in Joy, which is completely about Jennifer Lawrence, right after doing a massive film like American Sniper where he is the lead. Why do we not see that with male stars in India?
I don't think we see that with men abroad also. Bradley Cooper played the lead in Silver Linings Playbook with the same director, that's different. It's like me doing a small role in Rakeysh Mehra's Bhaag Milkha Bhaag because of my relationship with him. He considers me his muse and it was written by Prasoon Joshi who has mentored me since the beginning, so I can't say no to it. The same goes for Joy. The same director gave Bradley Cooper the lead role in Silver Linings Playbook, which is a modern classic and he's done so many films with Jennifer Lawrence already, so there was a relationship. (Note: Cooper has starred in three films directed by David O Russell — Silver Linings Playbook, American Hustle and Joy.)
But why do we not see, say, a Salman, Shah Rukh or Aamir as the hero in a Khoobsurat, Queen or Tanu Weds Manu Returns?
Because they have the luxury of choice.
So does Bradley Cooper.
Yes, but that's not common there either, like I explained. Salman has done many special appearances and stuff in films for relationships, but why should he give two months of his time for a supporting role when he's giving two months of his time to make a film that revolves around him and he's got a great character, like a Bajrangi Bhaijaan?
Earlier in this interview, why did you say you have the luxury of choice in comparison with your sister and Ekta Kapoor?
I have the luxury of choice because besides acting, I can sustain my lifestyle by making money through ads and other things. I also come from a background where I don't really need to work. I haven't taken any money from my father since I was 18 or 19, but I still have that as a safety net.
People are like, 'Oh my god you're so brave with your choices and the way you speak, and you have opinions.' I guess I am. I guess I lack the instinct of self preservation because I've been given a lot of confidence from my father and my family who said, 'Just do what you want to do, we've got your back.' Not many parents do that. Alia (Bhatt) has it from her father. I don't know anyone else from a film industry family who has that.
Is it easier to negotiate with people because they know you're not financially in dire straits?
It's not about it being easier to negotiate. You also need to know your worth, na Anna? I've said no to a lot of movies where they're trying to undersell me, where I know the male actor will not bring in the same audience I will get and they're like, 'Oh but we're paying him more.' I'm like, 'Why?' I've said no to a lot of projects like that. Frankly, I've been very insulted by it. A lot of girls complain about it and I used to be like, 'Just don't do the film ya. What's the big deal? If somebody is not giving you what you are worth, have some self respect.' But then Mom sat down and explained to me, 'Sonam don't be so harsh. You do run your own life and you don't take money from us but you've always had it, so it's easy for you to say no. So have a little compassion.' I kind of agree and disagree. Like, I empathise but I might not completely agree.
Why do Rhea and Ekta not have the same luxury of choice?
Being a female producer is very different from being a male anything in the industry. A female director or producer can't appear to be soft. Also, Ekta and Rhea have not taken anything from the family, they've done it on their own. It's taken them a long time to be taken seriously. It's not easy being a woman behind the scenes. As an actress it's easier because you have power, you're a public figure, you're famous, popular, you're not behind the scenes and you're not supposedly doing a serious job.
Okay. Tell me about Veere Di Wedding.
Rhea is producing it in association with Balaji Films with Ekta. It's got Kareena Kapoor, me, Swara Bhaskar and Shikha Talsania. We're four best friends in their early to late 20s, all at different stages in their lives, and it's over a course of six or seven days. So it's a conversation, a comedy, but a female-centric film.
Swara has had a good year with the success of Nil Battey Sannata. What is the reason for the recent stream of women-centric hits?
It's a combination of things. Women were always ready for great roles. It's just a matter of one or two people, like, saying, I want to make this film. Then you know how trends start. It's about women standing up. For me, for instance, we made Aisha almost 7 years ago almost at the beginning of my career, and like I said, every film just got easier and easier. So it's a combination of producers wanting to put money in, writers writing such scripts and actors wanting to do such films.

Aisha, Khoobsurat, Veere Di Wedding are commercial films. These are not offbeat nor are they vanity projects where you do it for the awards, as people expect when you do a female-centric film. They're all films that say something, obviously there has to be gravitas to everything, but they're popular format films with great music, fun, dance, comedy. That's the audience I'm still trying to build.
We're very lucky that Neerja did extremely well, that it resonated with people, but that's a once in a lifetime. It's not exactly a popular format film. There are a lot of films I look up to which are commercial films, like Andaz Apna Apna or female-driven Hollywood films like Bridesmaids and Legally Blonde, or Julia Roberts in Pretty Woman. Reese Witherspoon, Anne Hathaway, Scarlett Johansson are all doing central roles in commercially viable female-driven films. We're still at a nascent stage. We're still talking about Nil Battey Sannata and Neerja. So Neerja is the year's fourth highest grossing film but why couldn't a female-centric film be the highest grosser as it happens in Hollywood?
Even with Khoobsurat we were still on the back foot. We made it at a slight budget, we didn't open in too many theatres, we didn't promote it aggressively like we should have, because we were still a little, like, will it or will it not? With every film my sister and I are getting a little more confident.
Have you turned an important corner in your career with Neerja?
I don't know. Ten years down the line when I look back at Neerja, I hope it's a turning point in my life. With every step I take, I hope to evolve as a human being and an artist. I've been trying to do that since I was 17 or 18. I'm 31 now so let's see. Dekhte hai, Anna, Dilli bahut door hai (the road is long). [Laughs]
Related article: The year of the woman in Bollywood? Hmm, keep that champagne on hold
Entertainment
It happened last night for her sister Shaheen Bhatt's birthday, which turned out to be a special occasion when the new mommy in the tinsel town stepped out of the house for the first time after Raha's birth.
Entertainment
The filmmaker recently spoke about the idea of making Gangubai Kathiawadi, subverting the grandeur and ambience of the narrative, and the experience of working with Alia Bhatt.
Entertainment
After making fans go gaga with her western look in a blue Monique Lhuillier gown, and Saif sticking to his Nawabi roots in his all-white look, Kareena opted to keep an Indian touch to her look and the actor appeared in a very formal avatar on the second day.