Sona Mohapatra slams IIT-Bombay's Mood Indigo fest for being 'sexist': Read her open letter
In an open letter addressed to the organisers of IIT Bombay's cultural festival Mood Indigo, singer Sona Mohapatra lambasted them for being sexist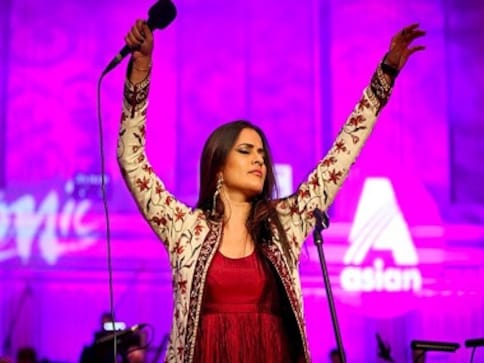 In an open letter posted on her Facebook page on Thursday, 16 December 2016, singer, music composer and lyricist Sona Mohapatra blasted the organisers of Mood Indigo — IIT-Bombay's inter-collegiate festival — for being 'sexist'.
Mohapatra has alleged in her letter that Mood-I (as the fest, one of the biggest and most prestigious events of its kind in India, is popularly known) has over successive years, failed to include female artistes in their line-up of performers.
Further, she states that the women artistes who have performed, have had to do so under the 'umbrella' of a male performer.
Those who do perform are not paid the same remuneration as male performers, Mohapatra has alleged.
"Dear Mood Indigo, IIT Bombay," Sona's letter begins, before continuing:
"You claim that you are Asia's 'biggest' cultural fiesta and take pride in being a premier institute of highest learning in the world too. I laugh at that claim and call you out straight up on this date for actually being a cess-pool of mediocrity instead. All the mathematical equations in the world will not be able to teach you the equation of fairness. All the 'balancing' of equations count for nothing if you do not seek a balanced world. All the formulae in the world will not teach you the idea of making a true difference in the world and all the sponsorship, hype, marketing and branding of the world will not cover up the fact that you are a training ground for the worst kind of 'boys clubs' that create an imbalance in the world! What cultural festival has for decades showcased only men headliners on their stage, be it music, literature, politics, comedy or any other domain? Yours — Mood I."
Mohapatra states that Mood-I is not alone in not giving women performers an equal share of the stage:
"Most college campuses in India, especially the premiere institutes of course follow suit and 'copy-paste' this disgusting blueprint of yours. Don't believe me? Please do check out the archives of the line ups you have showcased year after year and start by scrolling down your own current FB festival page today... You have good company in festivals like NH7 and other big music festivals in such discriminatory practices, so take heart... So yes, your 'boys clubs' are quite a 'brother-hood' outside of the campuses too! Everyone passing out into the real world has been taught these lessons well in their colleges apparently."
She further said that she had received calls from Mood-I organisers for the past three years, but always with one non-negotiable caveat — "a man needs to be clubbed in on the marquee to validate (Sona's) stage'.
Mohapatra added that she was told by her well-wishers not to bother with writing the open letter. However, she still decided to go ahead — not for any personal gain — but because she thought it might initiate a conversation:
"If this letter even changes 5 percent of the gender mix on stage in the coming days, I'll consider my time well spent, although my gender actually constitutes close to 50 percent of the population," she wrote.
This is not the first time Mood-I has found itself at the centre of a sexism storm. In 2013, Palash Sen, the lead singer of Euphoria, was criticised for making statements on stage that were construed as being derogatory to women.
Read the full text of Sona Mohapatra's letter to Mood Indigo's organisers here:
India
Students of bachelors, post-graduate and Phd programmes have been on a relay hunger strike against a fee hike at IIT-Bombay since Saturday. The protesting students have demanded a rollback of the new fee structure as well as insisted on having permanent members as part of the varsity's fee committee
Entertainment
The National Award-winning editor says working on the ZEE5 documentary 'Shut Up Sona' was a great learning experience.