Soha Ali Khan on the perils of being moderately famous, turning author, and lessons her family taught her
Soha Ali Khan studied modern history at Balliol College, Oxford, and earned a masters' degree in International Relations from the London School of Economics and Political Science.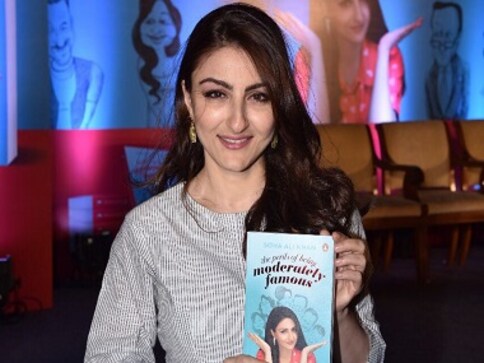 Soha Ali Khan has turned author with a tongue-in-cheek memoir called The Perils of Being Moderately Famous, published by Penguin. In her debut book, Soha strikes gives readers a glimpse into her private life — and her self-deprecating sense of humour.
"Penguin (the publishers) approached me to write the book — and hey weren't the first to suggest it. My mother has been going on about the same for a long time. 'You love reading and you write so well, why don't you write a book?' she'd ask. Earlier, I used to write her letters; I have also written some articles for the Oxford magazine."
Writing a book was, of course, different — and quite a challenge. "I found (the idea of reaching) 50,000 words a daunting challenge, and I don't work well with timelines. So I wasn't sure, but the folks at Penguin asked me to write an introductory chapter and see, which I eventually did. I sent the draft to a few of my friends and the reactions were positive. That's when I decided to try writing a chapter a month. But sometimes I would write a whole chapter in two days and then I would take two months to write another!"
Eventually, she started enjoying the writing process as she got over the fear of having signed a contract and working to a deadline. "You forget that somebody other than you is going to read this and it will be in the public domain. It is very cathartic. So you end up asking questions like 'Have I given away too much?', 'Am I too vulnerable?' — but the idea is to be sincere and honest. Readers don't want something that is PR-controlled at the end of the day, or about building an image. They really want to know who you are, and I don't mind sharing that," Soha said.
Soha is the youngest of her generation in the Pataudi household. Some parts of her biography are pretty well-known — that she's the daughter of the cricketer ninth Nawab of Pataudi Mansoor Ali Khan Pataudi (aka Tiger Pataudi) and actor Sharmila Tagore.
Incidentally, Soha's grandfather — Iftikhar Ali Khan Pataudi — was also a noted Indian cricketer and had served as the captain of the Indian cricket team (a feat his son would later emulate). Looking back on her family history, and what the abolishing of princely titles and privy purses in 1971 meant, Soha said, "There was a lot of pomp and show in my grandfather's days. My father, born in 1941, also experienced that. Then he saw the time when royal perks were discontinued. From being the Nawab of Pataudi, he suddenly became (only) Mr Mansoor Ali Khan and he took that in his stride."
Does she hold on to any vestiges of the past? "I would say the things that tie me to the princely past would be the jewellery or clothing — when we dress up for weddings we wear a traditional bhopali or a sharara. But essentially the spirit — the one that we have grown up with — has been very modern, liberal, secular and independent."
Soha studied Modern History at Balliol College, Oxford, and later earned a Master's degree in International Relations from the London School of Economics and Political Science. Her education helped broaden her perspective and understand the world through a more accommodating lens, Soha feels. "In England, there's so much of aristocracy, but I went to a college that was very leftist; where things like social status were dismissed and not looked on with favour. It was far more liberal in its outlook in comparison with other colleges. People liked you for who you are, your personality — not for which family you came from, who your parents were or any kind of titles you had," she said.
The very first chapter in Soha's book is titled 'Big Shoes, Small Feet' and it's dedicated to her father. Speaking of her dad, Soha said being laconic is something she picked up from him. "If I was sitting with him and we were having a conversation, it'd be fine. But he didn't like to speak on the telephone; he always wanted to get to the point immediately. I would sometimes try to think of topics to prolong the conversation, but he would have none of it. Strangely, I — who would chat on the phone with my friends for hours during my school days — have now become exactly like him. I never answer my phone. If you text me, however, I'll reply within seconds. I feel phone calls are intrusive and engaging in the formalities is a waste of time. Text messaging is so much easier."
Among the major influences on Soha's life was her maternal grandmother, 'Lal Didi'. "Lal Didi taught us that it doesn't matter how old you are, as long as you are young at heart. All her friends were our friends. I remember, she loved hand-written letters a lot. I wrote to her once and sent the letter via a friend of mine who was going to Kolkata. He went to deliver the letter at 11 am, and she offered him a glass of whisky! She had a real zest for life… even when she was in the ICU, she used to get her makeup done because she wanted to look nice," Soha recounted.
The women in her family played a huge role in shaping Soha's outlook to life. "Each woman in our family is a product of her own experiences and her own educational background. My mother is the eldest in the family and hence her experiences were different, and difficult. I think the oldest child, especially the woman, always has a lot of responsibility and the extra task of parenting. Lal Didi finished her MA, but my mother couldn't go to college and that has been one of her biggest regrets. That's why she has ensured that all of us completed our education," Soha said.
Coming back to her book, it's certain to change perceptions about Soha herself. "A lot of people — especially when they think of the family that I belong to, being an actor or being from a certain 'social class' or having a certain amount of money — feel your personality would be a certain way, or that you might be spoilt, or you might be arrogant," Soha said. "I think it's nice to break certain stereotypes and misconceptions that people might have about you."
Entertainment
Actor Vijay Varma, who is currently shooting for Devotion of Suspect X with Kareena Kapoor, will soon start filming for Mirzapur Season 3.
Entertainment
After Love Aaj Kal 2, Aarushi Sharma will be next seen in Netflix's upcoming film 'Jaadugar'.
Entertainment
Shonali Bose, Sona Mohapatra, TaapseePannu, GuneetMonga and Shefali Shah chose unconventional routes to make it big and have never regretted their choices