Social: Viu's web series shows digital medium is emerging as silver screen's most formidable rival
Social, with its grand success from a different set of audiences, taught us one thing — the digital medium allows a creator to tell his story the way he desires.
With some of the big names in the Telugu film industry coming up with a bunch of exciting web series, the digital space is poised for exciting times, just like Viu's web series Social. The 13-episode series is now coming to an end as the final episode will aired this Friday on 24 November.
Social, produced by video-on-demand platform Viu, is an action-packed Hindi-Telugu bilingual thriller that highlighted the impact of social media in people's lives. Directed by Shashi Sudigala, it stars Rana Daggubati along with Naveen Kasturia, Priya Banerjee, Aradhana Uppal, Abdul Razzaq, Moin Khan and Preeti Asrani.
Social, with its grand success from a different set of audiences, taught us one thing — the digital medium allows a creator to tell his story the way he desires. This unique crime drama underlined the threat of cybercrime with utmost perfection, raising questions of safety in cyber space and the story engaged those people who look for content on their phones. Also, the audiences have become busier and they want to spend their time and money on different mediums.
The journey into the world of web series which started sometime last year for the Telugu industry is now growing bigger, with more and more experienced and talented new filmmakers keen to narrate new story ideas to enrich this digital platform. The best thing is no box office constraints will fight with the makers here.
Viu India, Annapurna Studios and Tamada Media came up with two brand new web series: PillA by Pavan Sadineni and Pelli Gola by Mallik Ram this year. Both Pavan Sadineni and Mallik Ram are successful feature film directors who tried to use the digital medium to experiment with new genres. PillA especially achieved great acceptance for its impressive delicacy, skills in production and the romantic-comedy-meets-thriller genre.
Earlier this year, actor Sai Dharam Tej also featured in a cameo in Chai Bisket's Nenu Mee Kalyan. The list of web series makers does not end here. Producer Swapna Dutt is another one who tasted the uniqueness of web series space. Her yet to be titled web series for Yupp TV will see director Nandini Reddy as creative head along with credits for story and screenplay. The series will be directed by Shashank Yeleti and will have a star cast of Tejaswi Madiwada, Navdeep and Arun Adith.
When Nandini described the scope for writing in the digital medium, she insisted it is just like "a Star Trek for writing". Nandini, famous for her slice-of-life romantic comedies, revealed this series will follow a similar genre, but it will be radically different from her past works.
With some big names entering the arena, will it become tougher for new aspiring makers in near future? Nandini said to The Hindu, "We didn't know anyone from Game of Thrones prior to the series. Similarly, Netflix's The Crown and Black Mirror, among others, are content-driven. If a star is a part of a web series, it will get attention. But the attention will fade away without good content. It takes a second for anyone to move away on a phone or a tablet."
Entertainment
Marilyn Manson is charged with two misdemeanour counts of simple assault stemming from an alleged incident on 19 August, 2019 at the Bank of New Hampshire Pavilion in Gilford.
Entertainment
"I felt like I was like the host who had a cool party, but I had to work the kitchen. But it still felt good," says Mike White, whose show The White Lorus explores the perversions of power against a background of astonishing natural beauty.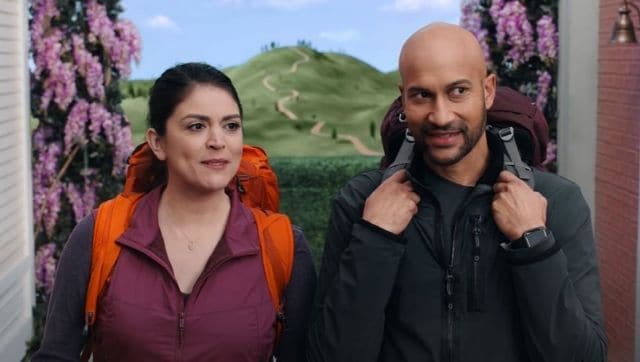 Entertainment
Though bumpy at times, Schmigadoon! is a feel-good comedy and a hat-tip to musicals, worth a slow-Sunday watch.