Social media stalker's guide: Manoj Bajpayee's unforgettable b'day, Alia-Kareena's bff moment
We stalk, you read. Deal?
Editor's note: What's more fun than passing off stalking celebrities on social media as work?
Very little, right?
And so, we scanned the Instagram and Twitter accounts of celebs from India and abroad, to bring to you weekly updates from the interwebz. Who tweeted to whom? Who reposted last night's party pics? Who went on a rant about-... well, whatever it is Kanye West rants about. Whatever it is, don't worry, we've got you covered.
We stalk, you read. Deal?
What can be a better birthday gift than finding out on your birthday that you have won the Dadasaheb Phalke Award? Manoj Bajpayee is surely a lucky birthday boy! This week, apart from Bajpayee's triumph, we have a budding friendship between Alia and Kareena, Britney Spears being an embarassing mom (who'd have thunk?) and Varun Dhawan's Captain America like behaviour. Read on, and we'll stalk on!
Bffs are the new black
Call it wishful thinking, or sheer obsession, but ever since we heard Alia Bhatt and Kareena Kapoor Khan were going to star in a movie together (Udta Punjab) we were hopping new reports of the two "hitting it off like a house of fire" would emerge. Not only did the two share an adorable camaraderie at the trailer launch, often whispering and giggling with each other, Alia just confirmed what we all think about Bebo: that she's our favourite.
Best birthday gift, ever
Dadasaheb Phalke Award in the Best Actor (Critics' Choice) to @BajpayeeManoj for his portrayal of Professor Ramchandra Siras in #Aligarh.

— Hansal Mehta (@mehtahansal) April 22, 2016
Given the fact that we recently learnt that many mainstream actors turned down Fawad Khan's part in this year's Kapoor & Sons, assuming because it a homosexual character, the conversation of hindi film actors playing gay characters has become dinner table conversation. Giving everyone a run for their money in this regard is Manoj Bajpayee, who played Professor Siras in Hansal Mehta's Aligarh. Oh, and he also found out, on his birthday, that he'll be given the Dadasaheb Phalke Award for his performance. Win!
It's Britney, b*tch (and she sings MJ too)
Britney Spears love jamming to Michael Jackson, but clearly her two sons don't. In a highly adorable video, Britney sings along an MJ song, with the requisite pouts and all, and as she turns to her sons for some support (or even a thumbs up, guys), they are quick to ask her to "stop". Teenagers these days.. Varun Dhawan - tera superhero
Looks like Varun Dhawan is taking his hero-giri quite seriously. We feel this way because he is now the voice for Captain America in Hindi and this naturally means loads of promotions around the Marvel movie. Looking like a dapper superhero himself, Dhawan recently clicked a picture with children at a promotional event, each of them holding their own shields. Awww, right? When are you getting your own superhero movie, Varun?
This week's Kanye-isms (because why not)
— KANYE WEST (@kanyewest) April 2, 2016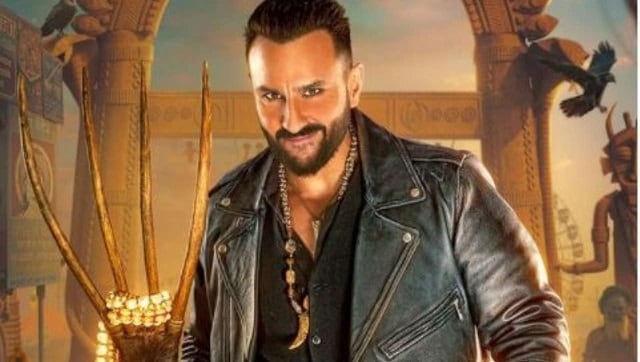 Entertainment
"I find too much of religion to be an organisation, and too many problems associated with basically my god, or your god or whose god is better," says Saif Ali Khan, ahead of the release of his horror comedy Bhoot Police.
Entertainment
Pen Studios in a statement said #RRR, #GangubaiKathiawadi and #Attack are "magnum opus films are made for the big screen experience and would be releasing in theatres"
Entertainment
Anil Kapoor, Varun Dhawan, Dia Mirza, Bipasha Basu, and Taapsee Pannu were among the others who marked the festive occasion