Kalki Koechlin, Gulshan Devaiah, Neil Bhoopalam, Jim Sarbh on starring in Eros Now original series Smoke
Smoke, an Eros Now original, explores the underbelly of Goa, from the gangs that run the drug cartels to politicians embroiled in the illegal trade.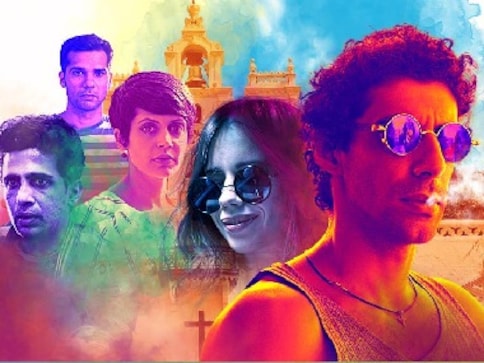 Eros Now's new original series, Smoke, explores the underbelly of Goa.
For director Neel Guha, who assisted Anurag Kashyap on Gulaal, Black Friday and That Girl In Yellow Boots, Smoke may be his Gangs of Wasseypur, but with a completely different setting. He ropes in the lead actors of That Girl In Yellow Boots, Kalki Koechlin and Gulshan Devaiah, along with their longtime collaborators Neil Bhoopalam and Jim Sarbh, for a gritty whodunit.
"Even when you're uncertain about the director and other factors, the fact that such actors are on board increases the brand value of that project. The content was great in Smoke, and the actors only made it better," says Neil. Jim, who had most of his scenes with Neil in the show, agrees. "They are all a talented bunch of actors. I've worked with Kalki and Gulshan in A Death in the Gunj but have also worked with Neil in theatre. Also, it was so much fun!."
Gulshan was all praise for his co-stars too, particularly Kalki, with whom he made his Bollywood debut in Anurag Kashyap's That Girl In Yellow Boots. They also shared the screen space in Bejoy Nambiar's 2011 crime drama Shaitan and Konkona Sen Sharma's 2016 coming-of-age film A Death In The Gunj. "With really good and prepared actors, the growth is not very obvious and easily visible because it's subtle. Small things make a huge difference in the approach to acting. I see more layers in her performances. She has not only achieved all that as an artist but also grown as a public figure, a theater maker and writer. Kalki is much more than just an actor. She stands of something. She makes all these things easy and often you can't see how much work is behind that."
But the entire star cast agrees that the primary draw of Smoke was its premise. "It's a bird's eye view of all the different aspects that affect Goa. From the clubbing industry to the drug trade to the police and narcotics department chasing them to the politicians who are embroiled in it," says Kalki. "I play a DJ from Portugal. She has gotten herself involved in the mafia, and she's trying to escape from it." Though Kalki belongs to Pondicherry, another coastal melting point of regional and international cultures, she maintains that it is completely different from Goa. "For me, the preparation was getting a Portugese accent. I had a girl called Anna who was on the set and was coaching me on the Portugese accent. I also had to learn DJing. For that, my director asked me to refer to Alexa Wonderland, who is a very popular DJ."
Kalki also had multiple scenes with the late Tom Alter. "I think he speaks the best Urdu. I'm so glad that I could act with him before he passed away," adds Kalki. Neil, who shared the frame with Alter in just one scene, also has kind things to say about the veteran actor. "We're lucky to be the actors of 2018. Throughout his career, Tom Alter got stereotyped. But despite that, he has done such tremendous work beyond the stereotype that he made people take notice of his craft."
While Kalki signed up for a lot of Alexa Wonderland videos, Neil had to distance himself from music of any sort. He plays a dumb and mute guy in the show. "I play a character called Savio, who's a chef. He is also called dumbo, which is a slang because he is dumb and mute. I had stumbled upon a class which teaches students sign language. When I enrolled myself for that class, they asked me to come a week later. When I went there, they asked me to introduce myself in sign language. How do I introduce myself? You've to apply yourself. I tried to do an Amitabh Bachchan impression to show I'm actor but they didn't get it. I also tried cranking the camera but that didn't work either. Then I acted like a clown and they guessed it right."
Gulshan plays a migrant from North India, Bihar to be specific, named Jairam Jha. "I was nervous about the diction and accent. I kept it on as much as possible on and off set to be consistent with it . I was with my family in Greece for three weeks before I started filming Smoke and I had about eight days only in Mumbai to start working on the diction and accent. My co-star Amit Sial was a great help. He recorded a monologue that I speak in the show in Bihari accent. I listened to that recording again and again to get the rhythm of that character," says Gulshan, who also plays the 'dark horse' in the show.
"My character is very endearing and jovial. He can be extremely entertaining in the circus he mingles in. But he also has an agenda. His duality and unpredictability need to be brought to the screen but not by doing anything drastic. It has to reflect in the little details."
Jim's character also comes close to the traits that Gulshan spells out. He plays Roy, the right hand man of an infamous don, and is also the eyes and ears of their group. "He gets along with everyone, from the cooks to the fancy party people. Because he is so affable, it is easy for him to take out information. I'm a lafanga beach bum anyway so the character came easily to me," says Jim. He shot for Smoke during nights after flying to the state from Mumbai, where he shot for Sanjay Leela Bhansali's period drama Padmaavat during the day (from 7 am to 7 pm). Neel's direction, he admits, made the shoot smoother for him. "Neel's way of functioning is very interesting. He knows exactly what he wants, but does not go about micromanaging the scene. He doesn't control you, which is liberating for an actor."
Smoke is currently streaming on Eros Now.
All images from YouTube.
Entertainment
A descending look at the numbers behind Tuesday's nominations for the 95th Academy Awards.
Entertainment
The movie follows two ambitious analysts at a cutthroat hedge fund, played by 'Bridgerton's' Phoebe Dynevor and 'Solo's' Alden Ehrenreich
Arts & Culture
Designer Anavila Misra on how her blockbuster saris are an impact-driven social enterprise.