Sid Sriram on his upcoming album Entropy, traversing through the worlds of Carnatic, film music
In the run up to his performance at the Echoes of Earth Festival, Sid Sriram talks about the complexities of Carnatic music and his upcoming solo material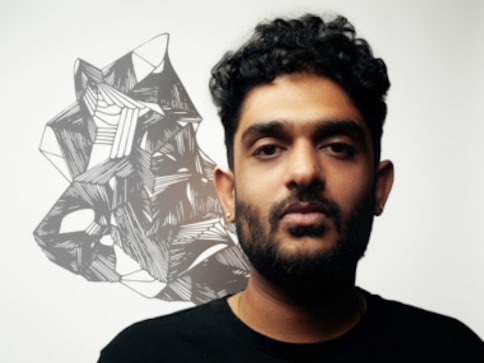 From Kanye West to Carnatic music and everything in between, Sid Sriram comes across as the best current example of a fearless singer, composer and producer. At the moment, he's enjoying at least three worlds – the South Indian film music industry (thanks in part to AR Rahman), Carnatic music concerts and a major push for his solo material.
In the last two years of establishing himself in both the annual season for Carnatic music in Chennai and predominantly the Tamil film music circuit, Sriram released his new solo single 'It Isn't True' via Saavn's Artist Originals series in October, followed by an obfuscated sonic snapshot called '6 Weeks'. The latter is a lo-fi, shape-shifting offering that dives deep into Sriram's scattered psyche as well as his wide vocal influence.
Over the phone from Mumbai, he admits his solo material can be "a challenge to listen to at times" but it's still rooted in pop. Sriram adds, "Personally, my goal with this is to really give them my world – the universe that I'm creating from scratch. There's going to be people that love it, people who may not like it at all, but I want to give them that perspective." The songs that will make the final cut on his upcoming album Entropy (due in early 2019) have been in the making since 2008, around the time when Sriram joined the Berklee College of Music in Boston. A few songs like the title track – which employees a sample of indie act Bon Iver's song 'Perth' have been previously released but now reworked. He adds, "This specific record, I think I really dug into it in the last six or seven years, and it is in the last year-and-a-half that I had these full circle, 'aha' moments."
He grew up training in Carnatic music, and it is an influence that is evident in almost every note Sriram sings, whether it is in Tamil films such as Enai Noki Paayum Thota or Adiye or '6 Weeks'. Now that he has got to be a part of the Carnatic music festival season in Chennai, there's a crossover audience. He says about Carnatic music, "It's a music form that's pretty complex and not the easiest thing to grasp. It's very challenging, dynamic and very accessible, but I've seen this really great crossover of my film fans coming into the Carnatic realm."
Perhaps that is where he draws from when he often mentions god, not just on '6 Weeks' but also on a previously released track called 'India', off his 2013 EP West Coast Nightfall; Before Dusk. The devotional and spiritual aspect of Carnatic music formed his "conceptual, creative foundation." He adds, "At its very core, my music asks a lot of questions. It's my way of finding a path through this existential crisis, like why I'm here and the significance of what goes on in life and finding meaning in chaos. I think some of that is rooted deeply in spirituality."
On the other hand, he cites everyone from Kanye West to M.I.A. to film music composers such as Ryuichi Sakamoto (for his work on the score for The Revenant). There's also Radiohead and of course, AR Rahman, but Sriram also takes pointers from the work of superproducer Rick Rubin. He says of Rubin, "A specific quote comes to mind where they say 'reduced by Rick Rubin' and not 'produced', because he's the king of taking a track and stripping it down to what exactly it needs and not just throwing stuff on it because it sounds cool. That as an ethos was definitely on my mind a lot as I was working on this project."
With an appearance coming up at the Echoes of Earth Festival in Bengaluru between 1 and 2 December – his first time performing solo material on a big stage – Sriram's next big move is his first headline tour through North America in March, and of course, releasing Entropy. Even there, he wants to break the mould of making easily consumable catchy singles. He says, "It's definitely a listen from start to finish album. I have this feeling that that's the format people are going to want to experience it in. I can't wait for people to hear it."
India
The noted Carnatic singer and social commentator TM Krishna took everyone with surprise, also with a bit of an awe, after he tweeted on 9 August, saying that he would now be releasing, every month, a Carnatic song on Allah and Jesus.
Life
In an interview with Firstpost, noted Carnatic vocalist and Magsaysay Prize winner TM Krishna addressed his recent collaboration with Kattaikkuttu artistes, the comments regarding MS Subbulakshmi that kicked up a row, and why classical music needs to be taken off a pedestal
Entertainment
Both Rajinikanth's Darbar and Dhanush's Pattas have performed to their potential at the box office.