Shruti Haasan, Vishal, Varalaxmi Sarathkumar, Prasanna foray into television with exciting new shows
While Shruti Haasan is hosting a chat show called Hello Sago on Sun TV, Vishal is headlining a Satyamev Jayate-like show called Naam Iruvar.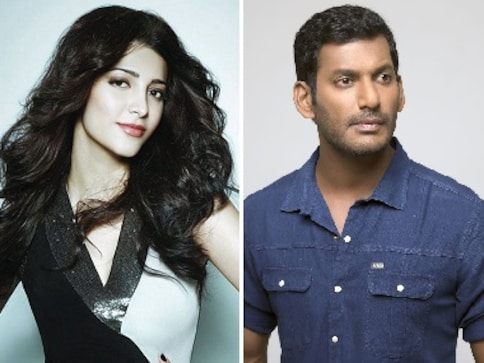 Ever since the reality show Bigg Boss made inroads into the south market with actors like Kamal Haasan, Junior NTR and Nani making their small screen debut in Tamil and Telugu; there has been a steady stream of actors turning into hosts and anchors for television and digital platforms, especially in the last two months.
Actors like Shruti Haasan, Rana Daggubati, Prasanna, Vishal, Varalaxmi Sarathkumar and director Karu Palaniappan have forayed into television and digital segments with an exciting line-up of shows. Modeled on the lines of Bigg Boss, Prasanna is hosting a show on Sun Life of Sun TV network called Soppana Sundari, which has already grabbed the eyeballs of viewers for its glitzy and glamorous content. The show aims at selecting the best model out of ten models, who are locked inside a house and will be put through physically and mentally demanding tasks.
While Shruti Haasan is hosting a chat show called Hello Sago on Sun TV, which showcases a light-hearted conversation with prominent celebrities about their personal and professional lives, Vishal is headlining a show for the same channel called Naam Iruvar, which seeks to uplift the underprivileged people through meaningful conversations and discussions on the lines of Aamir Khan's talk show Satyamev Jayate. 
One of the main reasons why film actors venture into the small screen is the extensive, all-inclusive reach the medium offers because of the widespread co-viewing practice followed in our households. According to a recent report from Broadcast Audience Research Council (BARC), which represents Broadcasters, Advertisers, and Advertising and Media Agencies, 97% of India still owns single TV in their households including 77% of large, affluent joint families.
"Viewers in South spend higher time on TV than viewers in HSM (Hindi Speaking Markets). While the average daily time spent on television is nearly four hours in the south, it's three hours and thirty minutes in HSM. Contrary to popular perception, viewership is highest amongst youth (15-30) even in the digital age," the report read.
After the launch of SunNxt, Sun TV's OTT platform, the channel has upped the ante and is firing on all cylinders with diverse content catering to all kinds of audiences. With the advent of new OTTs like VIU, there is a renewed interest among viewers for chat shows. In fact, Sun TV, which is long-known for producing exclusive content for their channels, has inked a cross-collaboration with VIU, owned by PCCW Media, for their chat show Hello Sago hosted by Shruti Haasan.
Another report from Broadcast India Survey 2018 suggests that 197 million TV homes in the country still have access to a single TV. "The average family size of the TV-owning households in India currently stands at 4.25 individuals. Of this, on an average, 3.46 individuals per household prefer watching TV together," says the survey.
Varalaxmi Sarathkumar's debate show Unnai Arindhaal on Jaya TV deals about crucial issues in the society like child abuse, crimes, and social media addiction to name a few. With expert opinions and inspiring personalities from respective domains sharing their sensible perspectives with participants, it has earned a good response from netizens.
Meanwhile, Rana Daggubati has successfully started the second season of his talk show Yaari With Rana on Gemini TV, which will also be later available for streaming on VIU, with brand new concepts like Truth of Dare and Yaari Meter to test the knowledge of guests. Season 2, which will have 13 episodes, is already doing really well with high-profile celebrities like Nani, Vijay Deverakonda and Samantha Ruth Prabhu participating in the show.
According to Ernst & Young's report for FICCI, the TV industry grew from Rs 594 billion to Rs 660 billion in 2017, a growth of 11.2% (9.8% net of taxes). "Advertising grew to Rs 267 billion while distribution grew to Rs 393 billion. Also, with the launch of low-cost smartphones by Jio and Airtel in the sub Rs 2,500 range, consumption through OTT could take place across different audience segments. The fall in broadband prices could lead to increased viewership of TV content on larger screens, for more affluent customers, second television connections and nuclear families, who can move to OTT platforms for their TV consumption."
EY estimates that by 2020, there would be around 4 million people who primarily depend on OTT platforms for their content. The grapevine in Kollywood is abuzz with rumours that Vijay Sethupathi will soon make his small screen debut through an exciting show, which has been kept under wraps for quite some time now.
Despite the advent of premium OTTs like Netflix and Amazon Prime, which have been offering diversified content consistently, television channels are quietly keeping pace with their old-school talk and debate show ideas featuring popular film stars. There is an apparent uptick in the overall demand for content across various segments, and television channels have smartly tapped their target audiences.
EY's report accredits Jio and Airtel's launch of low-cost smartphones in 2017 bundled with cheap data plans and Wifi connectivity as one of the critical reasons for the deeper penetration of internet services and digital media in rural India. "The launch of Jio in 2016 and subsequent reduction of data rates across operators have had a significant impact on data consumption. As per Ericsson, the average monthly data consumption in India per smartphone hit 3.9 GB in September 2017, and is expected to increase to 18 GB by 2023," read the report.
With the gradual synchronisation of television channels and OTTs, a plethora of content will be readily available to audiences, who desire heterogeneous collection of shows. If Netflix and Amazon Prime foray into the south market with aggressive production of originals, 2019 will be an interesting battle to watch out for between the television conglomerates of India and globally popular OTTs.
also read
Entertainment
Priyanka Chopra recalled that the director wanted to see her 'underwear' while shooting a striping scene.
Entertainment
Murthy made this revelation on The Kapil Sharma Show recently where she made an appearance with Raveena Tandon and Oscar-winning filmmaker Guneet Monga
Entertainment
Good performance, but lousy script massacred the film