Shirley Setia, Priya Prakash Varrier, Oviya — Decoding the obsession with new age clan of spunky, cool girls
As I watched her perform on stage, I realised Shirley Setia's singing prowess could not be the only reason why she received so much adulation from young men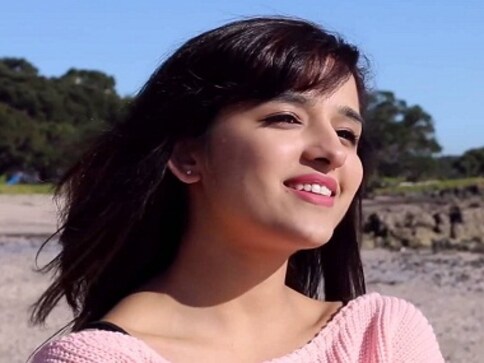 By Sharanya Gopinathan
When they announced that Shirley Setia would be one-and-a-half hours late to her two-hour concert at Bangalore's new Opus Club on Sarjapur Road (read: far away) this Saturday, I was sure folks were going to throw bottles and leave. The buzzing from the predominantly young, predominantly male crowd had been rising steadily over the last half hour but when the announcement was made, Setia's adoring public was surprisingly more than happy to forgive her with a sort of collective 'aww shucks'.
Shirley Setia is a 24-year-old singer who commands an intensely loyal young fan following in India. She has been described as the "millennial singing queen" and her YouTube channel, where she posts videos of herself singing Bollywood covers and some original music (usually cutesy love songs aimed at a young audience, like 'Tu Mil Gaya #SwipeitRightYaar') has had over 120 million views, in addition to the millions of followers on her various social media accounts.
The New Zealand-born daughter of an Indian businessman, Setia earned the moniker 'the Pyjama Popstar' after a video of her singing 'Tum Hi Ho' from Aashiqui 2 in her bedroom wearing her pyjamas went viral, winning her a T-Series competition in 2015 and catapulting her to instant virtual fame. After completing an undergraduate degree in marketing at the University of Auckland, which some social media commentators suggest she has used to market herself quite effectively, Setia moved to Mumbai in 2016 to further pursue a music career. She now performs well-attended live shows all over the country.
Given the delay that evening, her youthful praja of mostly men between 18 and 25 was a little drunker than they might have been but I do not think they would have been any less enthusiastic if they were not tipsy. The men cheered merrily for every member of the band and were truly glowing and ecstatic in open-faced, wide-eyed adoration when she finally swooped in.
On stage, Setia is remarkably confident and a bit edgier and less eager to please than she seems in her videos.
A moment. I was willing to accept that Setia is a singing sensation, because I really do believe in virality and want to appreciate whatever motivated it in her case – and was more than ready to believe that it must ultimately be her musical talent. However, as I watched this delicately-but-not-quite-accented young woman perform on stage, cute as a button in red, I felt like I had been thrown back to college, supporting some friend or the other as she performed an important gig. Setia's performance was good, like the performance of every competent singer accompanied by a decent band and sound system is 'good'. But here is the thing – her audience was absolutely enthralled. Cries of "I love you, Shirley" periodically rent the air and no one seemed to mind that she never apologised for being so late.
Unfortunately, even this goodwill I felt towards her for giving me college nostalgia dissipated when she spoke at length to the audience about how many times her name had been mispronounced ever since she came to live in India. She gave a mocking (and borderline racist) account of all the different mispronunciations she has heard, and then invited the audience to say her name out loud correctly over and over.
Despite this, the young men only grew more enthused as she sang her sugary sweet covers of 'Tum Se Hi', 'Balam Pichkari', 'Saturday Saturday, and 'Closer' by the Chainsmokers. But as low-key enjoyable as it was to listen to her sing so nicely, it simply did not feel like her singing prowess alone could be driving this phenomenon of adoration and youthful fandom.
So, what could it be and why were all her fans young men?

In a recent and lovely The New York Times interactive called The 25 Songs That Tell Us Where Music is Going, Jeremy Gordon dissects the perplexing popularity of Jake Paul's vapid viral hit, 'It's Everyday Bro', amongst Gen Y and young millennials. He writes that adults always find the cultural products of teenagers and the youth perplexing, but you must either "accept that some phenomena are bound to remain beyond your understanding" or come to the worst of adult realisations — yes, you may finally be out touch.
I wondered if this what was happening to me regarding Setia and whether the reason why I could not get this latest phenom was that I was just too old for it. (But I am obviously not since many of her fans were my own age). Does the key to understanding the Shirley Wave fall irretrievably into some inter-generational crack? Even so, this still does not explain the male-ness of it all or why the fever has not gripped all Indian millennials alike.
Among the crowd of hopefuls flapping about backstage trying to meet Setia, I asked some fans about their new obsession. Many spoke of how faithfully and "nicely" she responded to her fans online. "It's a two-way relationship with Shirley, not one way," said one man enthusiastically, and I did not have the heart to point out that we were having this conversation at the foot of her heavily-guarded stairs. Others waxed eloquent about the sweetness of her smile and the sweet purity of her voice.
But the most illuminating and spontaneous answer I got was from a man bedecked in a #TeamShirley T-shirt and carrying a Setia poster. He looked at me like I was nuts when I asked him why this much fuss, and bellowed, "I mean, just look at her, bro!" He went on, of course, to discuss how sweet and nice she was but something about his reflexive exclamation seemed to finally make sense. Because we have seen fans and fandoms like this before. In fact, we seem to see them every week.
It feels like the same sentiment that sent all of Tamil Nadu swooning over Bigg Boss Tamil 2017 hit contestant Oviya. The actress took her place in the state's heart when she sat up straight in her chair and politely asked an older male contestant in a heated argument to "neenge shut up panunga", the hilarious Tamil equivalent of requesting someone: Aap shut up keejiye.  
That one moment sparked a season-long, state-wide love fest over Oviya. Well, actually, it had already commenced in episode one when she adorably walked straight up to the camera, cocked her head and said she felt like eating a banana because she was hungry… and just wanted a banana. The scene of the infamous argument contains all the elements that make Oviya so literally adorable in the eyes of her Army. Her youth, the respectful pertness and the visible cool-girl vibe you get from her as she sat up arguing politely with her co-contestants makes her the kind of woman many young Indian men would love to own, ahem, I mean, date respectfully.
Or take Kerala collectively overheating over the 18-year-old actor Priya Prakash Varrier just last month, who became the most Googled Indian on 12 February after a music video of her perfect wink went viral on social media. In the video, she is in school uniform, in a school assembly, with all the visible markings of the Malayali cool school girl —thickly lined eyes, ears sprinkled liberally with piercings and straightened hair just starting to grow out. Just the right mix of adorable and spunk to win a certain kind of young passionate heart.
It is the same uncomfortable-to-name special something that makes slightly older millennials feel guiltily attracted to Alia Bhatt, and makes younger millennials fall head-long in love with her — the suggestion of youthful cool-girl feisti-ness that you also feel sure you can control and enjoy a spunky but safe romantic life with… if only you could just first of all make her own dulhaniya. This proprietary, I-love-how-cute-she-is adoration that this kind of young woman sparks in young men feels like the teenage form of toxic masculinity — too underdeveloped, and a little too innocent and sweet to be totally toxic quite yet. All of these elements seem to explain at least part of what could be driving the Shirley Setia phenomenon.
Her very first viral video showed her singing sweetly and fragile-ly in her pyjamas. The song, 'Tum Hi Ho', is, of course, the anthem of Sweet Fragility, and is sung in the movie by Sweet Fragility's other poster girl, Shraddha Kapoor. Setia's subsequent videos ricochet frantically and confusingly, to me at least, between the cute and the sexy. They show her sitting on her bed swiping through impossibly fresh, hot and cool 23-year-old guys on Tinder, walking through gardens dressed in white, going on dates and smiling shyly on overnight camping trips. Is it rude to say that she feels like the kind of girl who will deliberately lean against your chest instead of your shoulder to make you feel manly or that the average middle class teenage boy would be happy to take her to a club, secure in the knowledge that she would never embarrass him or cheat on him?
There is something about the cutesy, utterly tameable sexuality she oozes that makes her impossible for a certain kind of young man not to adore. I have been dancing around using the word 'nubile', but could that really be it? Is the male love for feisty young sexy cute girls be propping up this so-called 'new' category of our online female celebrities today?
Actually, this young sexy girl figure feels like a fractionally more delinquent cousin of the Manic Pixie Dream Girl. This new girl is a little bit edgier, a bit more willing to break the rules than your average MPDG, and the focus of attention is really more on her than it is on her broken partner (thank god for small mercies). In fact, her partner probably is not broken, and is actually putting his best foot and self forward to impress her. You see, he wants to desperately charm her and really win her heart.
The Ladies Finger (TLF) is a leading online women's magazine.
also read
Entertainment
The incident took place on Monday and the 30-year-old accused was arrested the next day from neighbouring Thane district, he said
Entertainment
This year, Esha Gupta shall walk the red carpet in a specially curated designation led by Union Minister of State Dr. L Murugan.
Entertainment
The collaboration between Rema and Faisu shows how Faisu didn't recognize Rema is the voice behind Calm Down.