Shilpa Shinde on winning Bigg Boss 11: Hina Khan's opposition made my game stronger
Shilpa Shinde on her Bigg Boss 11 win and stint — and how her bitter rivalry with fellow TV actress Hina Khan just made her more determined to do better
After 105 days of drama, emotions, laughter and tears, Bigg Boss 11 found its winner in former Bhabiji Ghar Par Hain actor Shilpa Shinde. Shilpa beat her closest rival Hina Khan to take home the trophy and prize money of Rs 44 lakh. The 40-year-old actor seemed the obvious choice from day one — not only because of her nation-wide popularity, but also because she was considered the most authentic and entertaining among all the contestants. While her journey in the house saw several twists and turns, Shilpa was sure she would win.
"I didn't know any strategy for winning, but I was real, even though people in the house kept saying I was overconfident. Outside, a lot of people had misconceptions that I throw tantrums and am very arrogant... I knew my Bigg Boss stint would change that. You cannot pretend to be something you're not for 105 days in front of more than 100 cameras. I was confident that the world will also get to know and understand me through this show. I am a simple person in real life... you could call me conservative but people like simplicity and they helped me win. Nobody from the industry supported me but my fans were always there with me — although I still can't believe when I heard the humongous number — 3.5 million — of tweets pouring in during the finale," said Shilpa.
Even though Shilpa did well in many of the tasks and was considered to be a great entertainer by the audience and host Salman Khan as well, she was often accused by her co-contestants of not being competitive enough during the tasks, not fighting for her captaincy (Shilpa's rejoinder was that she was never given the requisite support to win the captaincy and left alone most of the time). She further accused Hina Khan of ganging up against her along with her friends in the house, Priyank Sharma and Luv Tyagi, during the captaincy task.
Shilpa was also accused of "hijacking" the kitchen and feeding people to earn sympathy and win the show. The actress told us: "It was no strategy and I am surprised that my duties and responsibilities were taken so negatively. It was no mean task to cook for 18 people and I was only fulfilling the responsibilities given to me and I did pretty well in many of the tasks. I couldn't play aggressively the way others did, I had my own way of playing the game and performing tasks. They made me feel that I had hijacked the kitchen and wanted to do all the work alone. But the fact is that all the work was dumped on me after some of the contestants who were active in kitchen, were evicted. Arshi would enter the kitchen and make a mess; for instance, milk would be left to boil over and I would have to clean it. I was like a maid and it looks like I have got the award for being the maid in the house! Hina would throw tantrums over the food I prepared. She acted as though she owned the house and I was her servant. Handling such people is very difficult," Shilpa said.
Shilpa added that she never believed Hina would win. "Yes, Hina has a huge fan following but humanity is most important. That way even Akash has a fan following now, but when we visited the mall (to canvass votes) people told me that they wanted to beat him up. Hina did not even win Khatron Ke Khiladi though she did some great tasks out there. Then again, the Bigg Boss house is not just about performing tasks. You should know how to live with other housemates... the way I lived with the other housemates was as I do in my own home. Instead of sorting out problems between the co-contestants, Hina would add fuel to the fire. Playing games, doing tasks, understanding and maintaining relationships...all this is as important, but the most important is to give love and I didn't want to repeat what others did," Shilpa explained.
When asked what her feelings were just when Salman was about to announce the winner (and whether or not there was a fear that Hina would walk away with the trophy), Shilpa said: "I was confident that Hina will not win and I said that on the show as well. I wanted both of us to compete on the same platform and emerge the winner. I had a very bad experience with her. She troubled me without any reason; she just wanted to fight for the heck of it. I don't believe in arguing needlessly. But maybe because of Hina my game became strong. I got the chance to prove myself."
Entertainment
When Firstpost caught up with Bandagi, she said she was feeling sad about leaving the house. But she had a lot of predictions about the upcoming nominations and episodes.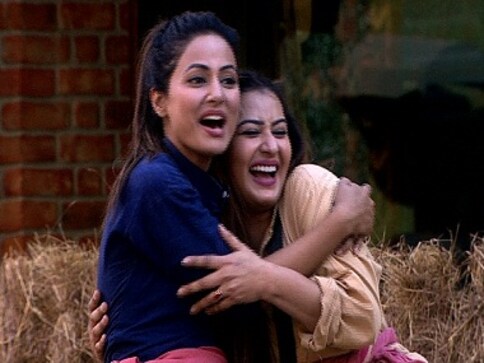 Entertainment
Even though she was directly competing with Shilpa Shinde, Hina Khan made it very clear that her competition was only with 'Mastermind' Vikas Gupta, in Bigg Boss 11
Entertainment
Shilpa, Hina, Vikas and Puneesh get emotional after watching their journey is Bigg Boss 11 so far, in the latest episode of the reality show