Shah Rukh Khan's 'Fan' is struggling to enter 100-crore club; Why did it stall?
Shah Rukh Khan's Fan hasn't done the box office business it was expected to. What slowed down its progress into the 100-crore club?
When Shah Rukh Khan took on the roles of a superstar (Aryan) and his obsessed fan (Gaurav) in Maneesh Sharma's Fan, it was a risk. For a while now, Shah Rukh has played it safe in a sense — films like Dilwale, Happy New Year, Chennai Express, Jab Tak Hai Jaan that played to his strengths and didn't demand all that much in the way of histrionics from the superstar. These films were all also monster hits.
However, with Fan, Shah Rukh broke away from the formula — and it seems, also from the easy commercial success of these previous entertainers.
While he has been receiving tremendous critical acclaim for his portrayal in Fan, the film simply hasn't been the blockbuster behemoth one has come to expect that a Shah Rukh Khan film will be.
The opening weekend collection was around Rs 52 crore, lower than most of the superstar's films. Even in its second week, the film is struggling to touch the Rs 100 crore mark.
With films like Chennai Express and HNY generating over Rs 200 crore and Dilwale easily pulling in Rs 150 crore, industry experts have been wondering why Fan didn't have the same box office impact.
Not a commercial film
Trade analyst Amod Mehra says one factor that may have hurt Fan was that it was an "art" film that was treated as a commercial film. "Had we made the same film with Irrfan Khan, it would have been a super-hit. When there is Shah Rukh Khan in the film, it becomes larger than life. When you put a superstar in an art film, it doesn't always work. They have such a huge image that their fan following won't take them in a negative or a different kind of role. It's very risky for a superstar like Shah Rukh to present a different image. Fan, I think, went against his image. It's a disappointment; no one will lose money but Fan won't make the money expected from a Shah Rukh Khan film," says Mehra.
The second half of the film was a letdown
While approval for the film's first half was universal, many viewers were not too happy with the second, points out trade expert Taran Adarsh. "From realistic, the film went into an unrealistic space in the second half — that is something people haven't liked," he says. "But Yash Raj Films has the satellite rights, overseas rights, merchandising rights, licensing right, remakes rights — so they're safe in the final tally. Of course, if you compare it with the Shah Rukh-YRF combinations in the past, they have always delivered solid numbers, which is what is missing this time."
No song-and-dance
Distributor and trade analyst Girish Wankhede says that Fan's lack of song-and-dance sequences may have acted against its interests. "What a regular moviegoer expects from a Shah Rukh Khan film is the complete package — music, dance, entertainment, drama, good-looking locations. And that was absent in this film. Even 'Jaabra Fan' was not part of the film," Wankhede says.
He also points out that The Jungle Book had been relesaed a whole week in advance (than previously intended) so there would be no clash with Fan; however, the Jon Favreau-directed film continued to do brisk box office business even after the SRK starrer released. "If one film is already a big hit, it affects the other film," Wankhede says.
Exhibitor Akshaye Rathi also subscribes to the same opinion. He highlights that even serious films like Airlift and Neerja had songs as well as some comic relief and a romance angle, respectively. "The Indian audience is used to a certain format of entertainment," he says. " When you are watching a two-and-a-half hour film, there needs to be of some relief whether it's in the form of a song, comedy or romance. This format wasn't part of Fan, which slowed down its impact."
Shah Rukh Khan was playing against type
If Shah Rukh Khan's core audience did not show up in the same numbers that they did for his previous films, it was because the superstar wasn't playing to type. There were certain expectations about Fan — prompted because this was a Shah Rukh Khan-YRF project which had the star in a double role — that it would be as "mainstream" a movie as one could get. Instead of a superstar movie, what viewers got was an experimental film, says popular film critic and author Mayank Shekhar.
"The fact that there was no track at all in the entire film was seen by critics as pushing the envelope, but for mainstream audiences, it was a bit of a downer. If you see Dilwale, the film may not be memorable, but the songs still play on the radio," says Mayank, adding, "The other reason is, by and large, as a concept it's very depressing, even in conclusion. And that's what the audience leaves the theatre with and later becomes 'word of mouth'. So I can imagine that word of mouth was not that great because Fan didn't turn out to be the happy musical that Shah Rukh movies have been associated with."
Entertainment
"I was too busy with work, did not know what Raj Kundra was up to," said the #ShilpaShetty's statement, which is a part of the 1,400-page charge sheet filed by the Mumbai Police
First Cricket News
IPL matches will be played at Dubai, Sharjah and Abu Dhabi with limited seating available keeping in mind the COVID protocols and UAE government regulations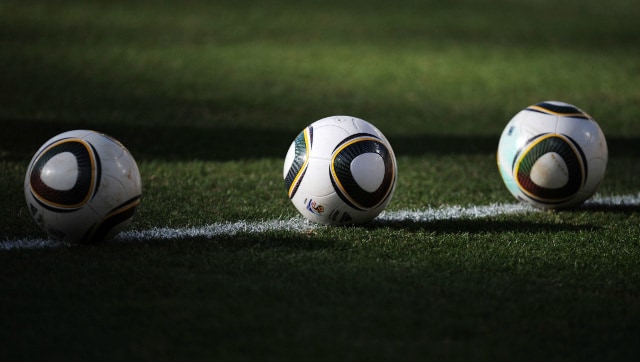 Sports
On Wednesday, FIFA president Gianni Infantino said the extensive shake-up would cut out "too many meaningless matches".