Shah Rukh Khan subtly disses obsessive fans in 'Fan': Your turn, Rajini Sir?
Is it not suicidal for a star not to pander to even his most maniacal fan?
"Remember me from Twitter?"
She came up to me as I waited for my car at a Mumbai hotel a few years back, the real-life person behind a social media ID with which I had exchanged a handful of tweets over time. She (let us call her X) was disappointed when she discovered that I had just finished recording a TV interview with John Abraham.
Bumping into John as he left the set of my show would have meant notching up two stars in one day for her. As the winner of a contest run by a film producer in collaboration with a corporate house, X had just spent some time with a major actor as her prize. An unplanned encounter with another would have been a windfall, she explained.
It was a routine polite conversation with a random star-crazed stranger that will sound familiar to any journalist who has covered films. The tone changed though when X decided to confide in me. Being a huge fan of Ranbir Kapoor, she was furious with Deepika Padukone for splitting up with him, she said. So she sent multiple entries to a contest where the prize was a chance to dance with DP. She won.
"There were others there, but I made sure I was standing next to Deepika," said X, "and while we were dancing, I stepped hard on her feet to hurt her, then I pretended it happened by accident. How dare she break my Ranbir's heart."
I have no clue whether such an event actually took place or was a fiction created by X, but the pride with which this creepy youngster narrated it to me was disturbing.
That chance meeting popped back into my mind as I watched Shah Rukh Khan's Fan last week. Some analysts have called the film a risk for SRK because it is songless and, in comparison with most of his blockbusters, understated. To my mind though, the risk of the project lies in another of its elements.
Imagine Ranbir Kapoor telling X to get a life. That is pretty much what Khan does in Fan in which he plays movie star Aryan Khanna and his lookalike Gaurav Chandna who calls himself Junior Aryan Khanna, impersonates the actor on stage and at one point, when his idol snubs him, turns into a psychopathic stalker. In short, Chandna is a nut.
In Shakespeare's A Midsummer Night's Dream, Theseus says: "The lunatic, the lover, and the poet / Are of imagination all compact." You could add another creature to his list: the fanatic. All-consuming fandom is, and perhaps always will be, completely incomprehensible to those who have never felt such passion for distant figures they are unlikely to ever meet in person.
For the record, possessed fans do not necessarily see their deity as a far-away being, assuming instead that s/he is reading their words or hearing them somehow and imagining that some day they will indeed meet.
A reporter colleague recalls interviewing Rajinikanth fans outside a theatre after the first day first show of a new Rajini film in Delhi. Off camera they admitted to being highly disappointed, on camera on a live show they praised the film to the heavens. Why did you not speak the truth, the journalist later asked? Because we cannot upset Thalaivar, they replied in all seriousness, as if they were genuinely convinced that Rajinikanth was glued to that particular news programme on that particular channel to see what they in particular had to say about Kuselan.
Bizarre? Inexplicable? Perhaps that is why Gaurav Chandna in Fan dispenses this punchline to explain it away to Aryan Khanna: "Rehne de, tu nahi samjhega" (Forget it, you will not understand).
Khanna, who is furious at the intrusion into his life and clearly does not want to understand, offers Chandna this advice that could well be seen as coming from Shah Rukh Khan himself: establish an identity for yourself beyond me, make something of yourself instead of being just a fan.
It is natural to wonder if SRK maniacs are pleased to hear these words from their hero. Is it not suicidal for a star not to pander to even his most maniacal fans?
Without fandom, can there be stardom? Chandna, who seems not to recognise the role of Khanna's talent and hard work in his success, offers this answer in the film: "Main hoon toh tu hai" (I am, therefore you are). And: "Gaurav hai toh Aryan hai, Gaurav nahin toh Aryan kucch bhi nahin" (Aryan is who he is because Gaurav exists; without Gaurav, Aryan is nothing).
Curiously enough then, Fan seems to be gently chiding the leading man's core constituency: not sane supporters who respect his art and are drawn to his charisma, not mere admirers, but devotees. This then is the risk the film holds.
It is a risk worth taking. After all, extreme fandom can pretty quickly turn from a non-aggressive fixation to verbal or even physical violence. Fans who watch the same film 25 times in the week of its release, deem it their duty to 'make' it a hit and build shrines within their homes, are just a hop, a skip and a jump away from the ones who take it upon themselves to spew venom at a star's rivals online, who try to intimidate critics before a release and afterwards troll those who wrote negative reviews.
They are so mired in their own infatuation that earlier this week they lacked the discernment to realise that Ram Gopal Varma was, in all probability, having a lark at their expense with his tweets mocking Rajinikanth's looks, posted possibly after more than a couple of shots of whatever it is RGV consumes before he tweets.
Offline, they have built actual physical temples to Amitabh Bachchan and Khushboo, and bathe giant likenesses of Rajini in milk on the morning of each new release. They sent letters written in their own blood to Rajesh Khanna and threw themselves at the Beatles' cars. They weep at concerts and faint at premieres. And when it gets worse, they are that stalker claiming to be Taylor Swift's husband, against whom she had to get a restraining order from a Los Angeles court; that woman who scratched John Abraham and told him with satisfaction that she now had his blood and skin under her nails; that man who allegedly followed Shruti Haasan around, finally turned up at her Mumbai home and assaulted her.
This is not admiration, it is obsession to the exclusion of sense, sanity and self-respect. Psychologists say such people see the star as an extension of their own selves, and derive their self-worth from her/his achievements. Witness their excited online chatter, for instance, about how "our film is a hit" and "we did it".
As mediapersons we often end up being abused, praised, harangued and harassed by such people. To be honest, the word that comes to mind for them is "loser". The problem with that label though is that it is a casual expression of irritation that fails to consider the dangerous aspects of fandom.
I discovered this is in a rather unsettling fashion when the legendary musician David Bowie passed away earlier this year and I posted on my Facebook page a March 2015 interview with a woman who had been Bowie's sexual partner when she was 14 and for several years thereafter. Bowie was then in his mid 20s. This happened in the US back in the 1970s, and the article seemed like a perfect starting block for a debate on evolving definitions of statutory rape, paedophilia and the true meaning of informed consent. "It should be possible for us to love a man's work yet be sickened by his actions," I had written on Facebook at the time.
The debate was not to be. Instead, I was spammed by angry Bowie fans calling the young woman, Lori Mattix, a "whore", "bitch", "stupid broad" and "dumb insensitive skank" who "was banging several men, not just David Bowie!!!" This of course is not counting the acerbic comments they directed at me personally.
"I hate to break it to you," one of them wrote, "but this Beeotch bragged about getting laid by several rock stars and now just wants attention. The 70's were a different era...one where people didn't get all butthurt over crap like they do now." (sic)
In India we have over the years had examples of fans excusing alleged drunken driving and murder, domestic violence, charges of involvement in terrorist activities and most recently, allegations of financial corruption. This Facebook conversation about Bowie is evidence, if any were needed, that fans worldwide are no different, in this instance condoning even sexually unacceptable behaviour by the object of their obsession.
The real shocker was that Mattix herself got in touch to absolve Bowie. "I am deeply mourning the loss of David. He was a genius, and one of the Greatest Musicians/Artist ever. We were young and Curious. This has nothing to do with his Brilliance or the man he became. Please respect his family and life's work," she wrote in a long address to enraged fans on my page. (sic)
She added a day later: "I will never regret this magical time of my life, or pretend that I am traumatized by it.. We were all young..." (sic)
Hero worship is a scary beast. It can make an adult woman look back at her childhood and justify sexual exploitation by a star preying on groupies. Two continents and nearly four decades away, it is commendable and completely surprising that Khan and his director Maneesh Sharma have stuck their necks out – as should more non-exploitative celebrities – to tell fans that even in their fervour, some lines ought never to be crossed.
Cricketer Virat Kohli set another great example just last month by slamming those who trolled his ex-girlfriend, actress-producer Anushka Sharma, after he powered India to victory in a crucial match. Meanwhile, in an ongoing legal case, a Chennai court issued a temporary injunction on March 26, asking Rajinikanth fans "not to put any flex banners or cutouts and not to propitiate milk on the flex banners or cutouts". This was shortly before the ceremony in which Rajini was to be honoured with a Padma Vibhushan.
There should be no pride in knowing that there are human beings out there whose entire identity revolves around their pre-occupation with you or that your fanatical followers abuse your former lover. It should be a matter of personal embarrassment that in a poor nation, people indulge in a colossal waste of milk to wash your colossal cut-outs. Fandom, decency, common sense, rationality and mental stability should not be mutually exclusive propositions.
Speak up, Rajini Sir. Please do.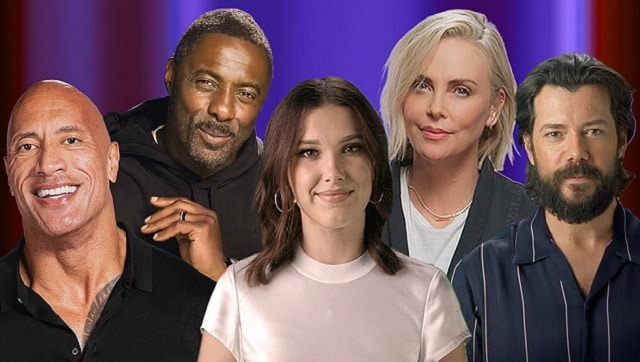 Entertainment
TUDUM: A Netflix Global Fan Event will be held on 25 September in a virtual format.
First Cricket News
IPL matches will be played at Dubai, Sharjah and Abu Dhabi with limited seating available keeping in mind the COVID protocols and UAE government regulations
Sports
A 26-year-old Lille supporter appeared in court Monday charged with "violence against a person holding public authority".