Shadow movie review: Stuns with its imaginative action scenes, exquisite costumes and sets
In Shadow, the art direction and production design capture Zhang Yimou's vision visually especially the use of yin and yang and Chinese ink brush paintings.
Editor's note: The 20th edition of the Jio MAMI Mumbai Film Festival is finally here, and with it comes an unending list of critically acclaimed Indian and international films to watch. Firstpost will review the most promising of these films.
Zhang Yimou's Chinese language film is not Raise the Red Lantern, House of Flying Daggers or Hero, but it is closer to his top form than say, The Great Wall.
Based on a story by Li Wei and Zhang Yimou, this fictional historical drama is set in the Three Kingdoms period, around 220AD. It is the rainy season during which a precarious détente between Pei and Jing is likely to break down due to the general's (Deng Chao) challenge. A King of Pei (Ryan Zheng) is at loggerheads with his general whose unconventional strategy to win back a lost kingdom goes against the king's desire for peaceful accord. Unbeknownst to the king, the commander is orchestrating a secret plan.
The clue to the intrigues lies in the title of the film. Shadow refers to a doppelganger, trained from youth, to pose as and convincingly stand in for an important officer or royal. The commander's wife (Sun Li) plays a pivotal role in keeping up the ruse and devising a tactic for taking on the Pei army. The King's younger sister, the Princess (Guan Xiaotong), is another remarkable character – strong-willed but at the mercy of her irrational brother's whims.
The art direction and production design capture Yimou's vision visually especially the use of yin and yang and Chinese ink brush paintings which give a beguiling feel to the palace and royal chambers. Yimou uses colour sparingly and specifically. The palette is predominantly black, white, skin tone and blood red. The costumes are exquisite and the fight scenes imaginative (look out for those umbrellas), in particular the wonderfully choreographed training scenes and the big battle scene, which is a combination of weapon-based combat and martial arts. The trick lies in fighting the fierce in unexpected ways: The secret weapon is to "wield your umbrellas with feminine moves".
One gripe is that the extended last scene gets a bit 'Bollywood', but it is a small whine about an otherwise visually sumptuous and painstakingly crafted period piece.
Entertainment
A descending look at the numbers behind Tuesday's nominations for the 95th Academy Awards.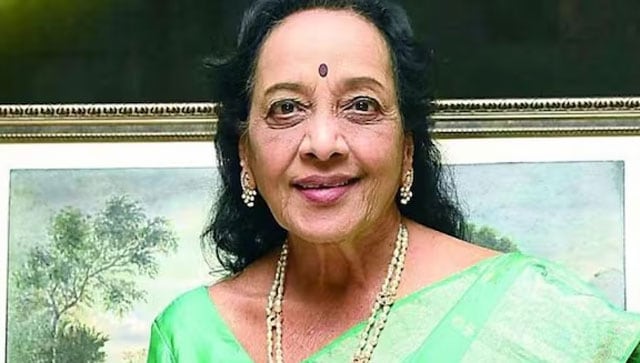 Entertainment
She had won the Filmfare award for Hindi Film 'Milan'. Some of her iconic films include 'Missamma', 'Gundamma Katha' and 'Sri Krishna Tulabharam'.
Entertainment
Jennifer Lopez walks down the aisle in Shotgun Wedding with fun, romance and loads of action.