Selection Day review: This Netflix show on Mumbai's cricket scene hinges on a familiar sense of warmth
Selection Day is the kind of content that allows the non-cynical movie geek to sit back and relax in the presence of actors who work well with each other and a story whose familiarity is its core strength.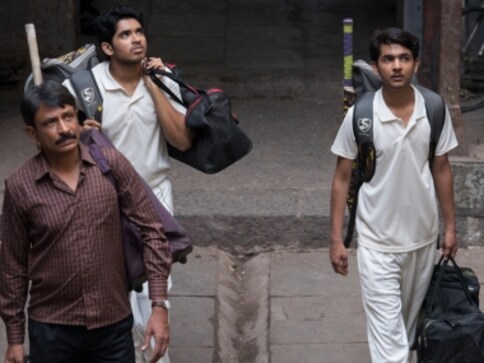 As someone who has watched almost every Indian web series streaming original over the past two years, I felt comforted by the one thing that the first four episodes of Selection Day offers that nothing else has to date – warmth. Based on Arvind Adiga's book about a father's attempts to push his two kids into cricketing stardom, this is a fairly join-the-dots sports drama that offers sensitive craft and good performances, and a refreshingly delicate dramatic approach sans manipulation.  
There could be a gripping, gritty and dark film to be made about the grimy netherworld of cricket, like this other show that attempted these things; Selection Day, is of course, the opposite kind of storytelling, and in fact almost feels like Netflix's rebellious answer to that show. This one sticks instead to the tried and tested formula that previously served us films like Lion, as we trot through the cinematic vision of a cozy upper class white eye on the lower middle class of India. While the delicate and sympathetic approach works in most ways, it also sometimes renders the sentiment of very little being at stake.
Make no mistake, this is a feel-good series, so the story is straightforward and the obstacles faced by the characters are rather easy to overcome. We follow three story prongs – one where a man from a small town (Rajesh Tailang) is convinced that his kids Manju (Mohammad Samad) and Radha (Yash Dholye) are destined for cricketing greatness, and brings them to Mumbai to train. Another arc follows a beleaguered ex coach (Mahesh Manjrekar) looking for the next Sachin Tendulkar, but the skeletons in his own closet seem to hold him back. In a third track, a businessman (Akshay Oberoi) on the brink of free fall is looking for a bailout. Naturally, all these arcs collide at some point as we see Manju and Radha deal with the change from being untouchable heroes in a small town to suddenly running shoulders amongst giants.
The show mostly works because of the performances, without which this latest tale of rags to sporting riches would not be so memorable. Manjrekar's coach is immensely charming. He even delivers a couple of chuckle worthy lines although the script lacks the consistent edge that you could squeeze out of the actor at his best. Ratna Pathak Shah relishes the role of the principal of the boutique academy the boys enroll into, while Tailang's typically hot headed rural father, with a blinkered thought process setting fire to everything built for his boys, keeps the story chugging along even when the story beats become predictable. Both Samad and Dholye are excellent, even if their dialects often do not seem consistent with where their characters come from.  
All of this is told in a series more realistic about cricket than about how cricket legends are made. After the atrocious Dhoni and Azhar films, it is nice to see decently choreographed cricket matches with minimal editing, and both the young actors do look like competent players. The cutaways to close ups when the ball is hit are there, of course, but the craft makes sense visually and dramatically. Later episodes will no doubt offer more of the on ground scenes, but half way down the season, director Udayan Prasad has manage to evoke the raw energy of a game where everything depends on one person at one moment in time.
But what kind of energy is this? On one hand, this is an old-fashioned twee drama as we meet the stereotypically jealous rival to the boys, the pretty girl in the class, and so forth. We have seen these characters many times before, and that is the stretch of the rest of the season I am not confident of improving. Episode 4, however, ends on a big dramatic turn and a never before seen reveal that is designed to change the dynamics between two rivals, and how those repercussions play out in the remaining episodes is key to the overall quality of the show.
I am not sure of a subplot where a ghost speaks to Manju in the form of a Hindu deity with a New York ghetto attitude. The track is executed in a dryly comic way but the deity (played by Shiv Pandit) is a little too much of a caricature, which is further apparent when everyone else in the show exudes pathos and depth in their actions. Once again, maybe there is a payoff waiting in subsequent episodes but it does stick out like the zit of the season.
It is futile to bemoan a film or TV adaptation never reaching the heights of its literary source material but this is the case here as well. Adiga's books awash your senses with his vivid writing style and clear headed approach to describing class divide, or sexual awakening, or the abusive relationship Adiga seems to have with Mumbai - so do not expect the same kind of artistry on screens. As I mentioned earlier, what you do get is the warmth. This show is not a cracking six over mid wicket, maybe just quick doubles straight down the ground, and you may live quite happily without ever seeing this show, but whatever the showrunners do here is with a certain welcome warmth. It is the kind of content that allows the non-cynical movie geek to sit back and relax in the presence of actors who work well with each other and a story whose familiarity is its core strength.
Note: This is the review of only the first four episodes of Selection Day.
Entertainment
In 2022, the actor delivered some impeccable performances with A Thursday, Dasvi, and Lost which also grabbed her national and international recognition
Entertainment
The seven tightly edited, adroitly directed episodes (by Prashant Nair, Randeep Jha and Avani Deshpande) do not let the Krishnamoorthys down. Neither do Abhay Deol and Rajshri Deshpande who play the bereaved couple with dignity and understanding that has no room for over-sentimentality.
Entertainment
After Shershaah, this is another gripping offering from the actor that fans have been saying should have been a theatrical release instead of a Netflix one.