Secret Superstar: A look at how the film steered Aamir Khan's cumulative China box office turnover to Rs 2000 cr
It's been exactly a month since Aamir Khan's drama Secret Superstar hit Chinese theaters. The film opened to a record-breaking $6.86 million in the country.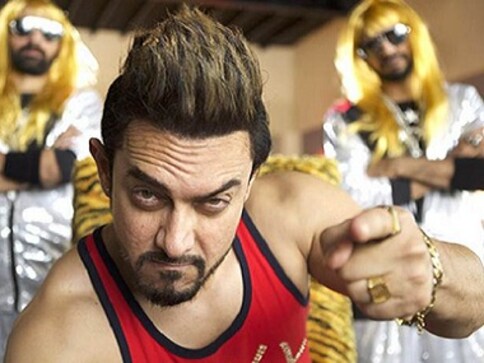 It's been exactly a month since Aamir Khan's drama Secret Superstar hit Chinese theaters. The film opened to a record-breaking $6.86 million, the highest-opening day figure for an Indian movie in the Middle Kingdom, on 19 January. Now, the film's consistent month-long run has steered Aamir Khan's cumulative box-office receipts in the PRC to $346.5 million (Rs 2231 cr). The lifetime gross estimate of Secret Superstar in China stands at a whopping of $118 million (Rs 760 cr) in 31 days, Uncle Mi's (his nickname in the country) second highest-earning film in the Chinese mainland.
The Nitesh Tiwari-directed wrestling drama Dangal, Khan's most-loved film in the Middle Kingdom, which grossed a humongous $205 million (Rs 1320 cr), contributes a lion's share of Khan's cumulative China box-office collection with its unbeaten figures at the ticket window. Now, the actor indisputably occupies the Top Five Highest-Grossing Indian Films list in the PRC with Dangal, Secret Superstar, PK ($19 million), Dhoom 3 ($3.1 million) and 3 Idiots ($2.2 million), a film which then sowed the seeds for Khan's now-unrivaled stardom in the world's second-largest movie market.
3 Idiots saw the light of the day in China two years after its Indian theatrical release and still managed to gross $2.2 million (Rs 14 cr) in its month-long run despite the rampant piracy market in 2011. In fact, the movie was a cult hit among college-going youngsters in the Middle Kingdom before its China release, courtesy of piracy sites, and led the state-run China Film Group to officially release it in mainland theaters. Later, Dhoom 3, the second film of Aamir Khan to score a China release in 2014, competed with a handful of homegrown movies and earned just $3.1 million despite getting the widest release ever for an Indian movie in the PRC then. Poor marketing was pointed out by Chinese media as one of the reasons for the film's failure.
Aamir Khan, one of the astute Indian stars who quickly learn from his mistakes and also a marketing genius himself, promoted his next release PK extensively in China along with director Rajkumar Hirani and producer Vidhu Vinod Chopra. The film resonated with Chinese audiences like 3 Idiots and set a benchmark by becoming the first Indian movie to enter the Rs 100 cr club in the Middle Kingdom box-office. There was no looking back for the 52-year-old Indian actor after PK's unprecedented success. In 2017, Dangal catapulted him to unconquerable heights at the Chinese box-office by becoming the highest-rated film on China's influential social networking and movie-reviewing platform Douban.
Khan was ranked the most popular foreign star in the country in 2017 on Douban. He joined Sina Weibo, China's most popular micro-blogging platform like Twitter, before the release of Dangal and amassed nearly 6 lakh followers in a jiffy, outpacing Indian Prime Minister Narendra Modi to become the most followed Indian celebrity. Last month, Khan joined Toutiao, a Chinese news and information platform, ahead of the release of Secret Superstar in an effort to expand his digital presence and reach out to his fans in the PRC.
While Dangal holds the record for the highest-grossing non-Hollywood film in China, Secret Superstar, with its massive $118 million lifetime gross, has dethroned Japanese animation blockbuster Your Name to become the second highest-earning non-Hollywood import film in the PRC.
Galloping its way to the Rs 750 cr mark at the mainland box-office, Secret Superstar was on a record-busting spree ever since its release. Now, it is the third-highest grossing Indian film worldwide with a total gross of Rs 894 cr, including the Rs 134 cr the movie earned before its China release, only next to Dangal and Baahubali: The Conclusion. Secret Superstar is expected to surpass the Rs 900 cr mark worldwide gross after its release in Japan, South Korea, and Hong Kong over the next few months. Secret Superstar is also the second highest-grossing Indian film overseas, only next to Dangal. In fact, it has earned more than twice the entire overseas revenue of box-office behemoth Baahubali: The Conclusion.
Secret Superstar has also landed Aamir Khan the most lucrative paycheque of his career since it's the first Indian film to earn a revenue-sharing slot in China. Khan's revenue (25 per cent) from the movie's China gross stands at Rs 190 cr, which is more than Bollywood's all-time distributor share of Dangal (estimated to be Rs 184 cr).
Now, all eyes are set on the release of Salman Khan's Bajrangi Bhaijaan in China on March 2. The movie, which is slated for an 8000-screen release, marks Salman Khan's first film in the Middle Kingdom. The Kabir Khan-directed film, whose Chinese runtime has been locked at 141 minutes, already enjoys a good rating of 8.6 on Douban. Whether the positive word of mouth on Douban leads to increase in footfalls or not during the Lantern Festival will be eagerly watched by Chinese distributors.
Entertainment
In an exclusive interview with Firstpost, the Superstar gets candid about how he prepped for the role of Laal Singh Chaddha, what fascinated him about the 1994 classic Forrest Gump, and how Kareena Kapoor Khan has evolved as an actor.
Entertainment
Main Ki Karan from Aamir Khan and Kareena Kapoor Khan's Laal Singh Chaddha is a song that beautifully encapsulates innocent love and the video hits all the right notes. The video version of the melody has now been shared by the makers.
Entertainment
Aamir Khan spoke about his former wives Kiran Rao and Reena Dutta on Karan Johar's show Koffee With Karan 7 where the actor was in the company of Kareena Kapoor Khan.