Sarkar pre-release business exceeds that of Baahubali 2; distributors bet big on Vijay's Diwali offering
Top distributors in Tamil Nadu claim after Mersal and ahead of Sarkar, Vijay has become the numero uno star of Tamil cinema, surpassing even Rajinikanth.
Although Mersal received mixed reviews from critics, the film established Vijay as the numero uno star of Tamil cinema. "If you consider the core Tamil Nadu market, Vijay is the number one," says famous distributor Siva, who released the actor's Nanban, Thuppakki and Kaththi in Trichy Tanjore (TT) area.
"One solid example for Vijay's humongous growth in Tamil cinema is that the pre-release business of Sarkar is higher than the lifetime share of Baahubali 2: The Conclusion, which is the benchmark of all the industries in India. Our distributors and theater owners are confident that Sarkar will supersede Baahubali 2 in Tamil Nadu. Telugu films featuring Tollywood Superstars are at least 25 percent behind the lifetime collection of Baahubali 2 in Telugu states and the same can be said about Khans in Hindi, but Vijay is the only actor who is all set to cross the record set by the Rajamouli directorial in Tamil Nadu, which is the actor's home ground", says Siva.
Siva, who has been observing Vijay's career from the beginning, says, "At one point of time, there were many haters for Vijay but slowly he turned everything into positive that everybody loves him today and even his average film like Bairavaa is collecting higher than the super hit film of others. The most important quality for a numero uno star is that if his films are screened in a theater, the canteen guy, parking contractor and the complex owner should see profits — Vijay has achieved it long back."
Siva says Vijay's market and the distribution price will increase with each given film. He has to release his films on Diwali to match the expectations. It is worth mentioning here that Vijay's new film with Atlee is scheduled to release on 2019 Diwali.
Insiders say that Vijay is a producers' delight because in case the actor's film fails at the box office, he makes sure to help them recover the losses incurred. Anand of Ram Muthuram Cinemas says that the craze for Vijay in Tamil Nadu is unmatchable. "Recently, we screened the Sarkar teaser in our screens. The announcement of the screening was only made around 4 pm and within two hours, almost 1,000 fans gathered in our theater complex. They came with music instruments and crackers to celebrate the teaser launch. Mersal is the most profitable film for theater owners. I'm quite confident about Sarkar's box office performance because today, Vijay's off-screen quality, including the way he helped the victims of Sterlite protest, his kind gesture of visiting Anitha's parents after she committed suicide because of NEET exams, his powerful speeches against Jallikattu protest and many other things have created a positive image about him among Tamil people. If Sarkar is packed with some of the key social issues, I'm sure it will hit the bull's eye," says Anand.
On the condition of anonymity, some of the key distributors and theater owners say that the overall collection of Mersal and pre-release business of Sarkar are 50 percent higher than the films of his competitors in Tamil cinema.
Film historian and producer Dhananjayan says among the current generation heroes, Vijay is the number one. "Among the current generation heroes, Vijay is undoubtedly number one. I still remember in the '80s, even average films of Rajinikanth used to yield good revenue at the box office, and the same thing is happening to Vijay now. Vijay is the only Tamil hero whose films run for three to four weeks irrespective of reviews and content. The reason is that he has become a household name in Tamil Nadu. People see Vijay's growth as their growth", he says.
The Kaatrin Mozhi producer also adds that Vijay's silence is his biggest strength. Talking about the pre-release business of Sarkar, Dhananjayan says "Yes, the pre-release distribution rights of all the regions in Tamil Nadu is higher than the lifetime share of Baahubali 2. I hope Sarkar really does well at the box office but the pre-release business is too high, that it should collect on par with Baahubali 2 to reach the break-even status".
The problem with the growth of actors like Vijay and Rajinikanth is that for every hit film, their business just expands and later, if any of their film fails at the box office, distributors would create unnecessary trouble by asking compensation. " Distributors should understand that Vijay didn't increase his remuneration for Sarkar after the massive success of Mersal. However, distributors have paid one or two crores higher than the lifetime share of Mersal, which puts them in danger zone. If Mersal achieved Rs 12 crore share in one area, distributors should have ideally bought Sarkar for Rs 10 crore but they went ahead and bought it for Rs 13 crore. The point to be noted here is Vijay never asked any distributor to buy his film for such a huge price".
If you look at the Tamil Nadu box office, Vijay's films are doing exceptionally well. He has also surpassed superstar Rajinikanth's films, but the actor is yet to make his mark in the Telugu and North Indian markets. For example, the Tamil Nadu collection of Vijay's Mersal is higher than Rajinikanth's two recent films, Kabali and Kaala. "The kind of market Rajinikanth sir enjoys in Andhra and North India is something which is impossible for other Tamil actors. But what Vijay sir achieved now is incredible and he is the number one among the current generation actors," says Dhananjayan.
With Sarkar, Vijay is also planning to explore the Telugu market. Though the actor's Thuppakki, Mersal and Nanban were dubbed in Telugu, he is yet to establish a strong foothold in Andhra Pradesh and Telangana. On the other hand, Vijay has a strong box office pull in Kerala, European countries and Sri Lanka, which are his fortes. The actor is also slowly proving his box office mettle in the US. Mersal grossed $1.8 million and Theri grossed $1.1 million there. After Rajinikanth, Vijay is the only actor who breached the $1 million mark twice in the US.
Fans of Vijay want the actor to also enter into Bollywood but Vijay, who is known for his calculative steps, is planning to explore Tollywood before the Hindi market. Sources say that the actor has advised his producers to concentrate more on the Telugu market in future because it is the only territory where he lags behind Rajinikanth in South India.
All images from YouTube.
Entertainment
Shah Rukh Khan, Deepika Padukone and John Abraham starrer Pathaan is set to hit the screens on 25th January.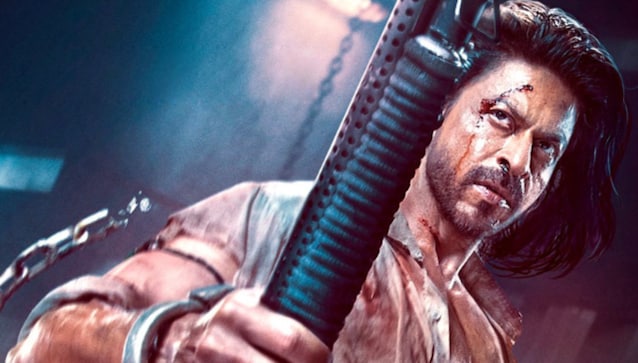 Entertainment
Shah Rukh Khan's Pathaan has turned out to be a blockbuster at the global box office.
Entertainment
Pathaan has already surpassed Hrithik Roshan and Tiger Shroff's War (also Siddharth Anand directorial) to register the highest advances for a Bollywood film.