Sanju: Ranbir Kapoor is flawless in Rajkumar Hirani's Bollywood-ised biopic of Sanjay Dutt
Sanju ends up feel like a version of Dutt's life for children; a sanitised fable of sorts. You are very often left wanting more. This gap is filled by Ranbir Kapoor — a fine performer who understands his subject matter and audience.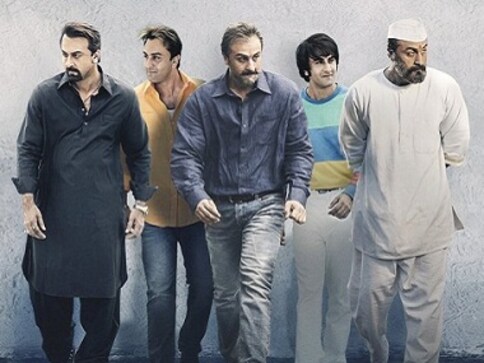 The first thing you notice about Ranbir Kapoor in Sanju isn't his uncanny similarity to Sanjay Dutt, or that he's a fantastic actor with the ability to morph into his subject like a chameleon. It is that there's absolutely nothing in Ranbir's portrayal to complain about.
This isn't merely a case of "look how easily Ranbir has slipped into Sanjay Dutt's shoes" — this is about the way in which every single aspect of the controversial actor has been imbibed by the ever-so-talented Kapoor — from his slouching walk, his goofy eyes that reveal so much pain and also a yearning for pleasure, to the way he talks (a mix of Bumbaiya and posh English) and the way he acts.
This is a meta performance. Ranbir Kapoor acts like Sanjay Dutt, who is an actor by profession. Sanju is so much more than Sanjay Dutt though. And Ranbir Kapoor. Yes, the film serves primarily as a platform for Ranbir Kapoor — and his talent — to show us the intricacies of Sanjay Dutt's life. But one person's story rarely makes a good film. Sanju is as much about Paresh Rawal's restrained performance, as a helpless father torn between love for his son and his moral code. It is as much about Manisha Koirala, Sonam Kapoor and Dia Mirza, who each play memorable (but ultimately secondary) characters in Dutt's life. Manisha is particularly refreshing as Nargis Dutt and it is a delight to watch her on the big screen.
Also read — Why Rajkumar Hirani's Sanju will be considered a unique film, regardless of its box office fate
The first 90 minutes of Sanju, however, belong to the heart-warming bromance between Ranbir as Dutt, and Vicky Kaushal, as his friend from the US, Kamlesh aka Kamli. It is through their friendship, and Dutt's relationship with his father, that the plot of Sanju unfurls.
Sanju presents the intimate details of Sanjay Dutt's life in a typically Hirani-esque manner. There's an emotional message in every potential scene; the film doesn't attempt to decode Sanjay Dutt or justify his life. Credit to Hirani for not painting Dutt with larger than life strokes. But there is a Bollywood-ish tinge to every scene.
Through his first shot in his debut film Rocky, and the songs he sings with his then-girlfriend Ruby (Sonam Kapoor); through his fight with drug addiction and his stint in the US, where he spends his last few moments with mother Nargis; through his moments of friendship with a real friend (Vicky Kaushal) or a fake friend who gets him hooked onto drugs (Zubin Mistry, played by the wonderful Jim Sarbh) — Sanju is a Bollywood-ised account of Sanju Dutt's life. It's dramatic, calculatingly exciting and yet, cinematic.
Sanju's biggest accomplishment is undoubtedly its performances. There are genuinely some shots where you won't be able to tell you're looking at Ranbir Kapoor, and not Sanjay Dutt. Vicky Kaushal shines, holding his own in the fun moments as well as serious scenes. Sanju is a gripping film, but one treads with caution.
Editor's pick — Ranbir Kapoor on Sanju: Not a propaganda film but an honest portrayal of a flawed human being
Caution because the agenda of Sanju is clear: to present a seemindgly misunderstood story. To tell audiences that there are two sides to everything. But to do so with a kind of emotional manipulation that you may not even recognise.
There is no doubt that Sanju is a great story. Even though this is so obviously Sanjay Dutt's life account, we are told Kamlesh's perspective, as the friend of a superstar/drug addict/limelight hogger. We are told Vinnie Diaz's perspective (Anushka Sharma) — a biographer who slowly but surely falls in love with Sanjay Dutt's story.
It is the performances in Sanju that often make up for the one-dimensional writing.
Hirani makes it easier for audiences to engage with the film by broadly dividing Dutt's life into two parts — his fight with drug addiction, and the jail term for his involvement in the 1993 Mumbai blasts. But Sanju seems stuck in its own mould. It rarely rises above the boundaries it creates for itself. Hirani sticks so close to what he knows best — mixing commercial elements into a story with potential — that Sanju ends up feel like a version of Dutt's life for children; a sanitised fable of sorts. You are very often left wanting more. What about the greys? What about the philosophical conflicts?
This gap is filled by Ranbir Kapoor — a fine performer who understands his subject matter and audience. The film best moments belong to Ranbir and Vicky Kaushal, and Ranbir and Paresh Rawal.
Glimpses into the film industry and the underworld are minimal. We are not given an insight into the socio-cultural context in which Sanjay Dutt's life unfolded. It would have been nice to see the world that Dutt inhabited (and now inhabits) with a little more depth. But worry not, the physicality of every character makes up for the lack of context. Each character looks their part. Aiding the narrative is a hummable soundtrack that one may not remember over time but works within the film.
Ultimately Sanju is Ranbir Kapoor and Vicky Kaushal's film. Both actors pull even the flawed parts of the film together, and neatly wrap the histrionics with flavour and variety. Sanju is an entertaining film, and has all the elements of a blockbuster — but one wishes the honesty and nuance went beyond just the performances.
Read on Firstpost — Sanju doesn't whitewash or dilute anything about Sanjay Dutt's life: Paresh Rawal on Rajkumar Hirani's biopic
Note: This is a first impression of the film Sanju. Read Anna Vetticad's movie review here.
Entertainment
Varun Dhawan has natural comic timing but Bhediya's best lines go to Abhishek Banerjee who outshines everyone else in a film that dilutes the impact of its theme by being consistently inconsistent.
Entertainment
The film is young adult-friendly and looks at refugee woes though it avoids a deep dive into issues at hand.
Entertainment
The veterans pull off the miseries of a middle-aged couple with a near-haunting effect, and make their undeserving loneliness worthy of empathizing with.